Marina Abramović: Gates and Portals, Modern Art Oxford and Pitt Rivers Museum review - transcendence lite |

reviews, news & interviews
Marina Abramović: Gates and Portals, Modern Art Oxford and Pitt Rivers Museum review - transcendence lite
Marina Abramović: Gates and Portals, Modern Art Oxford and Pitt Rivers Museum review - transcendence lite
The grandmother of performance art induces deep breathing and a slow heartbeat
Monday, 26 September 2022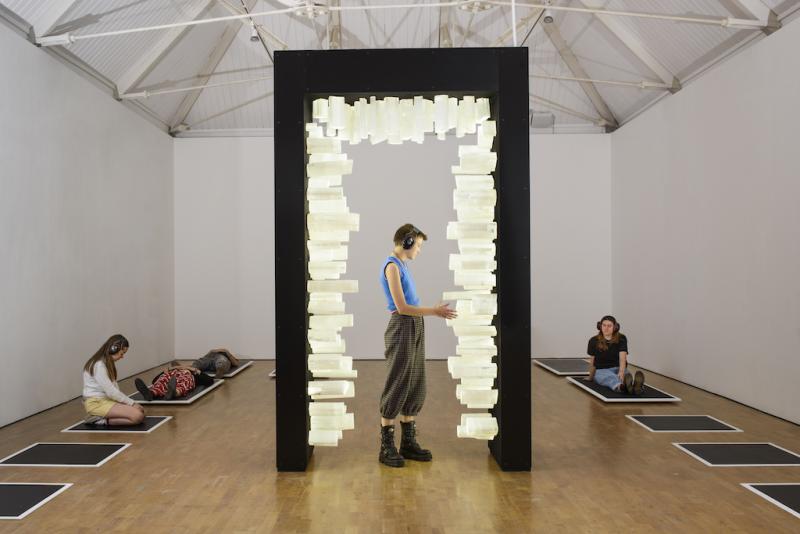 Gates and Portals by Marina Abramović. Installation shot Modern Art Oxford
I have powerful memories of performances by Marina Abramović. Back in 1977 at Documenta in Kassel, Germany, she and her then partner Ulay stood either side of a doorway, facing one another. There was only enough room to squeeze through sideways and, since both were naked, choosing whom to face was an interesting challenge.
The experience was akin to a rite of passage, since going through the doorway required you to jettison the norms of social interaction. By rewriting the rules and making you complicit, the artists were demonstrating that art can change social behaviour.
Working on her own since 1988, Abramović has become even more ambitious in that regard. As time has gone by, she has increasingly adopted the mantle of a guru, seeing performances as opportunities to improve people's wellbeing or bring about shift's in their perceptions. At least, that is the hope.
At New York's Museum of Modern Art, for instance, in 2010 she performed The Artist is Present. She spent three months sitting in a chair for eight hours a day gazing into the eyes of individuals, some of whom had queued all night for the experience. Many of the encounters were intense and tears flowed copiously. For them, it seems, Abramovic had assumed the role of therapist, seer or priestess, rather than artist.

She may not be present during Gates and Portals at Modern Art Oxford, but her desire to offer people a transformative experience remains and, once more, doorways are the catalyst. Trained in what the artist calls the Abramović Method, facilitators lead one to a copper gateway (pictured right). Wearing earmuffs to block out sound, you stand with eyes closed in this Time Energizer, which contains two overhead magnets that augment the effects of the copper frame. Some may feel anxious at being separated from their watches and mobile phones and being disconnected from their surroundings, but for me the result was pleasing. My heart pumped loudly in my ears, at first quite fast then gradually slowing down along with my breathing.
Then, with headphones on and eyes closed, you stand facing a wall; next you sit blindfolded on a chair until, hopefully, you've achieved what Abramović describes as, "that sense of being truly present, when time doesn't exist." I felt calm and relaxed even though the headphones don't block out all sound. Finally you are led to a portal lined with lumps of white selenite (main picture), which concentrates the light shining through it to create a fierce brightness and pleasing warmth.
The artist offers this as a gateway to transcendental experience, while also acknowledging that an outcome of this magnitude is unlikely. It's "about transition and a transformation of consciousness at the same time. For the visiting public, that's a very involved task… It's not something that's instant, you need the time, you need the dedication in order for something different to happen…you need to make a great effort… You don't get something for nothing." And there's the rub. Given the passivity of the guided experience and the time constraints of a gallery visit, failure is inevitable.
Having studied Tibetan Buddhism, Abramović spent three months in retreat at Dharamsala, the Tibetan capitol in exile. "What I'm most keen on is the process of change that you can only make through very rigorous spiritual practice", she explains. A journey of that kind is not one you can readily share through an exhibition, though.
At Oxford Univerity's Pitt Rivers Museum, the artist spent a month interacting with exhibits that include a shiny glass bottle with a large stopper. This fascinating treasure was acquired in 1915 from a woman in Hove who declared: "they do say there be a witch in it and, if you let un out there, it be a peck o' trouble."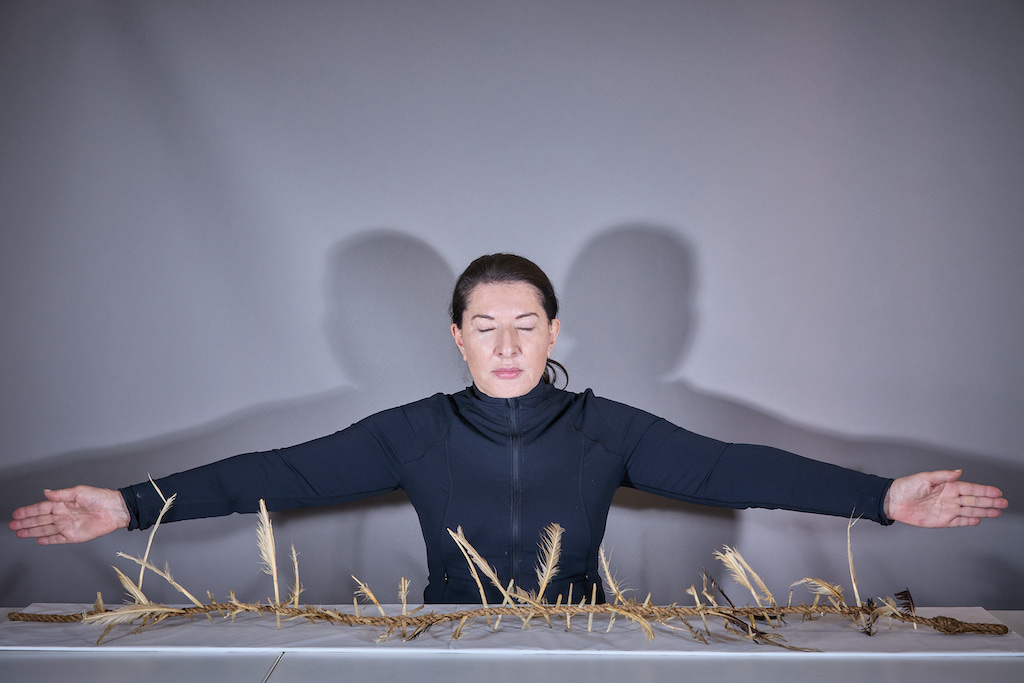 In her video, Presence and Absence 2022 (pictured above) we see the artist exploring the energy she senses emanating from the chosen objects. With eyes closed, she stretches her arms wide over The Witch Ladder. Made of rope stuck with feathers, the ladder was found in the nineteenth century in the roof of a house in Somerset apparently occupied by a witch. Ladders like these are said to be used by witches even today to access rooftops.
When the artist opens her eyes, her gaze is fixed and distant, as though seeing beyond the present moment. Is it hocus pocus or is she genuinely in a trance? There's no way of knowing, but either way, the intensity of her shamanic focus excludes the viewer. We can only stand and stare.
Accompanying the video is a charming drawing made by Abramović of the ladder. If the presence of this installation by such a renowned artist encourages more visitors to come and discover the hundreds of truly amazing objects housed in this wonderful collection, then it will have been worthwhile.
The artist offers this as a gateway to transcendental experience, while acknowledging that an outcome of this magnitude is unlikely
rating
Explore topics
Share this article