Postwar Modern: New Art in Britain 1945-65, Barbican review - revelations galore |

reviews, news & interviews
Postwar Modern: New Art in Britain 1945-65, Barbican review - revelations galore
Postwar Modern: New Art in Britain 1945-65, Barbican review - revelations galore
Angst-ridden art that defines an era
Break-off, 1961 by GillianAyres
The Barbican's Postwar Modern covers the period after World War Two when artists were struggling to respond to the horrors that had engulfed Europe and find ways of recovering from the collective trauma.
Perhaps inevitably, a considerable amount of sturm und drang was produced by artists such as Alan Davie, Eduardo Paolozzi and Francis de Souza. Melodrama may have seemed appropriate as an expression of the despair and fatigue they experienced, but the work has weathered badly and now feels decidedly overblown.
You could say that, as people emerging from a global pandemic, the last thing we need is a display of angst ridden art. So I expected scant nourishment from this exhibition. Luckily I was in for a surprise, though, since the curators have unearthed enough delights and revelations to alleviate the gloom.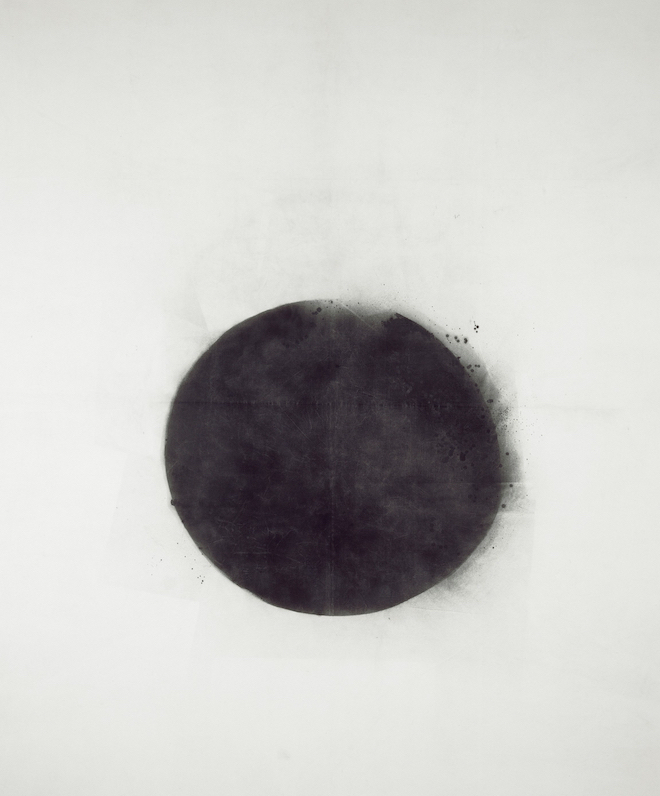 For instance, the first room contains an eloquent painting by John Latham (pictured right) which I had never seen before. A black circle hovers ominously in a sea of white. The canvas is so large that the expanse of white feels like infinite space and the darkness is like a black hole that threatens to suck you into its stifling interior – a metaphor rather than an illustration of menace.
In this company, Paolozzi's monotypes of crumbling heads assume an unaccustomed dignity. Elisabeth Frink's crow-like sculptures may be predatory harbingers of death, but they too avoid being histrionic. William Turnbull conveys a claustrophobic sense of repression by compressing his figures and imprinting the surface with striations suggestive of wounding and scarring.
One of the pleasures of the show is the inclusion of artists who've been overlooked. Magda Cordell was a member of the Independent Group alongside Paolozzi and Turnbull. Her huge painting Figure 59, 1959 features a flattened carcass suspended on a cream ground. This majestic shape is traversed by arteries pulsing with a vibrant red suggestive of life as well as carnage.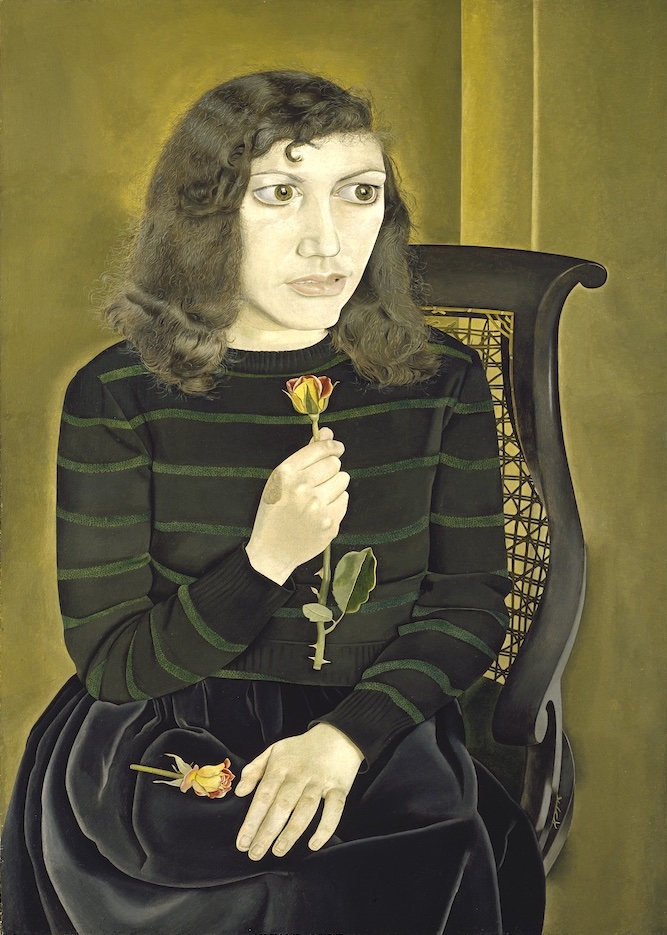 One room is dedicated to the couple John Bratby and Jean Cooke. It turns out that Bratby was a wife beater and control freak. He allowed Jean to paint only three hours a day and even destroyed much of her work. In her harrowing self portraits, Cooke appears hollow eyed and fearful.
Lucian Freud also had relationship problems. In Hotel Bedroom, 1954 the gulf between him and his second wife Caroline Blackwood is palpable. His dark silhouette looms over her, while she seeks refuge from his gaze under the bedsheets. The hallucinatory clarity of Girl with Roses, 1948 (pictured left) also implies deep-seated anxiety. The sitter, Freud's first wife Kitty Garman, had just learned she was pregnant. It's worth visiting the exhibition just to be reminded of the brilliance of these early paintings.
The best Leon Kossoff painting I've ever seen – Willesden Junction, Early Morning, 1962 – Is also included. Furrows of mud grey paint career towards the horizon where they are held in uneasy stasis by a barrage of pale grey brushstrokes; the whole world seems in turmoil.
A comparable unease permeates the work of Frank Auerbach who escaped Nazi Germany on the kindertransport for Jewish children, while his parents were murdered in Auschwitz. Not surprisingly, he obsessively paints the same subjects over and over as if to confirm their ongoing existence. In his 1964 portrait of Gerda Boehm (pictured below right), the paint is lathered on so thickly that it builds a relief which seems somehow to reveal the skull beneath the flesh.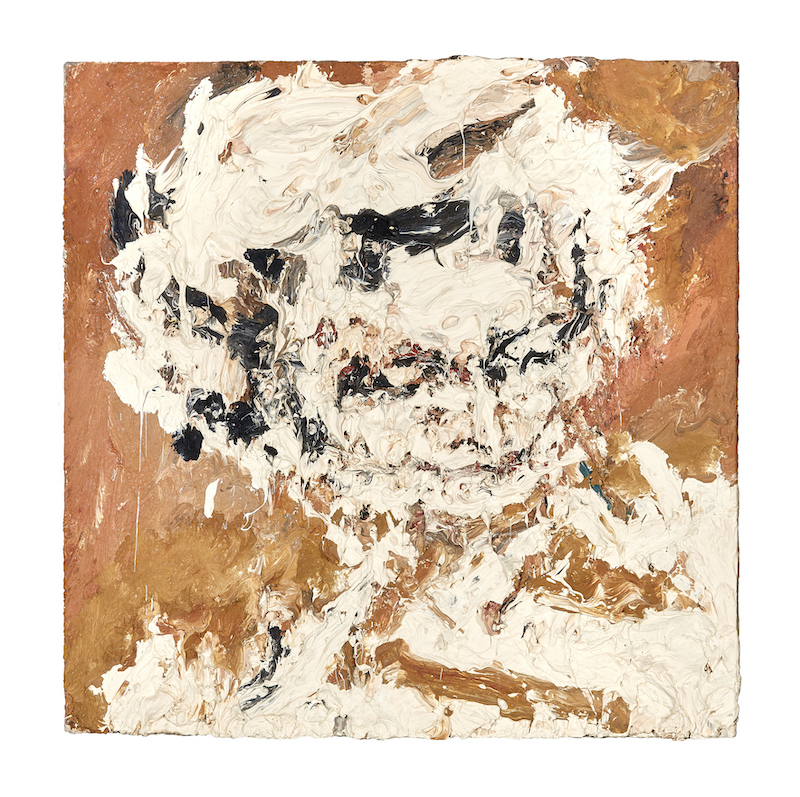 Having similarly escaped Nazi Germany, Eva Fankfurther studied at St Martin's School of Art alongside Kossoff and Auerbach but, unlike them, she has been completely overlooked. Attracted to the poor and marginalised, she accorded her sitters enormous dignity, while her self-portrait records a sorrowful face and shoulders drooping with melancholy.
Shirley Baker Is another woman erased from history, until now that is. She photographed kids playing in the bomb damaged streets of Manchester (pictured below: Hulme, 1965) and pioneered the use of colour film at a time when it was considered far too frivolous for use in documentary photography. Other highlights of this fascinating show are Gillian Ayres' dynamic early abstracts (main picture) and the totemic sculptures made from wooden offcuts by Kim Lim.
Gustav Metzger also escaped Nazis Germany as a child and the violence he witnessed prompted him to use destruction as a creative force in his work. On show is a film of his performance Auto-Destructive Art, 1965 in which he attacked a large sheet of material with acid slowly to reveal a view of St Paul's.
The show makes it abundantly clear that the contribution made by Jewish immigrants was invaluable. Along with David Medalla, one of whose disarming sand sculptures is on show, Metzger opened Signals, an alternative gallery fostering experimentation. By using unconventional materials to make work that was often short lived, they opened a debate on what could be considered art. And their example was to have a huge impact on what came next.
The show makes it abundantly clear that the contribution made by Jewish immigrants was invaluable
rating
Explore topics
Share this article