Sunken Cities: Egypt's lost worlds rediscovered |

reviews, news & interviews
Sunken Cities: Egypt's lost worlds rediscovered
Sunken Cities: Egypt's lost worlds rediscovered
Forgotten for over 1,000 years, eerily evocative treasures take centre stage at the British Museum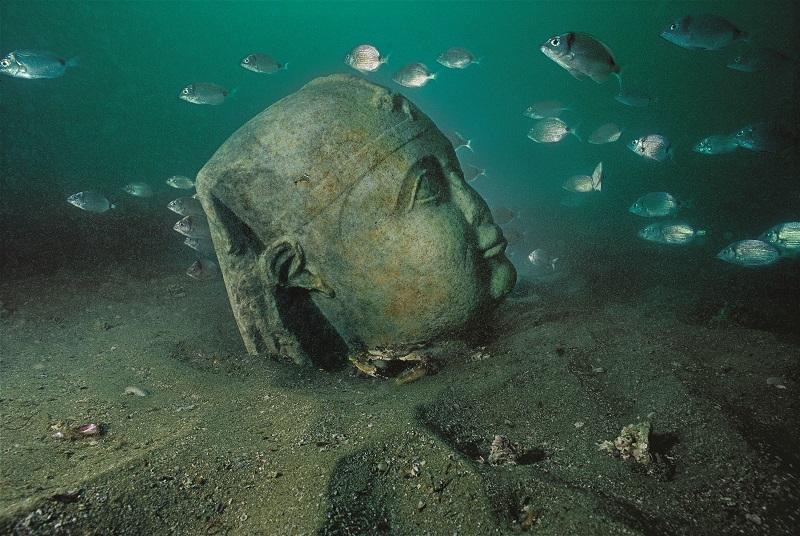 The head of a Ptolomeic king depicted as a pharoah, discovered in the lost city of Canopus
In a gallery darkened to evoke the seabed that was its resting place for over a thousand years, the colossal figure of Hapy, the Egyptian god of the Nile flood, greets visitors just as it met sailors entering the busy trading port of Thonis-Heracleion some 2,000 years ago.
One of the largest objects ever loaned to the British Museum, Hapy symbolises the prosperity bestowed upon Egypt by the river Nile, but whose waters ultimately brought about the destruction of the ancient cities of Canopus and Thonis-Heracleion, which subsided into the sea in the 8
th
century AD.
They were known about through ancient texts, but it wasn't until the 1930s that the first remains were discovered, with their exact locations pinpointed at the edge of the Nile delta only 20 years ago. Excavations have been ongoing ever since – an array of objects, beautifully preserved by the sea, offering a vivid picture of two cosmopolitan and culturally diverse cities, their fortunes intimately connected to the power of river and sea.
The fruits of the relationship between Greece and Egypt are seen in the form of sculptures that combine distinct idioms, while devotional objects show the assimilation of Greek and Egyptian gods. After centuries of trade between the two countries, Alexander the Great's conquest of Egypt in 332 BC saw the beginning of a period of even closer cultural exchange, with Ptolomeic rulers depicting themselves as pharaohs in an attempt to gain acceptance (main picture). An eerily beautiful sculpture of a Ptolomeic queen shows her as the Egyptian god Isis. The walking posture and the use of dark Egyptian stone instead of marble are characteristically Egyptian, as is the treatment of the face. The draperies, and the hair, however, are typically Greek.
Despite the many artefacts that have been recovered, it is thought that only a tiny percentage of the underwater site has been excavated so far. But the picture that emerges is of a complex and nuanced relationship between two great civilisations, in which sculpture played a central role.
Click on the thumbnails to enlarge
Two cosmopolitan and culturally diverse cities, their fortunes intimately connected to the power of river and sea
Explore topics
Share this article