Vivian Maier: Anthology, MK Gallery review - what an amazing eye! |

reviews, news & interviews
Vivian Maier: Anthology, MK Gallery review - what an amazing eye!
Vivian Maier: Anthology, MK Gallery review - what an amazing eye!
The brilliance of an amateur photographer who was almost lost to the world
Vivian Maier, 'Self Portrait, New York', 1953 (detail)
The story is riveting. A nanny living in New York and Chicago spent her spare time wandering the streets taking photographs. She learned to develop and print, but her plan to publish the images as postcards fell through and, as time passed, she stopped bothering even to develop the negatives let alone print them.
So most of the 140,000 pictures which she took over a period of 40 years were seen by almost no-one, including herself – until, that is, she failed to pay the rent on the storage unit where they were kept and its contents were auctioned off.
That sale was in 2007, and it could have been the end of the story. Had the pictures fallen into indifferent hands, we might never have heard of Vivian Maier or seen her incredible photographs. Luckily, one of the buyers was John Maloof who began scanning the negatives and, realising their extraordinary quality, started publishing the pictures on Flickr and, in 2011, organised the first of many exhibitions. Maier's exceptional talent was recognised immediately, but she had died two years earlier, unaware that she would soon be regarded as one of the greatest 20th century photographers – on a par with Helen Levitt, Robert Frank, Diane Arbus and Elliott Erwitt.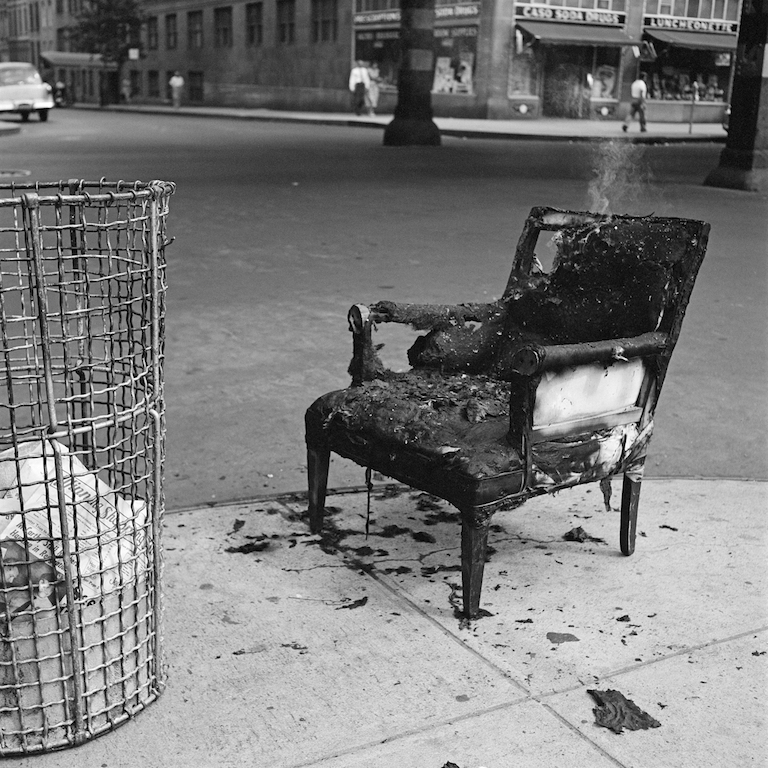 In 2013 Maloof made Finding Vivian Maier, a film recording his quest for information about the photographer's identity and the BBC broadcast a documentary about her, but MK Gallery's overview is the first exhibition of her work in the UK. And it is pure pleasure. Maier's impeccable timing, keen eye for composition and lightness of touch make every one of the 140 pictures on show an absolute delight.
Take, for instance, the New York cop clasping the hands of a woman who had tried to stab him with scissors and calming her down with soothing words, which she absorbs with closed eyes. There's the man with no ear making a phone call and the newspaper vendor asleep in his booth, as though exhausted by the clamour of voices all round him screaming for attention with headlines like TERROR. There's the burnt-out chair smouldering on a New York street beside a waste bin (pictured above), and two cats guarding a Chrysler Imperial whose futuristic tail fins make it look like a space ship that's landed in this sleepy Chicago suburb from Mars.
Maier doesn't rely on spotting the surreal in the everyday, though. Her ability to connect especially with children allowed her, on a trip to Canada in 1955, to record two little girls sharing secrets, a pale-faced boy looking fragile and introspective, and a girl with a dirty face and large watch standing defiantly with arms crossed. With her keen eye for detail and texture, she spotted the contrast between the elegant legs of a mother in black high heels and her young daughter's flat shoes and baggy white leggings (pictured below). What makes the picture touching as well as humorous is the way the girl hangs onto her mother's skirt and the choice of a low angle to suggest a child's view of the world.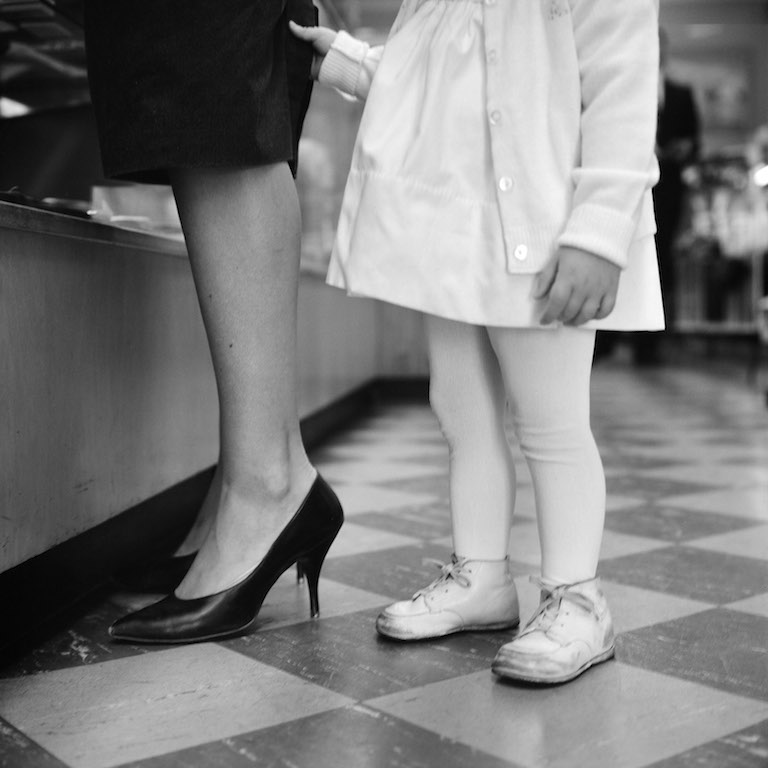 Maier loved abstract patterns whether made by leaves against the sky, fire escapes criss-crossing a wall, the struts of a bamboo blind, or the springs of a discarded bedstead. She used shadows and odd viewpoints to make shots so complicated they can be hard to decipher. Seen from above in bright light, passers-by become nothing but black silhouettes casting long shadows (pictured below). Are they passengers seen from the upper level of the El train? She also loved puddles, reflections and visual irony. At the centre of Chicago's night life, Scotch Mist advertised itself as "the swingingest fun room in town". Maier captured the deserted street outside the bar on a wet night, when the neon signs glowing in the puddles are the only indications of life.
In the late 1950s she began using colour to make pictures that celebrate its possibilities. A pair of white legs, for instance, lies parallel to the red and yellow struts of a park bench and in another frame, she captures three people wearing yellow – two men in yellow shorts and socks and a woman in a yellow dress – as their paths cross on a Chicago pavement.
She may have kept her photographs secret, yet Maier didn't shy away from appearing in them. There she is smiling at a removal man as he lifts up a mirror that catches her reflection. There she is again, peering into a circular mirror which also reflects the building behind her (main picture) and again, caught in a mirror in an antique shop window and, once again, staring into a mirror with one of the children she looked after. Her shadow is another familiar sight. Wearing a dark coat and striking hat, she casts her spell over buttercups growing in a lawn, film posters in the subway and fat buttocks daubed in cement. It's almost as though she were laying claim to things.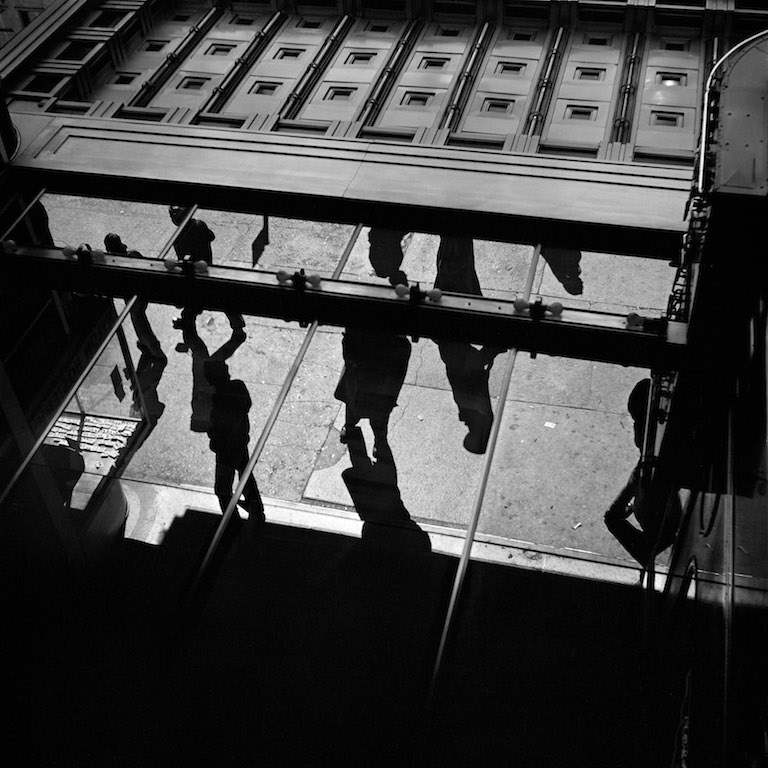 One day in 1954, Maier stood in front of a plate glass window in New York and took a photograph that is clever, funny and visually confusing. She dominates the picture, a giant reflected in the glass along with the cars behind her. Where her body blocks the reflection, though, we see through the window to the interior beyond. Two women are sitting there; in relation to Maier, they look miniscule and their tiny legs are contained inside hers like gherkins trapped in a pickle jar. The whole thing is like a conjuring trick; she has the power, it seems, to reveal things by her presence that would otherwise go unnoticed or remain hidden. And the idea is surprisingly God-like for someone apparently so self-effacing.
I suspect that Vivian Maier knew perfectly well how remarkable her photographs are; but being self-taught, she didn't have the confidence to promote herself so, instead, she bided her time until the world caught up with the idea.
Had the pictures fallen into indifferent hands, we might never have heard of Vivian Maier or seen her incredible photographs
rating
Explore topics
Share this article