Banine: Days in the Caucasus review - revolutions, pogroms and love |

reviews, news & interviews
Banine: Days in the Caucasus review - revolutions, pogroms and love
Banine: Days in the Caucasus review - revolutions, pogroms and love
Autobiography of an unusual childhood in Baku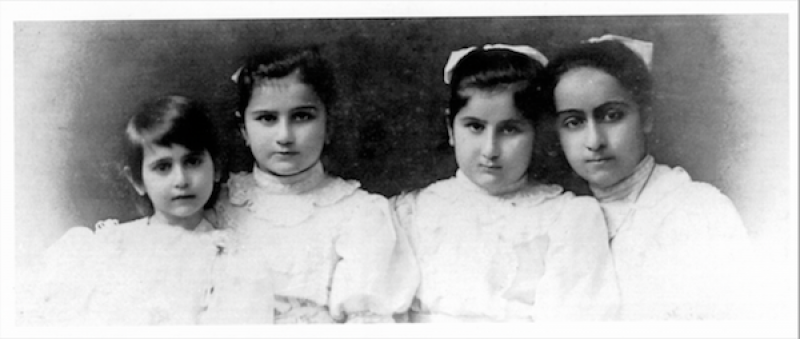 Banine (far left) with her sisters
By fifteen Ummulbanu Asadullayeva — or Banine, to call her by the name under which she wrote and translated — had already lived more than most of us will in a lifetime. She'd experienced great love, married, been both a refugee and returnee, survived a pogrom, become a multimillionaire, been divested of that fortune by revolution, and read nearly the entire contents of her Aunt Rena's library. By 1924, she was living in Paris, where she settled. Her life was extraordinary, but so were the times.
Days in the Caucasus, the autobiography of her childhood, written in French and published in her adopted country France in 1945, concerns itself with the personal earthquakes as much as the political. The two, after all, were too close to separate. She was born in 1905 to a family of Azerbaijani millionaires whose oil wealth stretched back only as far as her peasant-born grandfather. A bookish child, the youngest of four sisters, she was given to dreaminess and animism — at the family holiday house on the Absheron Peninsula she counted vines, rocks and trees among her friends. She was one of a generation who grew up in a twilight between traditional Muslim mores and an influx of Western (and Russian) manners, and who saw the rise and almost immediate fall of an independent Azerbaijan.
She paints a portrait of a fabulous, lost world on the permanent cusp of change in which extremes reign and nothing is as straightforward as it first appears. Baku's new-found oil wealth had upended social hierarchies, jettisoning her peasant grandfather into the upper echelons of society while losing none of his coarse (as she considered them) habits. Oil money opened the country to Western and modernising influences rendering devout Muslims deft hypocrites who "without regret" threw off constraints developed for a peaceful — but not a contemporary — life. "Is wine forbidden by the prophet? People made up for it by drinking spirits — vodka, brandy — on the false pretext that it wasn't wine. Reviled too was the reproduction of the human image, but the photographers were overwhelmed with customers".
Closer to home, her family's behaviour oscillated wildly between entrenched habits and utterly unpredictable turns. Her miserly grandfather, Musa, returned in hale health from his kidnapping — the hospitality of Azerbaijani kidnappers being legendary — and on his death was found to have given away vast sums to educate poor boys. Her devout grandmother's knowledge of scurrility paraded itself in frequent and colourful invectives, she and her sisters fell "like skittles" for the White Russians and other émigrés who wash up in Baku during the revolution, and while gambling is prohibited, Banine, along with much of the city and all of her female relatives, was an inveterate card shark.
The sharp, witty humour with which she conveys this colourful cast and rambunctious environment hints at just how close tragedy hovered during this decade and a half of monumental change. Humorous episodes and terrible revelations alike, her playful narration defuses the threat that drives the freneticism of both kinds of event. Her account of hiding terrified during a pogrom in an Armenian neighbour's house while Dashnak militia raped, killed and looted, is leavened by her recollection of the "flood of lentils" cheerfully pressed upon them by their enthusiastic hosts. When she and her family escaped to Persia by tanker across the Caspian, the transmutation of her fear into relief and thence gigantic appetite is first emotionally analysed ("Suddenly you enter a world where your fears stop abruptly and are no longer relevant") and then wickedly sent up when nothing she eats can be kept down ("I turned from pink to green, joyous to nauseous… And it all ended up in the lavatory bowl.")
It's lively surviver's optimism, the kind that relates tales with verve and relish. But as a Roman Catholic convert who wrote and thought in French, Banine — like many other émigrés (or refugees) — felt totally separate from her past: "I'm surprised to realise that this part-oriental, part-German and later, Russian childhood is my own; that the dreamy, withdrawn and rather naughty girl is me. All these dredged up memories seem borrowed: it's hard to believe they're mine." Humour becomes another way of distancing herself from a childhood that was hardly short on entertainment but no less difficult for it. Yet occasionally, terrible things collapse the decades — such as when her friend Tamara recounts how she and Banine's mischievous cousins, Asad and Ali, played at "rape the Armenian"; Banine's idiosyncratic description of her horror ("I was an exclamation mark,") carries across the years with all of its force intact.
Banine's witty observations puncture pieties and preconceptions. She has a wickedly whetted tongue, and enough self-awareness to refuse sparing herself from her own reflections ("he would be too upset to eat his sardines and I would polish them off, bones, skin and all"). Her writing is gorgeously translated (from the French) by Anne Thomson-Ahmadova who spent twenty years living in Baku and it's only to be hoped that more of her works are translated as a result.
Subscribe to theartsdesk.com
Thank you for continuing to read our work on theartsdesk.com. For unlimited access to every article in its entirety, including our archive of more than 10,000 pieces, we're asking for £3.95 per month or £30 per year. We feel it's a very good deal, and hope you do too.
To take an annual subscription now simply click here.
And if you're looking for that extra gift for a friend or family member, why not treat them to a theartsdesk.com gift subscription?