András Schiff, Wigmore Hall review - mystery marvels mesmerise |

reviews, news & interviews
András Schiff, Wigmore Hall review - mystery marvels mesmerise
András Schiff, Wigmore Hall review - mystery marvels mesmerise
A surprise programme of less obvious works casts a spell all its own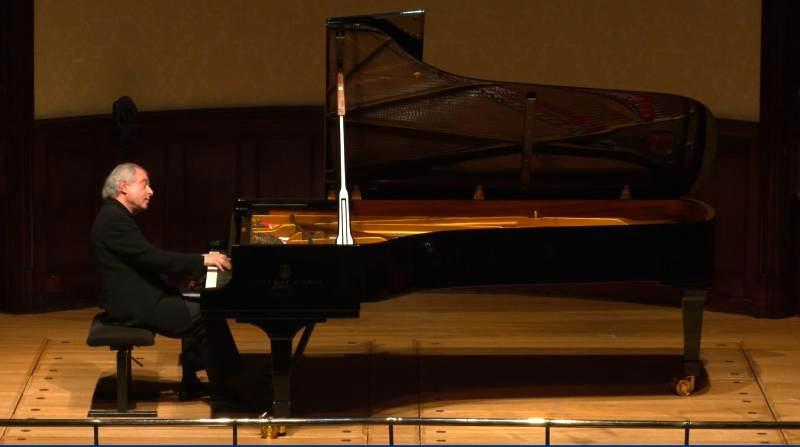 Anti-gravitational pianism: Schiff plays Beethoven
As András Schiff remarked from the stage early in this fairly remarkable evening, his usual audience knows he's not about to play Rachmaninov. The idea for this concert last night and his return visit today, is that we turn up not knowing exactly what we will hear, beyond the name of a composer or two. He has a point. Why should pianists have to decide on every detail of their programmes two years in advance, sometimes more?
It's not an orchestra that needs to hire music and book a conductor. Given a sterling reputation, a devoted public following and a very good memory, a top pianist can pull off a fine recital at a few weeks' notice. Sometimes less.
This programme – the first in a long weekend of celebrations for Wigmore Hall's 120th birthday – might have looked strange on paper, had it been set out ahead, but it worked a treat. It contained three of Beethoven's less instantly saleable sonatas – all of them mesmerising pieces of the finest quality, but which we don't hear nearly as often as we should. Schiff introduced the concert himself and grouped the interval-free 90 mins (another innovation he hopes to keep post-Covid) into three sections: each consisted of a sonata in an unusual key, preceded by Bach's preludes and fugues in the same key from books 1 and 2 of the '48' The Beethovens were the A flat major Op. 26, the D minor Op. 31 No. 2, the "Tempest" and the F sharp major Op. 78 – one of Beethoven's own favourites, sometimes known as 'À Therese' thanks to its dedication to Countess Therese von Brunsvik, a Hungarian educational pioneer and one-time pupil of the composer.
There's something marvellously anti-gravitational about Schiff's playing. His Bach finds him bouncing through dance rhythms, batting the notes as lightly as a cat toying with a creature it doesn't yet want to kill. Textures are airy, indeed delectabubble, and legatos true-centred, created without a vestige of pedal-cheating. The temperature is cool, the voicing judiciously balanced: these fugues are not heavy weather, or drily academic, but just a step away from Bach solving a crossword puzzle.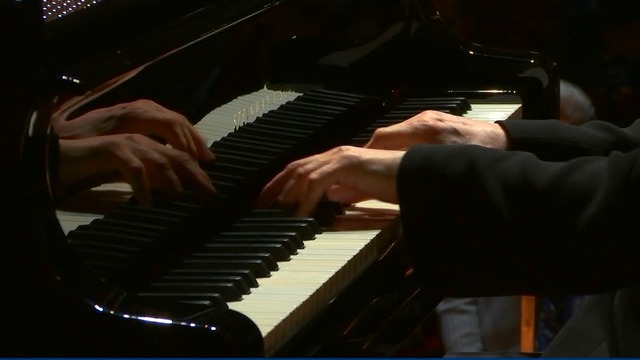 These three Beethoven sonatas all begin and end quietly – probably another reason they're not programmed so much – and the first sounds of the "Tempest" set up a dark enchantment, those of the F sharp sonata a prayer-like invocation. Whether Beethoven really was thinking of Shakespeare in the D minor sonata, we'll never know; it seems to me that the slow movement might perhaps be a response to"'Full fathom five thy father lies" (can you hear the bells tolling under the water?). But while others might scamper through its revolving globe of a finale, Schiff created a remarkable sense of mystery by restraining the tempo and infusing the purling semiquavers with a kind of other-worldly wisdom that did in its own way seem wholly Shakespearean.
That was the central D minor section of the programme. First came A flat, the Op. 26 Sonata, full of originality and immensely influential: lightly-worn variations to begin, a not-so-funny scherzo and a funeral march, a step on the way to the 'Eroica' and one that Schubert must later have known (he seems to have pinched an idea for his late G major String Quartet) before a gentle rondo that foreshadows the subtle, wistful conclusions that Brahms loved. The two-movement F sharp major Sonata is tender, vivid and witty within its rather weird key and provided a joyous conclusion.
For encore, I wondered if Schiff might go into B flat major and choose Op. 106, but no: a sprightly little Bach two-part invention did the job instead. This was the one that floats in at the end of the Beatles' 'All You Need Is Love', which may be pure coincidence, but might say plenty about what was for many of us the first night back in Wigmore Hall after a very long winter.
Textures are airy, indeed delectabubble, and legatos true-centred
rating
Explore topics
Share this article