Ax, LPO, Canellakis, RFH review - from the soil to the stars |

reviews, news & interviews
Ax, LPO, Canellakis, RFH review - from the soil to the stars
Ax, LPO, Canellakis, RFH review - from the soil to the stars
Pianistic warmth and wisdom anchors a journey from earth to the heavens
Thursday, 20 October 2022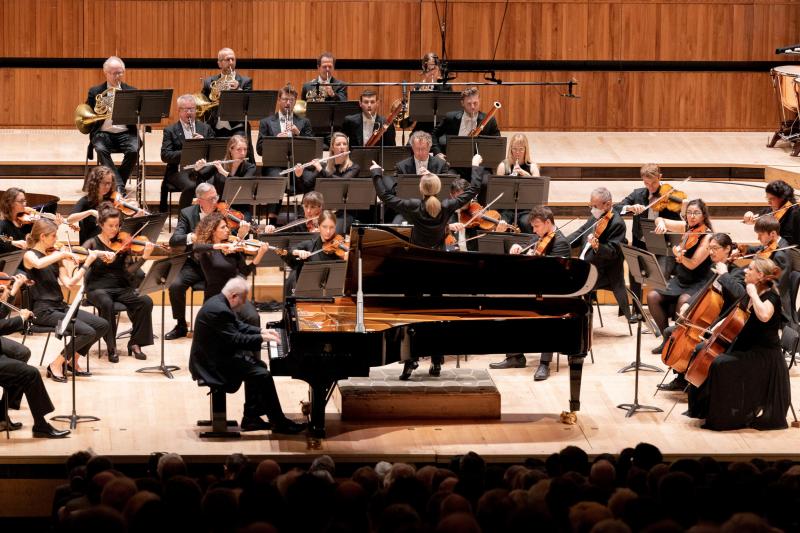 Fire and air: Emanuel Ax
Good conductors should surely be seen as well as heard.
Positioned behind Emanuel Ax's piano in Brahms's first piano concerto, with the two flanks of the London Philharmonic's strings spread wide on either side across the stage, Karin Canellakis sometimes looked from the stalls of the
Royal Festival Hall
as if she were directing the chamber ensemble of horns and woodwind just in front of her. Thankfully, the sounds she spun from the
LPO
and her much-loved veteran soloist told a much more comprehensive story.
Ax embraced the work like the old friend it is to him, perhaps holding back a little on the stormy outbursts of the maestoso first movement, but silkily lyrical both in its stiller passages and in the glowing introspective journey of the adagio. Canellakis – now the LPO's Principal Guest Conductor, and a star signing to cherish (pictured below) – found a sense of spaciousness and an architectural breadth to match Ax's poise, dignity and periodic flares of tenderness.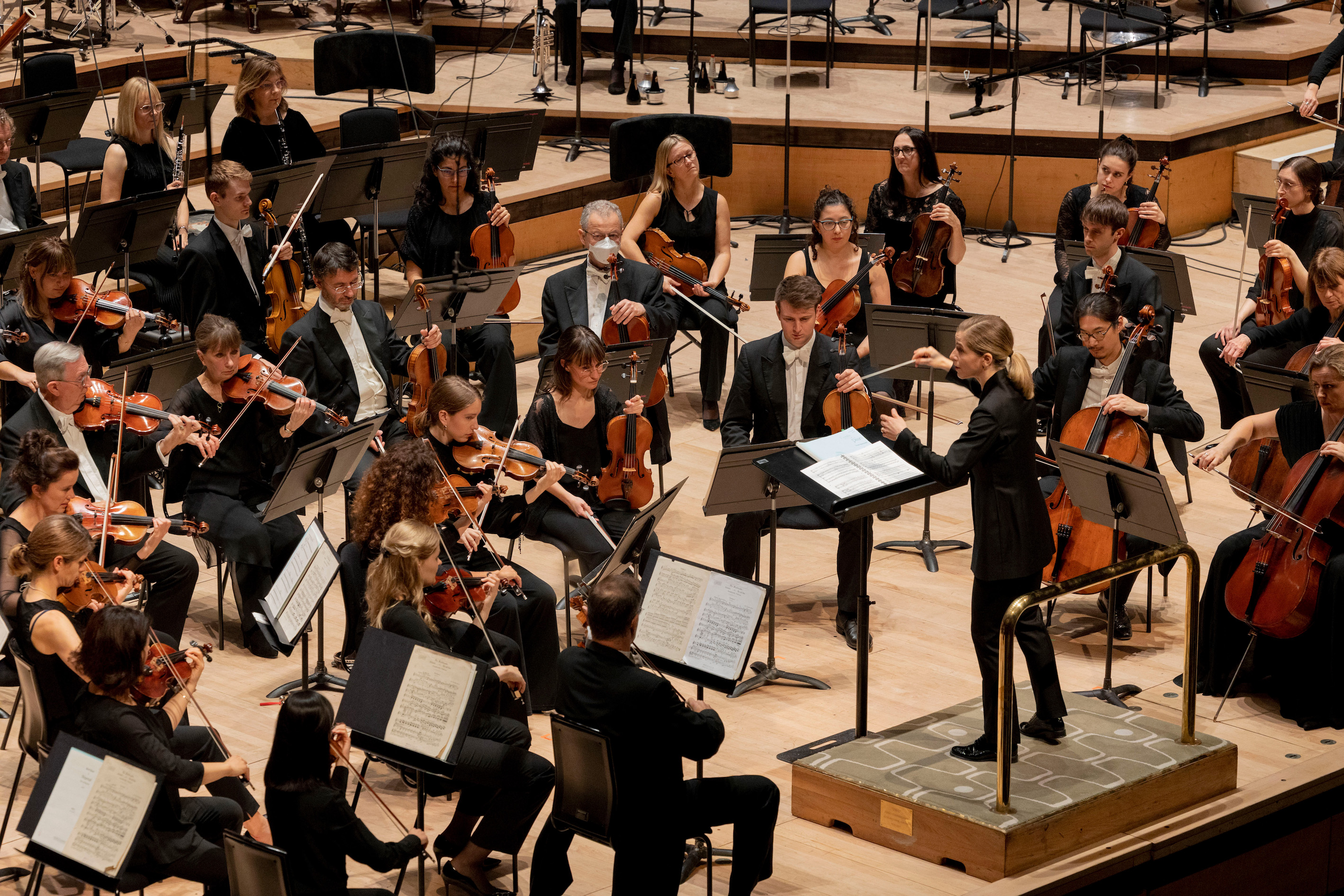 She steered the orchestra into and past Brahms's thunderous tutti climaxes with a galvanising sense of drama and suspense. If you sometimes feared that this work's more symphonic aspects were at risk of breaking free from the pianist's solitary quest, Ax's quiet authority, and richness of expression, anchored the whole journey.
The LPO strings, commandingly led as ever by Pieter Schoeman, wielded all the muscular warmth required to complement the solo part. Still, Ax's gentle, yearning snatches of dialogue with the horns (led by John Ryan), flutes (Juliette Bausor) and oboes (Ian Hardwick) threatened to steal the show, especially in the wistful autumnal colours of the adagio. Canellakis, agile and attentive to the impact of every well-placed shift of tempo and dynamics, has a flair for the telling local detail as much as the panoramic big picture. On this showing, the richly individual character of several LPO desks fits her style of conducting like a luxury glove.
She has the capacity to shape and ride the grander collective waves of sound as well. The closing rondo saw Ax's explosive iterations of the main theme matched by emphatic but clean-edged answers from the band. Ax's measured, refined, even conversational, pianism avoids any haste, strain or sweat. But if he soothes more than he stirs, it's far from sounding bland: an enveloping inwardness in Brahms's more serene passages can turn on a dime towards a punchy attack mode. However, it was Ax's sweeter side that came to the fore in the rippling lilt of Schubert's Ständchen (in Liszt's version) that he chose for an encore.
Before the interval, Canellakis and the LPO had opened with two pieces that offered spotlit window-displays for their emerging partnership. Dvořák's 1896 symphonic poem The Wood Dove illustrates a macabre folk-tale in which a wicked young wife poisons her husband, hypocritically grieves for him, swiftly remarries, then does away with herself after the cooing dove awakens her dormant conscience. Just another day in the Bohemian woods, then… but for mature Dvořák it prompted brooding, melancholy orchestral scene-painting, interspersed with the rhythmic flair and dash of folk-dance and song.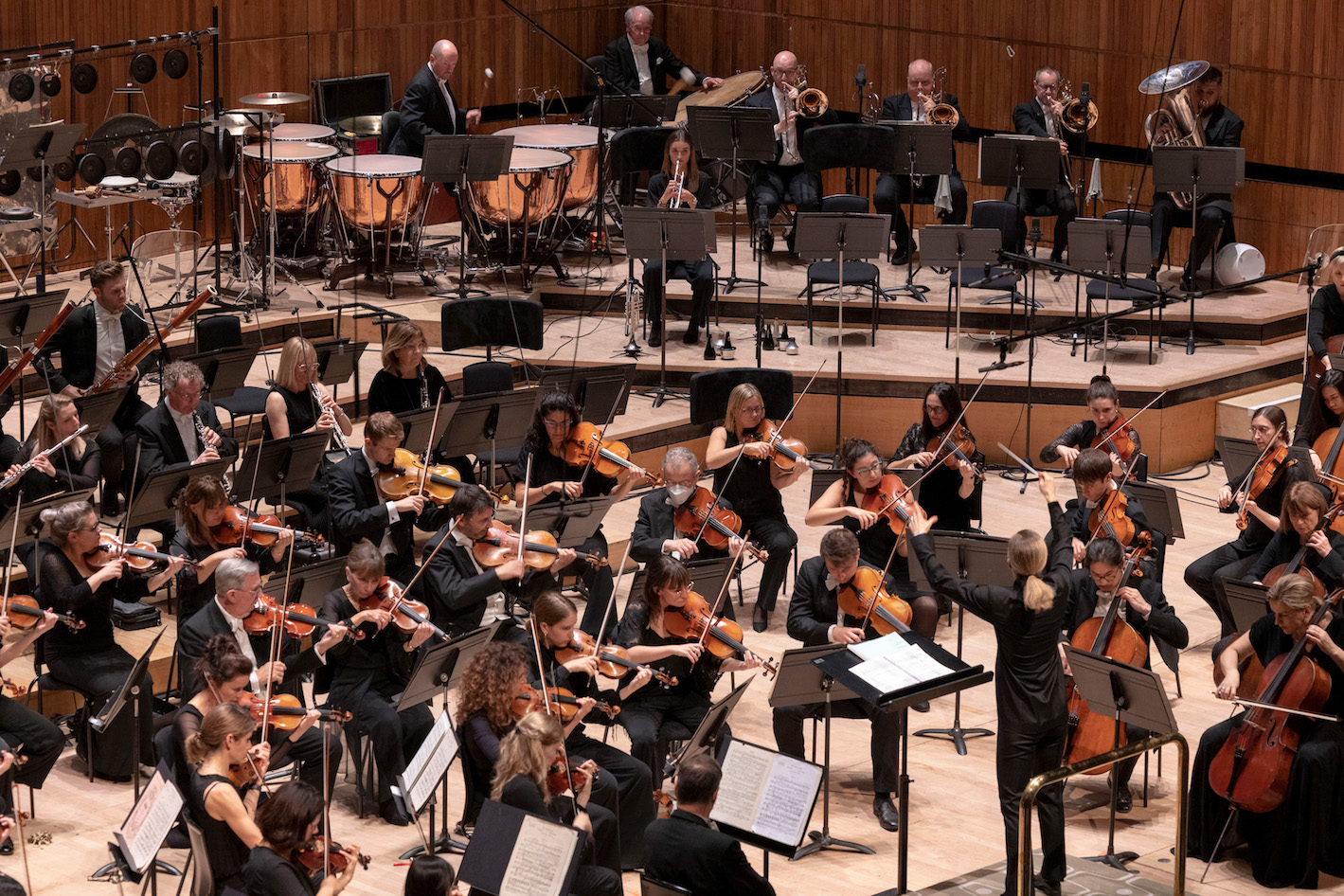 Canellakis made the most of its funeral and wedding music, as the work's sombre atmospherics yields to interludes laden with a sort of tuneful menace. Expansive paragraphs of string exposition, with uncanny bird-calls from the woods, issue in edgy, eerie marches and waltzes. At moments, she made this alternation between luscious, sweeping strings, and the perkily sinister winds and brass of the accursed festivities, sound almost like Mahler. Low woodwinds (bass clarinet and all) contributed mightily to the shadowy forest mood, with flutes and harps (Rachel Masters and Tamara Young) adding their own signature flourishes to this unworldly soundscape.
Brett Dean's Three Memorials gave Canellakis's baton, and the sounds it summons, another kind of set-piece exercise entirely. The Australian composer's (and ex-Berlin Philharmonic viola player's) work unites a trio of pieces separately composed as elegies or laments for the victims of violent injustice: Aboriginal people slaughtered in a 1860s massacre (Dispersal); the 200-plus people killed in the Bali terrorist bombing of 2002 (Ceremonial), and the Russian cosmonaut who, in a botched 1964 mission, became the first man to die in space (Komarov's Fall). Canellakis held the tense, jagged, fissiparous orchestral textures together with a sure strategic grasp.
This is music that mourns the casualties of terror and cruelty with an incendiary anger of its own: in Dispersal, fusillades from the massed percussion, anguished obbligatos in the brass, frenzied staccato figures from strings. Later this paroxysm of angular rhythms settles into quieter grief, with even the ghost of a hymn tune as the piece winds down. The LPO's timpani and percussion also shone in Ceremonial, with its gamelan-flavoured effects (not archly folkloric but a subtler kind of local allusion), sepulchral keyboards, and ominous low strings. The LPO basses seemed to support the entire edifice of pain: a monumental foundation over which the tuned percussion and the cracked bluesy phrases of the brass inscribed their different lines of sadness and bewilderment.
Komarov's Soviet-era tragedy sends Dean into a sonic orbit filled – at first sparsely, then densely – with the random static of space, captured in the bleeps, pulses, buzzes and solar winds channelled by strings, woods and percussion. But we hear very little Messiaen-like interstellar ecstasy and wonder in this neck of the galaxy; more loneliness and dislocation, alleviated only by stuttering emergency calls from the strings.
Lost-in-space narrative, however, interests Dean less than brooding cosmic scenography. A forsaken soul's glimpses of the vast, cold nothingness around him turns Komarov's Fall into a movement from a sort of bleak postmodern Planets. Dean's strikingly impressive, if comfortless, score found an exemplary mission-controller in Canellakis, who piloted us safely back to earth.
Dean's music mourns the casualties of terror and cruelty with an incendiary anger of its own
rating
Explore topics
Share this article