Barenboim 60th Anniversary Concert, Simón Bolívar SO, Dudamel, RFH |

reviews, news & interviews
Barenboim 60th Anniversary Concert, Simón Bolívar SO, Dudamel, RFH
Barenboim 60th Anniversary Concert, Simón Bolívar SO, Dudamel, RFH
Monumental Brahms concertos celebrate six decades of RFH performances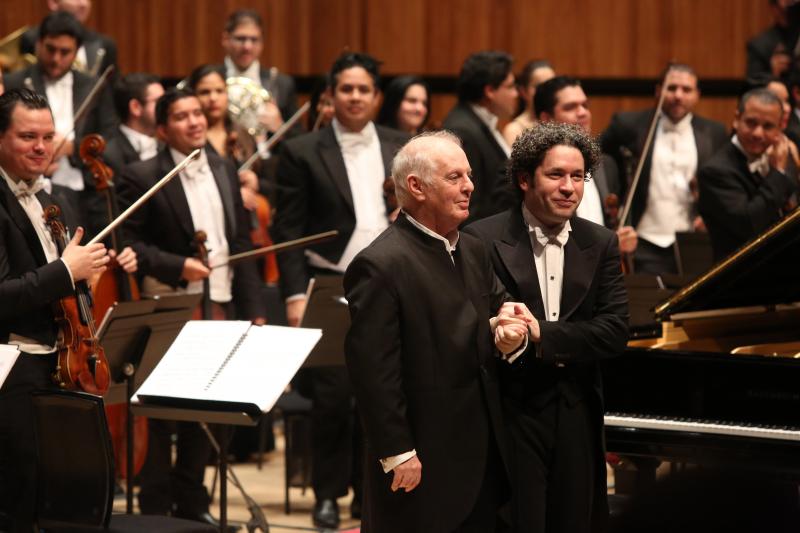 A sense of occasion: Daniel Barenboim and Gustavo Dudamel
The memories were flooding back last night. Daniel Barenboim's speech after the concert, lasting about a quarter of an hour, contained vivid recollections of his first appearance on that stage in 1956 as a 13-year-old (playing the Mozart A major Concerto with the RPO and Josef Krips). There was a welling-up of emotion as he summoned back memories of the RFH stage from his time living in London: "I remember Jacqueline...Barbirolli." And a decade with the English Chamber Orchestra. "Don't tell anybody in the orchestra: I was learning my trade."
The speech ranged wider too. There was a story of Hitler marking up a score of Lohengrin, of Stalin sending money to pianist Maria Yudina and receiving the response "I will give the money to the families of your victims." And, as was to be expected, here was unstinting praise for Dudamel and for the Sistema project and for the 750,000 children who have gone through it. Barenboim had just played both of the monumental Brahms piano concertos, and even a little, sudden, unscheduled encore (a beautifully skittish "Traumes Wirren" from Schumann's Fantasiestücke, Op12) which had left Southbank's Artistic Director briefly stranded on stage, speech-ready with microphone.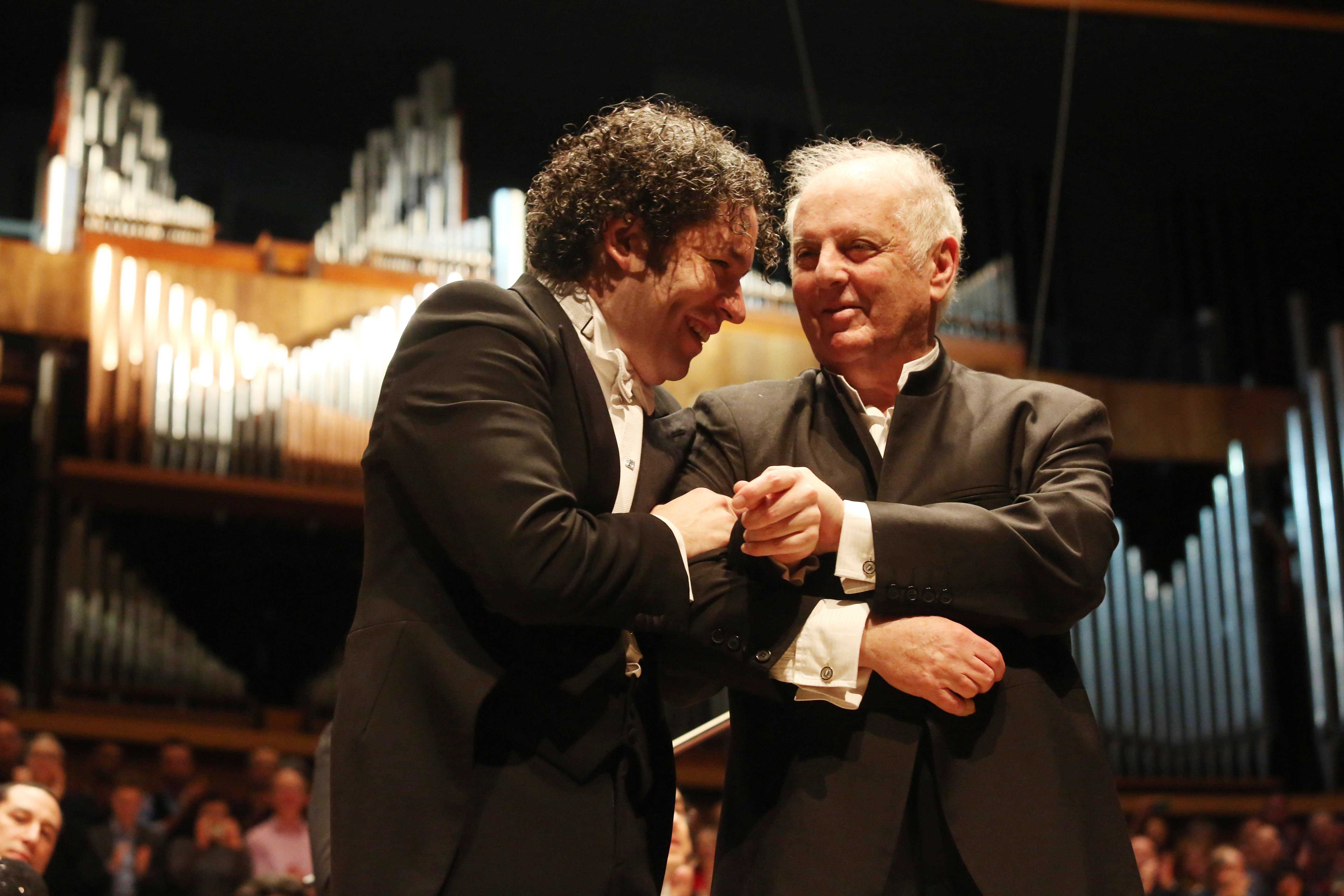 And the concert. To me, the opening of the second movement of the second concerto summed up in microcosm both its considerable delights and also its frustrations. Barenboim launched in, carrying authority, depth of sound and feeling. The orchestra's horns and then the lower strings brought out the perfect accompaniment. They followed his every tic, every little expressive acceleration and hesitation in complete lock-step. The sound of those lower strings bringing out the glory of the D minor melody was full, resonant, and totally heart-warming. But then came the problem: a unison melody in the upper strings marked with the instruction "tranquillo e dolce." Dudamel wilfully chooses to read the Italian expression as meaning a slamming on of the brakes, as if as long as is humanly possible needs to be spent wallowing in that phrase, the only possible limit being what the length of a violin bow will allow. Such instances had plagued the first concerto, much of which had seemed like a 20mph zone, or, as I overheard in the interval from one wag: "Morton Feldman speed." The second concerto was a much more satisfying and affecting performance, and the cello solo in the third movement was beautifully taken.

The Bolivar Orchestra's strengths but also their flaws were much in evidence. The unanimity and expressive power of the body of strings really are quite something. However, with the possible exception of those horns, the wind principals, by international or by London standards, are simply too meek as players to really pick up a dialogue with a soloist like Barenboim, to run with it and hand it back.
This was a big occasion celebrated with a memorable performance of the Brahms Second Piano Concerto, and the long and sincere standing ovation at the end of it, saluting 60 years of appearances on that stage by one of the great classical musicians and advocates of our time was unanimous, well-deserved and necessary.
The Bolivar Orchestra's strengths but also their flaws were much in evidence
rating
Explore topics
Share this article