BBC Proms live online: Viennese Night review - sophisticated pleasures |

reviews, news & interviews
BBC Proms live online: Viennese Night review - sophisticated pleasures
BBC Proms live online: Viennese Night review - sophisticated pleasures
Lehar's 150th birthday bash goes retro, and ends up sounding fresher than ever
Tuesday, 01 September 2020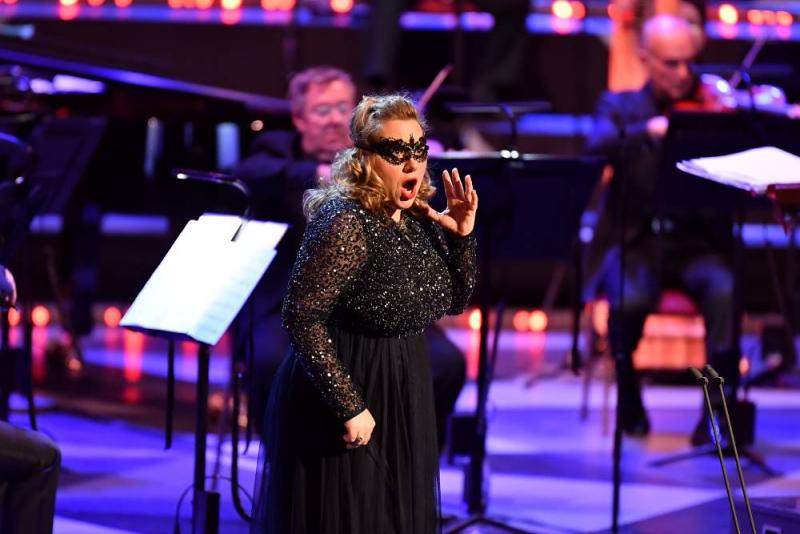 Masks obligatory: Sophie Bevan and the BBC Concert Orchestra
Viennese operetta is like that other great Central European treat, goulash. It comes in many forms. In Vienna it's coffeehouse comfort food; in Slovenia they add bacon for a smoky tang. And in the marketplaces of Transylvania it comes in bubbling iron cauldrons, practically fluorescent with paprika. But it's all goulash. You know it when you taste it, and all that matters is that it tastes good.
And when it's really good, it tastes even better when warmed through and dished up second time around.
Which is by way of saying that I can't honestly get too worried about the authenticity or otherwise of the BBC Proms Viennese Night: a 150th birthday tribute to Franz Lehár (and it was about time someone offered one) that ranged freely through his Viennese predecessors, contemporaries and (in the case of Emmerich Kálmán) rivals. Bramwell Tovey conducted the BBC Concert Orchestra and Sophie Bevan (main picture) and Robert Murray (pictured below) were the soloists in an unaccountably untelevised programme assembled (to judge from the arrangers listed on the BBC website) from vintage light orchestra arrangements that had presumably been yellowing in a corner of the BBC Music Library since around the time the Light Programme got the chop. Memo to followers of Marie Kondo: throw nothing away. You never know when it might come in useful.
Because with this repertoire, performed this affectionately, you'd better believe that these distinctly retro arrangements spark joy. Scaled down for socially distanced orchestra, Lehár's 1940 vintage Merry Widow overture shimmered and danced, with piano and harp glinting and rippling through silken, translucent string textures. No whipped cream indulgence here; Tovey shaped the beloved melodies with a buoyancy and a rhythmic flair that made them sound as fresh as they deserve to be – as fresh, in fact, as they always were. The introduction to the Gold and Silver Waltz had the swinging élan of a military march: appropriately, since Lehár was a bandmaster with the Imperial and Royal Army at the time that he wrote it.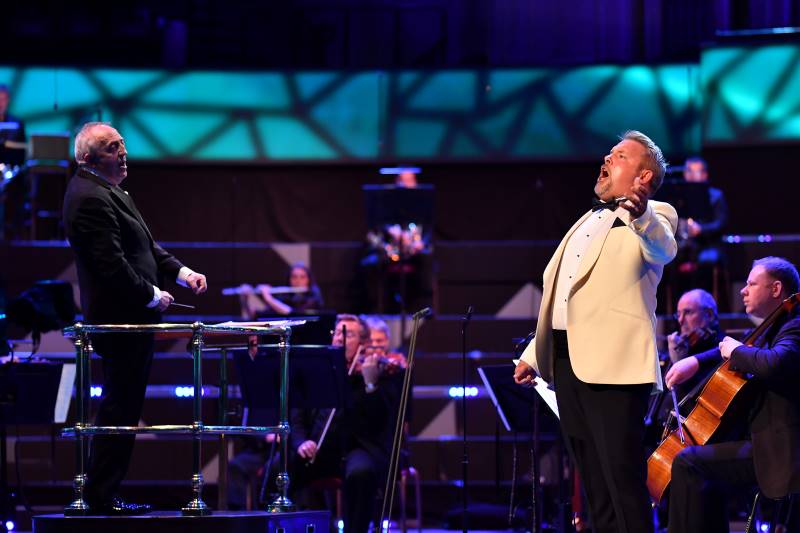 But Tovey found layers of melancholy in "Vilja," too, and emphasised – but never over-emphasised – the swirling, art nouveau woodwind lines that caress the melodies of "Meine lippen, sie küssen so heiss" and "You Are My Heart's Delight" (the sung texts, too, were a thoroughly appropriate goulash of German and endearingly dated English). Nathaniel Anderson-Frank, meanwhile, played the big violin solo from (the clue's in the title) Paganini with a suaveness and depth of tone worthy of Richard Tauber himself. It's hard to escape Tauber's shadow in late-period Lehár, but Bevan and Murray took ownership of these gloriously singable numbers with little fuss and lots of charm. She swung lightly from soubrettish sparkle to radiant, full-throated passion; he wore his tenor with the insouciance of one of Schnitzler's Viennese dandies, before nailing his high notes with a golden blaze of sound that would surely have brought the house down, if there had actually been anyone in it.
It's hard to retain critical detachment (full disclosure: I wrote the programme notes for this concert) when everyone present was so obviously enjoying themselves. In a duet from Oscar Straus's The Chocolate Soldier, you could hear the rustle of sweet wrappers on stage, precisely as the narrative demanded; and we got a much larger chunk than usual of "Im Chambre Separée", the bonbon-like waltz song from Richard Heuberger's Der Opernball. Throughout it all, you never once had the sense that you sometimes get, with starrier names, of performers patronising the music. It all sounded fresh, and if I've one real caveat it's that the programme visited only the most familiar landmarks of a vast and rich musical territory.
I was going to say "unfamiliar", but that's not actually true. In the 2018-19 season, Operabase tells us that among 20th century operas only Puccini and West Side Story received more performances, globally, than Lehár's The Merry Widow and Kálmán's Csárdásfürstin. Britten, Berg, Janáček, and Strauss (R)? Not even within hailing distance. Beyond these shores, this stuff is big box-office, and with good reason. In normal times, Lehár's anniversary might have been a chance for a more thorough retrospective (goodness knows, there's plenty there to rediscover). But these are not normal times, and perhaps the highest praise I can give this Prom is that for 90 minutes it did exactly what operetta has always done: offered unstinting – but far from unsophisticated – delight.
These distinctly retro arrangements spark joy
rating
Share this article