Borodin Quartet, LPO, Jurowski, RFH review - mixed results in oddball Czechfest |

reviews, news & interviews
Borodin Quartet, LPO, Jurowski, RFH review - mixed results in oddball Czechfest
Borodin Quartet, LPO, Jurowski, RFH review - mixed results in oddball Czechfest
More in-your-face playing needed for a bold and unusual programme
Thursday, 08 November 2018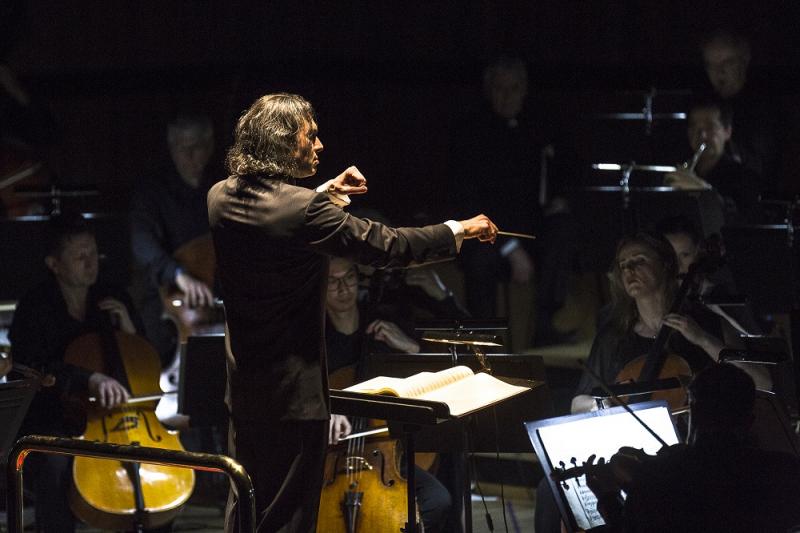 Vladimir Jurowski in action with the London Philharmonic Orchestra
How many times have you heard live in concert a concerto for string quartet and instrumental ensemble? In my case, three, all of the occasions performances of John Adams's Beethoven-based giant scherzo Absolute Jest.
Two more got added to the list last night in Vladimir Jurowski's typically rich and rare compendium which ticked quite a few boxes: as a showcase for strings, wind and brass respectively; as centenary homage to an independent Czechoslavakia; and (though this was not acknowledged in the programme) as a reminder that it was 80 years ago this coming December that the first Kindertransport left Vienna, giving so many like my 90-year-old friend Edward Mendelsohn a life denied to composers Gideon Klein and Erwin Schulhoff and millions of others.
Klein, unable to take up a scholarship at London's Royal Academy of Music which would have saved his life, left no orchestral music behind when he died in Auschwitz at the age of 25; Czech-born French composer Vojtěch Saudek arranged his String Trio as an effective Partita for full strings. Vigorous, fitfully poetic and impressive in the bass lines to which Jurowski gave special encouragement, this young man's work inevitably reveals its influences, especially whole-tone Janáček at the start and a 5/4 variation in the master's vein midway through a rather loose set based on a folksong from the Moravian land that nurtured the two composers.
The Concerto for String Quartet and Wind Ensemble by Schulhoff, who died of tuberculosis in Würzburg's concentration camp in 1942, starts in the shadow of greater inspirations by Stravinsky and Hindemith. But there's a remarkable dying fall, led by the quartet, to the Largo, while the finale sounds to me as if it incorporates not only jazz (in a quirky rondo-episode marked Tempo di Slowfox) but also Jewish music: Shostakovich's frenetic finale-homages seem to be anticipated here by several years.
Did it pay off to spotlight the Borodin Quartet (pictured above by Keith Anderson), still running since the death of its last founder member Valentin Berlinsky? I can't help feeling a quartet from the London Philharmonic Orchestra could have done a slightly more animated and more ardently projected job, finely cultured though the playing was. First violinist Ruben Aharonian, once so ardent a player, seems a little stiff now; more visible engagement would have lifted both the Schulhoff and Martinů's Concerto for String Quartet and (now full) Orchestra after the interval.
The obsessive hallmarks of Martinů's truly great scores - ie mostly from 1938 onwards; this is from 1931 - are all to be found here: the little motifs used to screw tension up to boiling point, the unconventional forms (the first movement comes to a very abrupt and surprising end), the clear air we breathe at sudden major chords in the dark, the rhythmic humour which punctuates the finale. It just needed a bit more drive and obvious zest from all concerned.
So did the only known quantity on the programme, Janáček's Sinfonietta, taking us even further back in time to 1926 and a time when rebirth could still be celebrated. I couldn't help remembering what Charles Mackerras told me - that to feel the full force of the Sinfonietta you need to hear the fearless trumpeters of Brno, which I shall, in several weeks' time at the city's hugely ambitious Janáček Festival - and his own second recording, setting the Vienna Philharmonic on fire. Jurowski seemed to be keeping the LPO in check, so we didn't feel the connections between the tableaux, the atmosphere of night at the Queen's Monastery, the full brazen splendour of the final bars.There was plenty of outstanding work, though - from flutes and muted trombones, barking horns and shrill clarinet. Not quite the sum of its parts, though, and the same might be said for the valiant programme as a whole.It still deserved a bigger audience.
The two unusual concertos for string quartet and ensemble just needed a bit more drive and obvious zest from all concerned
rating
Share this article