Bowers-Broadbent, Theatre of Voices, Kings Place - grit needed in the oyster |

reviews, news & interviews
Bowers-Broadbent, Theatre of Voices, Kings Place - grit needed in the oyster
Bowers-Broadbent, Theatre of Voices, Kings Place - grit needed in the oyster
Meditative magic for the Nature Unwrapped celebrations, but some conflict is necessary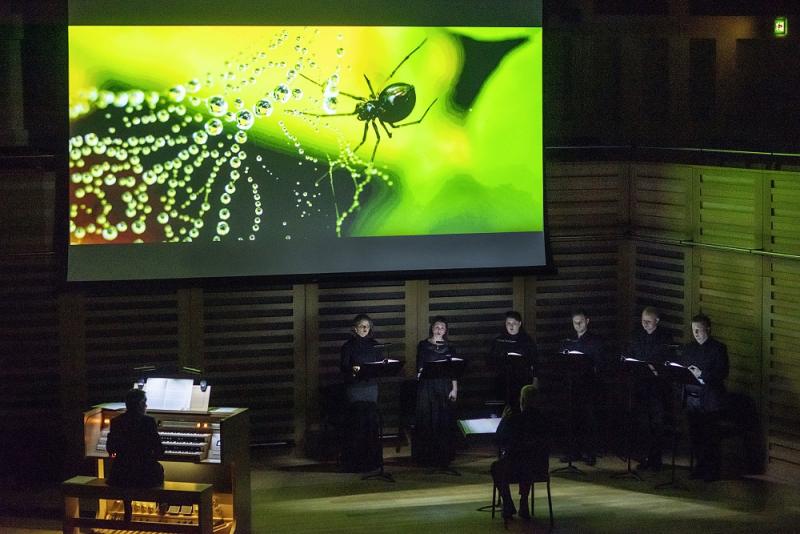 An image from Phie Ambo's 'Songs from the Soil' with live accompaniment in Kings Place
Not everyone who flocked to Day Two's evening concert in Kings Place's year-long Nature Unwrapped: Sounds of Life celebrations will have realised that they were catching parts two and three of a trilogy.
The masterpiece had come earlier, in a 5pm screening: Phie Ambo's poetic documentary
Good Things Await
, about the tenacity of eccentric
Danish
biodynamic farmer Niels Stokholm and the obstacles he faces from rigid authorities. There's choral music in there, from Icelandic composer
Jóhann Jóhannsson
, performed on the soundtrack by Paul Hillier's
Theatre of Voices
, whose first soprano Else Torp gave me a DVD copy several years ago. But what we heard first in the concert was the group along with organist Christopher Bowers-Broadbent performing Arvo
Pärt
live to Ambo's "side-work"
Songs from the Soil
.
The fusion here perhaps raises more questions than perfect answers. Pärt's works, after all, were not crafted for this context. In Phie's mesmerising collage, we journey through the seasons, often in the company of the rare Danish Red cattle Stokholm is dedicated to perpetuating on his farm. Autumn works counter-intuitively: as Pärt's My Heart's in the Highlands, originally written for countertenor and organ but with the one-note verses taken here, diction-clear, by Torp, moves upwards step by step, Phie goes from sky to earth. The two upper voices followed by two low in extracts from Sarah was 90 years old catch the austerity of winter; but spring and summer are surely more dynamic than the bigger group numbers suggest. Pärt sees into the still essence of things; nature on the farm is in more restless evolution.
In the concert's second half, we caught an austere flash of the late Jóhannsson's writing in his Orphic Hymn (performance picturea above), but awaited something more conflicted. Alas, it didn't happen in the UK premiere of Michael Gordon's A Western. The western in question is High Noon, and the work promises more in commentary on guns, consumerist destruction and the role of women than it delivers. Overlapping repeats of phrases serve little more than to over-extend a work which could have been half the length, and there's no ratcheting up of tension in the humour/irony - I find more of that in any number of Sondheim's Assassins.
Collective words weren't always clear but tenor Paul Bentley-Angell definitely stole the show. It's curious that the last time I caught Theatre of Voices, at the East Neuk Festival, they blew me away in a programme culminating in David Lang's Little Match Girl Passion; and Lang's latest work, prisoner of the state, was airing over at the Barbican. But according to my colleague Alexandra Coghlan that wasn't a dazzler either. Better luck next time in both cases.
Pärt sees into the still essence of things; nature on the farm is in more restless evolution
rating
Explore topics
Share this article