Classical CDs: Death, dragons and sea shanties |

reviews, news & interviews
Classical CDs: Death, dragons and sea shanties
Classical CDs: Death, dragons and sea shanties
A rediscovered comic opera, orchestral froth and a spectacular 20th century symphony
Saturday, 22 October 2022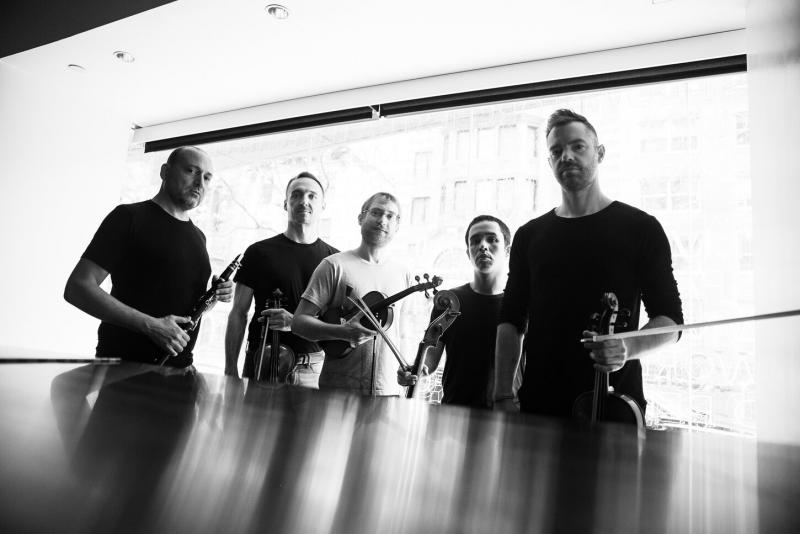 Derek Bermel and the JACK Quartet
The Playhouse Sessions: Bjarte Eike, Barokksolistene (Rubicon)
The Playhouse Sessions is a follow-up to the irresistible Alehouse Sessions, in which Bjarte Eikke and his Barokksolistene recreate a 17th century London pub gig, where sea shanties and rumbustious dance tunes rub shoulders with Purcell. I was very disappointed to miss the recent live London outing for both these projects (reviewed by David Nice for theartsdesk) and while nothing can quite match being in the room, the Playhouse Sessions in recorded form still offers more musical revelation and sheer fun than anything else I have heard recently. Eike himself said, writing for theartsdesk, "I see 'The Playhouse' not as a new project, but rather a branch that grows out of the Alehouse tree." It is roughly structured around A Midsummer Night's Dream, using music from Purcell (The Fairy Queen and Dido and Aeneas), more of Barokksolistene's characteristic arrangements of tunes from Playford's The English Dancing Master, and a couple of melodies written by Eike himself, of lines from A Midsummer Night's Dream.
The first of these, "Over hill, over dale", starts with an unidentified vocalist, in a passable London accent, singing a convincing 17th-century pastiche melody which then touches on a slightly show-tune cadence, before accelerating into a wild folk stomp. Which is immediately followed by a wrenching Purcell instrumental adagio, followed in turn by "The Three Ravens", an English folk ballad of 1611, plucked upper strings like a lute and double bass on a jazzy walking line. Juxtapositions like this abound throughout the album, as unlikely as they are well-judged. Other standout moments include "Hush, no more" from The Fairy Queen, where "proper" singers are joined by the instrumentalists, whose less polished vocals only add to the fragile beauty of the number. Later, "The Willow Song" has the most delightfully strange arrangement, one that almost sounds like a Kate Bush off-cut. The sheer difficulty in pinning down what The Playhouse Sessions is, is one of its delights, and it successfully remakes the magic of the Alehouse Sessions in a way that is both more of the same, and something wonderfully different. - Bernard Hughes
John Frederick Lampe: The Dragon of Wantley Brook Street Band, John Andrews (cond), Mary Bevan, Catherine Carby, Mark Wilde, John Savournin (Resonus Classics)
A German-born composer has an operatic hit on the London stage in 1737, delighting his audiences with the virtuosity of his instrumental and vocal writing, and his understanding of the conventions of opera seria. Handel? No, Frederick Lampe, a composer who played the bassoon in Handel's orchestra, and used his careful observation of Handel's style to fuel The Dragon of Wantley, at once an homage to, and send up of, Handel's operatic style. The story is slight to the point of irrelevance – a dragon is terrorising a Yorkshire village but is seen off by our hero, who (per the libretto) "kills him by a kick on the Back-side". There is also a love-triangle, but this is also perfunctory. What isn't perfunctory is the witty mock-grandeur of the libretto ("Zeno, Plato, Aristotle/ Were all lovers of the Bottle" pre-echoes Monty Python) and the pitch-perfect music. Writer Henry Carey and Lampe were long-standing friends by the time they collaborated on The Dragon of Wantley, and there is a clear unity of purpose in the work, which is an absolute delight. The success of their opera is found in the quality of their adoption of the opera seria style with a down-to-earth undermining of its pomposities. To make a contemporary comparison, it reminded me of the satire of Armando Iannucci.
The recording here, by the Brook Street Band under John Andrews, does the opera justice. It is the follow-up to their 2020 recording of Malcolm Arnold's The Dancing Master (with several of the same cast, too) which, although separated by more than 200 years, has a similar quality of expert, loving pastiche. Mary Bevan and Catherine Carby are terrific as the heroines Margery and Mauxalinda, giving it both barrels in the high-spirited duet "Insulting Gypsy, you're surely tipsy". Mark Wilde, as Moore of Moore Hall, gives it the full Handel in "By the beer as brown as berry" and John Savournin, a stern Gaffer Gubbins, complete the quartet of principals, who also double as the chorus – the finale, "Sing, sing and rorio/ An Oratorio", is a rousing ending. The Brook Street Band are terrific, both as accompanists and in the instrumental numbers. The Dragon of Wantley was a hit in 1737, and should be again in 2022. - Bernard Hughes
Derek Bermel: Intonations – music for clarinet and strings Derek Bermell (clarinet), JACK Quartet, Christopher Otto (violin), Wiek Hijmans (electric guitar) (Naxos American Classics)
American composer and clarinettist and composer Derek Bermel's teachers include Dutilleux, Louis Andriessen and William Bolcom, and this collection of pieces written over the past two decades appropriately eclectic and entertaining. Bernel's three Intonations, played here, brilliantly, by dedicatees the JACK Quartet, makes for an irresistible opener. Imagine a spirited but clumsy harmonica player or a hamfisted church organist, recorded 120 years ago on a wax cylinder and painstakingly transcribed, warts and all. That's what sections of these three pieces sound like, JACK's four members capturing every squeak and intonational wobble. The third section, "Hustle", could be the finale to a Bartok quartet – if Bartok had collected vernacular American song instead of Hungarian folk tunes. Ritornello pits Wiek Hijman's electric guitar against a string quartet, the strings' dotted baroque rhythms failing to tame their partner. Guitar and quartet take turns to lead, much of the fun coming in the passages where Bermel ratches up the tension and anger before segueing into a mellow slice of neo-baroque noodling. Exciting, dramatic and funny, Ritornello repays repeat listenings.
Bermel plays the Thracian Sketches for solo clarinet, a seven-minute whistle-stop tour of early Balkan music, the tempo, complexity and ferocity increasing as the piece goes on. Five Violin Etudes take in a set of 20 pithy questions and the soloist's struggle to escape the downward pull of a low G# sharp. A Short History of the Universe (as related by Nima Arkani-Hamed) finally puts clarinet and strings together in a three movements inspired by a series of physics lectures. "Multiverse" is dense and oppressive. "Heart of Space" is pensive, lyrical and melancholy. The finale, "Twistor Scattering", begins as exhilarating dance music, eventually collapsing with exhaustion. Dive in: this is one of the most absorbing albums of new music I've encountered in months. Performances and sound quality are excellent.
Sinfoniettas: Music by Poulenc, Prokofiev and Britten Lahti Symphony Orchestra/Dima Slobodeniouk (BIS)
What's your favourite sinfonietta? Mine has to be the magnificently unwieldy example by Janáček, one of the most joyously noisy things in all music. That masterpiece isn't included on this fabulous disc, but what Dima Slobodeniouk's zesty Lahti Symphony players give us is still top drawer; two of these works deserve to be standard repertoire and the third is a fascinating curio. Poulenc's 1947 Sinfonietta was a BBC commission, written to mark the Third Programme's first birthday in. It's as close as we get to a Poulenc symphony, its four movements lasting just short of 28 minutes in this performance. This is echt-Poulenc: melodic, witty and emotionally affecting. My favourite version is Jean-Luc Tingaud's one on Naxos, though Slobodeniouk's runs it close. BIS's closer balance gives the harmonies extra piquancy and the lower strings have plenty of bite. The "Andante cantabile" is gorgeous here, and the finale's throwaway coda should prompt you to listen to the whole thing again. Prokofiev's inexplicably neglected Op. 5 is another gem, his 20-minute Sinfonietta originally written in 1909 and reaching its final form 20 years later. The clean lines and catchy tunes look ahead to the Classical Symphony, Slobodeniouk emphasising the music's sharp edges as well as its charm. He's attentive to all the right details; there's something ominous about the second movement's closing bars, and the striking outburst near the end of the "Intermezzo" is like a poke with a sharp stick. The little "Scherzo" is terrific here, the Lahti players letting rip in the last 30 seconds while Slobodeniouk pushes the tempo ahead. This is one of the great Prokofiev moments, and worth the disc price alone.
The final piece is Britten's 1932 Op. 1, conceived for ten players but played here in the rarely heard revision for chamber orchestra. Though brilliantly scored and structurally intriguing, it's curiously unmemorable. This performance is technically impressive, Britten's pithy "Tarantella" played fearlessly at breakneck speed, and it's intriguing to hear fleeting glimpses of the mature composer. But I can't imagine wanting to hear this slightly chilly piece again in the near future. Get this disc for the Poulenc and Prokofiev. BIS's sound is exceptional, even by their standards, and the Mondrian sleeve art is appealing.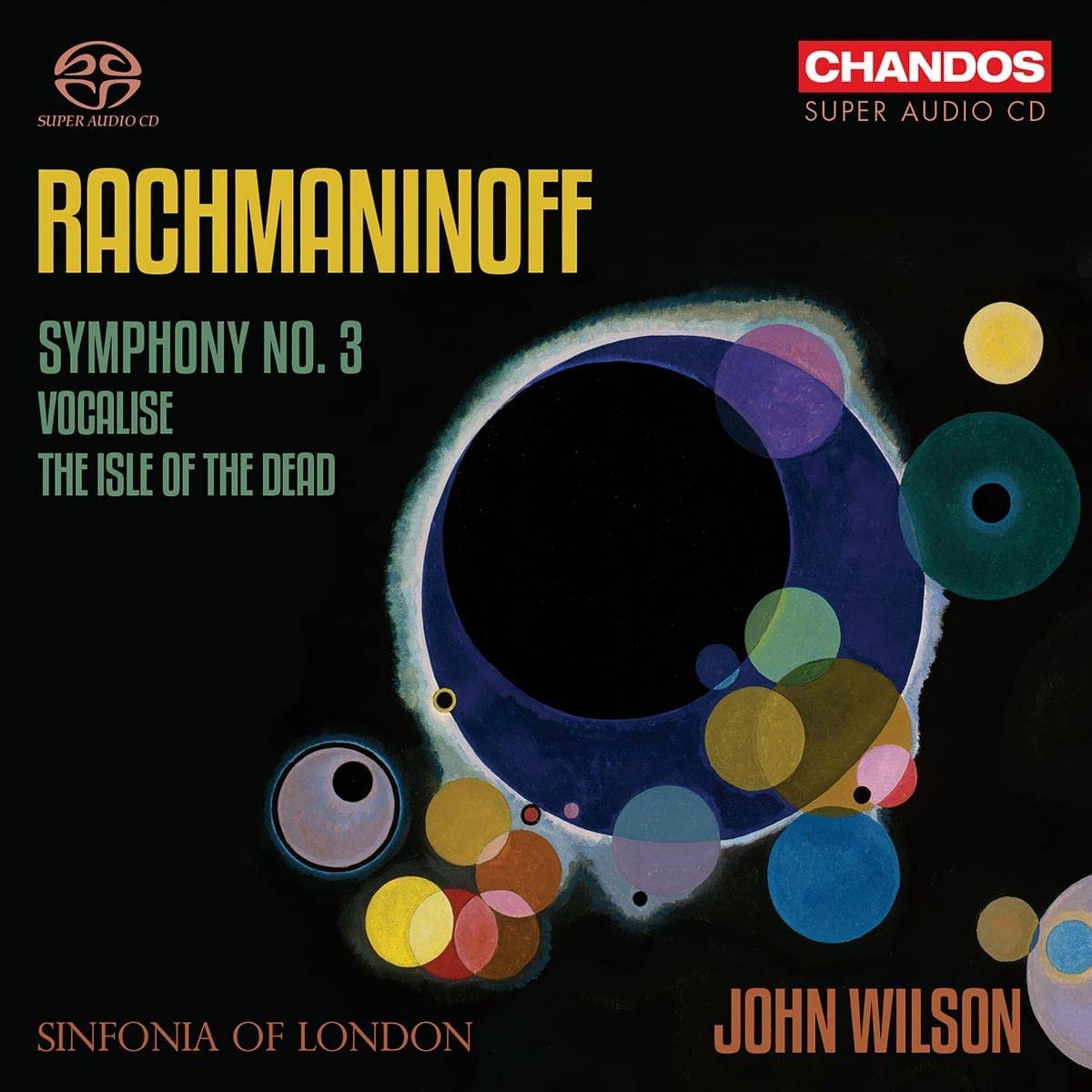 Rachmaninov: The Isle of the Dead, Vocalise, Symphony No.3 Sinfonia of London/John Wilson (Chandos)
A colleague recently tweeted that every mention of a new Sinfonia of London/John Wilson disc has him reaching for his credit card and salivating with excitement. Wilson's stylistic range is indeed remarkable; how many conductors tackle a huge swathe of late-romantic and 20th century repertoire with such consistently impressive results? I've enjoyed all the Chandos discs, and would argue that this one, along with the English Music for Strings anthology, are the pick of the bunch. So far. André Previn set a precedent for superb orchestral Rachmaninov in the 1970s, and, discussing Warner Classics' huge Previn box set on BBC Radio 3, Wilson singled out Previn's 1976 LSO recording of Symphony No. 3 as a highlight. Like Previn, Wilson 'gets' this work, the blend of sentiment and swagger superbly balanced. The symphony was composed in the mid-1930s; like its predecessors, a nostalgic, chant-like moto binds the three movements together. Rachmaninov's acerbic late style doesn't preclude some typically lush melodic writing, Wilson's strings really making the first movement's second subject sing. The harrowing climax 11 minutes in packs a terrifying punch, the dissonant brass chord suggesting Mahler's 10th. The horn solo at the start of the "Adagio ma non troppo" looks back to Borodin here, the movement's fast central section witty and punchy. Wilson's energy prevents the finale's joins from showing, and the final minutes are unbelievably exciting. This is one of the great 20th century symphonies – if you don't already know it, start here.
Wilson's couplings are as impressive. The Isle of the Dead was prompted by Rachmaninov catching sight in 1907 of a monochrome reproduction of the Arnold Böcklin painting, the composer disappointed when he eventually saw the colour original ("I like it in black and white…"). The 5/8 rhythms are perfectly pointed, and Wilson makes the lyrical second theme soar. The orchestral transcription of the Vocalise offers light relief, played here with winning directness and sincerity. It's all great. The Chandos widescreen sound is spectacular, and David Fanning's notes are a good read. The Kandinsky sleeve art is appealing. You need this disc.
The Willow Song almost sounds like a Kate Bush off-cut
Explore topics
Share this article