Classical CDs Weekly: Debussy, Handel, Kuss Quartet |

reviews, news & interviews
Classical CDs Weekly: Debussy, Handel, Kuss Quartet
Classical CDs Weekly: Debussy, Handel, Kuss Quartet
Debussy played on elderly pianos, Handel from Glyndebourne and Russian string quartets
The Kuss Quartet head East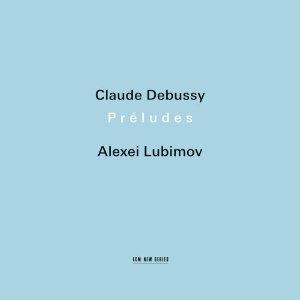 Debussy: Préludes, Trois Nocturnes Prélude à l'après-midi d'une faune Alexei Lubimov (with Alexei Zuev) (ECM)
Historically informed readings of 20th-century music no longer surprise us; Simon Rattle has recently performed La Mer on period instruments and the quest for authenticity continues to advance forward chronologically. Pianist Alexei Lubimov's Debussy Préludes are played on a restored 1925 Bechstein and a Steinway built in 1913; it's a surprise to read that Debussy, unlike Ravel and Fauré, preferred a warmer, German sound to the more translucent, lighter tone of pianos by Pleyel and Érard. Debussy's colleagues were reportedly amazed by the composer's playing: "By what extraordinary gifts was he able at the keyboard to give his score the colours of the orchestra." Lubimov's readings are remarkable for their straightness – he succeeds in following exactly what Debussy notated. In a good way. Aided by wonderful ECM production, the results are heavenly. Lubimov is rightly attentive to Debussy's finicky dynamic markings. You can tell exactly when the composer's directions are as extreme as pppp or fff.
Des pas sur la neige is exquisitely controlled, and La cathédrale engloutie's bell sounds boom out with real power. I've always preferred the quirkier mixture of styles in Book 2, where Lubimov switches from the Bechstein to the Steinway. Debussy could be a witty composer. "General Lavine" - excentric is genuinely funny, and La Puerta del Vino's Spanish rhythms are effortlessly pointed. Lubimov's readings aren't unduly languorous but spill over to two discs. So we also get two-piano transcriptions of the three Nocturnes and of the Prélude à l'après-midi d'une faune, the former arranged by Ravel. Both are so good that you can imagine never needing to hear the orchestral versions again. Fêtes is the highlight – Lubimov and partner Alexei Zuev incandescent when the central march collides with the opening theme. Magnificent, in other words.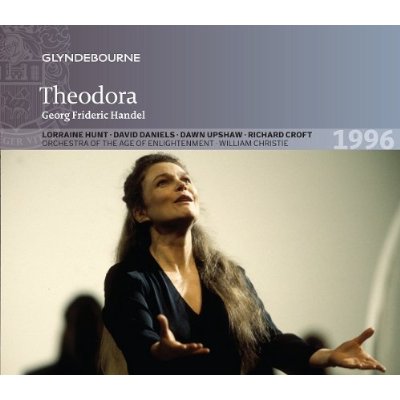 Handel: Theodora Lorraine Hunt, David Daniels, Dawn Upshaw, Orchestra of the Age of Enlightenment/William Christie (Glyndebourne)
This 1996 Glyndebourne staging of Handel's dramatic oratorio Theodora was a huge success – mostly due to Peter Sellars' imaginative production as well as its musical values. Any doubts about the wisdom of staging a form which some may argue is essentially static don't arise when you're just listening to an audio recording. The leisurely pace may surprise; Thomas Morell's sketchy libretto is stretched out over more than three hours. But start listening and you're hooked within minutes. Like me, you'll soon be gripped, only getting up from the sofa to change discs. You'll soon begin to register Handel's startling changes of tone; Christian chorus numbers inevitably rather uptight and prim. Their torture at the hands of the Romans excites the latter, who cheerily sing of the sound of Christian groans being "sweeter than the trumpet's sound", accompanied by raucous horns. All indecently enjoyable for a tragedy.
The small cast are consistently impressive – Dawn Upshaw's Theodora charms, nearly upstaged by Lorraine Hunt (soon to be Lorraine Hunt Lieberson) as Irene. Frode Olsen's Valens is a deliciously unpleasant villain, and counter-tenor David Daniels makes for a glorious Didymus. William Christie conducts with plenty of bounce and joie de vivre, though never unplaying the score's occasional reflective moments. There's a fair bit of audience and stage noise, but it never distracts, adding to the sense of theatre. And these Glyndebourne opera sets are beautifully produced – savour them as lovely physical objects, not soulless digital downloads.
Watch the closing scene of Peter Sellars's production of Theodora: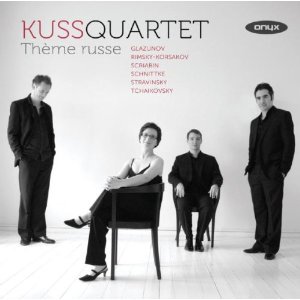 Thème Russe – Music by Russian composers Kuss Quartet (Onyx)
Sentiment alternates with charming whimsy in the Variations on a Russian folk song, an 1898 quartet assembled by 10 Russian composers. The folk theme in question was actually fabricated by Rimsky-Korsakov, but sounds idiomatic enough. Like the symphony, string quartets were initially viewed with some suspicion as too Western by some Russian composers. Borodin and Tchaikovsky embraced the form, and the most substantial work on this imaginatively programmed disc is the latter's First Quartet. The Andante cantabile famously reduced Tolstoy to tears, much to Tchaikovsky's delight. The Kuss Quartet's performance is affectionate but restrained, resisting the urge to beef things up. The exuberant last movement hit the spot for me – unambiguous, cheery music from this most emotionally charged of composers.
We get more Tchaikovsky in the form of a generous selection of quartet transcriptions taken from his Album for the Young. Rostislav Dubinsky's arrangements are perfect. The ponticello effects in The Witch terrify, and gooey sentiment is carefully avoided in Mama and Sweet Dreams. These short pieces are played with real sincerity and freshness, and the recording is warm and detailed. The welcome oddities are Stravinsky's astringent Concertino and Schnittke's Canon in memoriam Igor Stravinsky. The Concertino's Russian inspiration is earthier and more pungent than Tchaikovsky's, the seven-minute work recalling L'Histoire du Soldat's nervy syncopations. Each rhythmic kink is flawlessly handled and there's a welcome hint of menace. Whereas Schnittke's Canon offers us six minutes of grey, unrelenting misery, making one speculate as to what Schnittke might have composed in memory of composers he didn't like.
La cathédrale engloutie's bell sounds boom out with real power
Explore topics
Share this article