Hewitt, Concerto Budapest SO, Keller, Cadogan Hall review - magical Mozart and bullish Beethoven |

reviews, news & interviews
Hewitt, Concerto Budapest SO, Keller, Cadogan Hall review - magical Mozart and bullish Beethoven
Hewitt, Concerto Budapest SO, Keller, Cadogan Hall review - magical Mozart and bullish Beethoven
Smiles all round from a visiting orchestra revelling in a programme of surefire hits
András Keller and the Concerto Budapest Symphony Orchestra
Considering its status as the most famous piece of classical music [citation needed], Beethoven's Fifth Symphony is actually quite rarely programmed in London. I can't remember the last time I heard it live before last night, and it took the visiting Concerto Budapest Symphony Orchestra to return it to the repertoire. They played this often stern music with a smile on their faces, as they did the accompanying Mozart and Bartók.
It was, surprisingly, the Bartók – home territory for this orchestra – that struck the only uncertain note of the evening. The Concerto for Orchestra is a late masterpiece, mercurial, broad, intense and thrilling. But perhaps not the ideal opener, with its slow-burn first movement feeling a little bitty. (Surely the Beethoven is a better opener?) Things got better: the bassoon duet in the second movement sparkled, the nocturnal haziness of the third ended tantalisingly mid-thought, the fourth had satirical bite but also some sweeping string playing. Things really caught fire in the finale, its frantic energy whipped up by a flamboyant András Keller, the brass (pictured below by Andrea Felvegi) firing on all cylinders.
It's always a question with a touring orchestra: do they sound different from the British groups? Well, the string sound is different: not less polished as differently polished; the brass magnificent, the woodwind playing perhaps a touch fallible. What was noticeable was the pleasure permanently evident on the faces of the players, especially the viola front desk pairing of Lászlo Móré and Ágnes Apró, who lived every note with delight and affection.
This shared sense of fun extended to Angela Hewitt (pictured below), who joined them for Mozart's A major Piano Concerto K. 488. She was part of the ensemble, passing lines to and from the orchestra, but there was also a marvellous robustness in her playing, and an improvisatory fluidity to the first movement cadenza. The second movement was heartbreakingly sad, Hewitt mesmerising, supported by plaintive bassoons, and the skittish finale flew by. It was a joy, as was Hewitt's Scarlatti encore, all trills and military tattoos, the humour enjoyed but never indulged.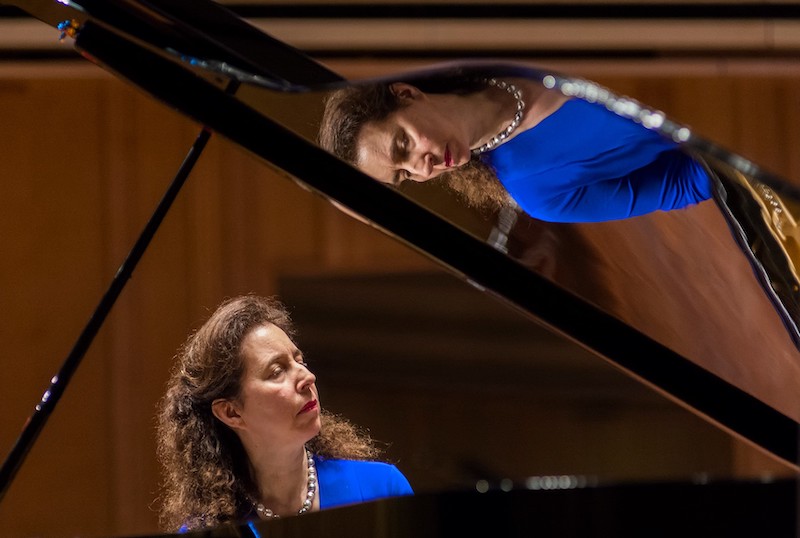 Keller's conducting in the Mozart was quite elaborate, making sculptures in the air with his hands, rarely deigning to simply beat time. In the Beethoven he was more straightforward and driven. The third movement featured deliciously slippery low string playing in the fugue but perhaps the best bit was the mysterious slow build-up to the finale movement, when the trombones and piccolo, the two extremes of the orchestra, are finally let off the leash. Keller drove them relentlessly to the ending – indeed, to each of the would-be endings before the actual one – and, barely pausing for breath, through the encores, including, naturally, the famous Brahms Hungarian Dance no.5.