I Fagiolini, Hollingworth, St George's Bristol review - Leonardo and music, immortal, invisible |

reviews, news & interviews
I Fagiolini, Hollingworth, St George's Bristol review - Leonardo and music, immortal, invisible
I Fagiolini, Hollingworth, St George's Bristol review - Leonardo and music, immortal, invisible
Brilliant polyphony of sound and image, matched and opposed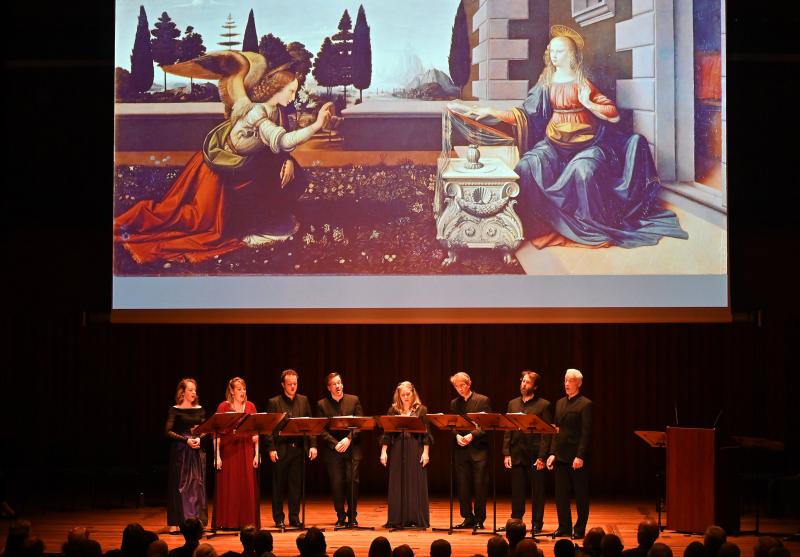 Eight voices, Victoria's Alma redemptoris and the Annunciation
Having started their tour at the Barbican on Sunday, I Fagiolini descended on Bristol with their Leonardo da Vinci celebration on precisely the 500th anniversary of the great man's death, a fact that earned them an extra round of applause from the proud but sometimes neglected Bristolians in St.George's.
How, though, do you celebrate so great a painter through music? The easy answer would be in the music of his day. But I Fagiolini's director, Robert Hollingworth, and the Leonardo specialist Martin Kemp had a more interesting, perhaps riskier, recipe. They assembled a hybrid programme of vocal consort works ancient and modern, backed them with Leonardo images on a screen, and linked them with commentaries that both implied and deprecated any direct connection. The result was sometimes disconcerting and, at the same time, often brilliant.
Leonardo, a talented man, was himself something of a musician. He invented musical instruments, including one called the lira da braccio, which he learnt to play and on which he would accompany himself singing. But while he revered music as painting's sister, he regarded its evanescence as a regrettable defect; music fades, only visual art is eternal. Here, of course, he was mistaken. Paintings, being physical objects, decay for good; only music, being intangible, outwits time. Perhaps this was precisely the idea behind the programme's title, "Shaping the invisible." In Leonardo the shapes are given, take them or leave them; but the invisible music has to be remoulded every time. And remoulding is very much in I Fagiolini's line.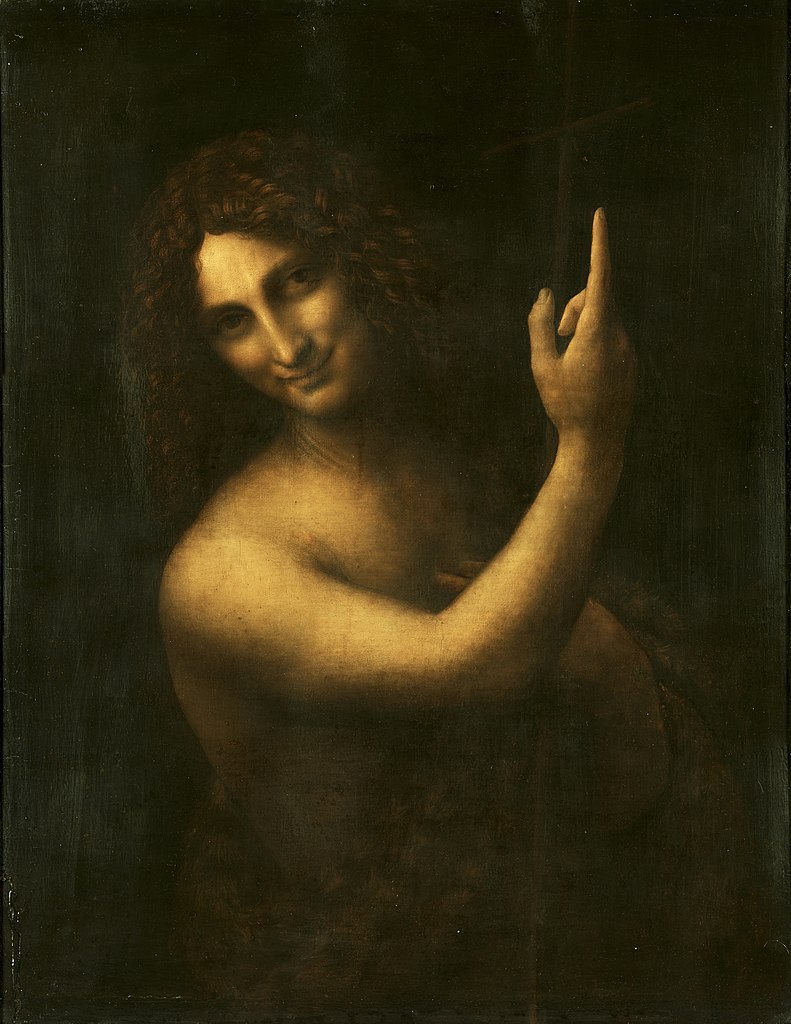 While the images on the screen were the ultimate in refinement, the musical images that accompanied them were sometimes - no doubt deliberately - coarsened. I Fagiolini long ago discarded the English cathedral style of precious polyphonic music, and instead sing it with a somewhat rough edge that goes, maybe, with the idea of Renaissance music as the expression of an age when life was nasty, brutish and short. This can be hard on Josquin Desprez or Victoria, whose vocal writing is of an exquisite precision and richness, if lacking the sensuality that profoundly complicates paintings like La Scapigliata or - as Professor Kemp pointed out - the wonderful John the Baptist in the Louvre (pictured right).
Yet it would be hard to imagine more vivid or dazzlingly uninhibited performances of this difficult music. A great painter may give himself a tough time, but great composers also give their performers one. Tallis's Salvator mundi is not so demanding, nor as self-important as the painting whose name - though not its monetary value - it shares; nor is Howells's lovely English setting of the same text. And here the Fagiolini singing was more restrained, very close to perfection in its balanced voicing and coordination. At the other extreme, a chunk of Orazio Vecchi's L'Amfiparnaso was done as if actually sung by the five grotesques in the Leonardo drawing that provided its backcloth. Luckily it's a joke that doesn't outstay its welcome. I wish I could say the same of Janequin's too long, too arch La Guerre.
Did images and music merge at all elsewhere? Perhaps in Cipriano de Rore's "Or che'l ciel," whose mystery was distinctly enhanced, but also modified, by the intense feminine inwardness of "La Scapigliata". Less so in Monteverdi's "Era l'anima mia," which, sung with passion, kept its distance from the Mona Lisa. Perhaps most convincing of all in this respect was an enchanting setting by Adrian Williams of the beautiful poem about bats by Gillian Clarke that gave the programme its title, set against one of Leonardo's most notorious scientific speculations, glider flight based on the model of bats' wings. This was shaping the inaudible as much as the invisible, a witty and engaging polyphony of soft close harmony, nocturnal chatterings and - a resource unavailable to painters - silence.
It would be hard to imagine more vivid or dazzlingly uninhibited performances of this difficult music
rating
Explore topics
Share this article