Kanneh-Mason Trio/Cassadó Ensemble, Kings Place review - the fewer the players, the greater the music |

reviews, news & interviews
Kanneh-Mason Trio/Cassadó Ensemble, Kings Place review - the fewer the players, the greater the music
Kanneh-Mason Trio/Cassadó Ensemble, Kings Place review - the fewer the players, the greater the music
Ravel's Duo spoiled us for early Mahler and Dohnányi, but the playing shone
Saturday, 12 December 2020
Ayla Sahin, Braimah Kanneh-Mason, Isata Kanneh-Mason, Didier Osindero and Sheku Kanneh-Mason in Dohnányi's Op. 1 Piano Quintet
For the performers and the venue there can be nothing but praise. To be back in Kings Place's Hall One after so long was to realise afresh that no other London venue gives such air to soaring strings – and these ones truly did soar and gleam. For the programme, not quite so much.
When you begin in the heights – as the first of the evening's concerts, the one I was lucky enough to attend, did – with
Ravel
's Duo for violin and cello, two bouts of romantic rodomontade can quickly pall, however committed the performances.
A confession: I signed up for "Kanneh-Masons and friends" without looking at the programme other than clocking three substantial chamber works (so, a different kind of experience from the family's surprisingly successful Barbican house party). You can of course download the notes on your mobile phone, but mine's too primitive for that, and as the printed order of service is a rare thing post-March – we got them in Saffron Hall on Sunday – I settled down to guess. As I would have done, instantly, the Ravel, despite the fact that Sheku announced it right at the beginning; as I should have done the Mahler Piano Quartet movement, having heard it only a month ago at the Fidelio Orchestra Café with Schnittke's very individual enlargement of Mahler's sketch for an ensuing scherzo, which makes it all worthwhile; and as I absolutely did not Dohnányi's First Piano Quintet, his official Opus One.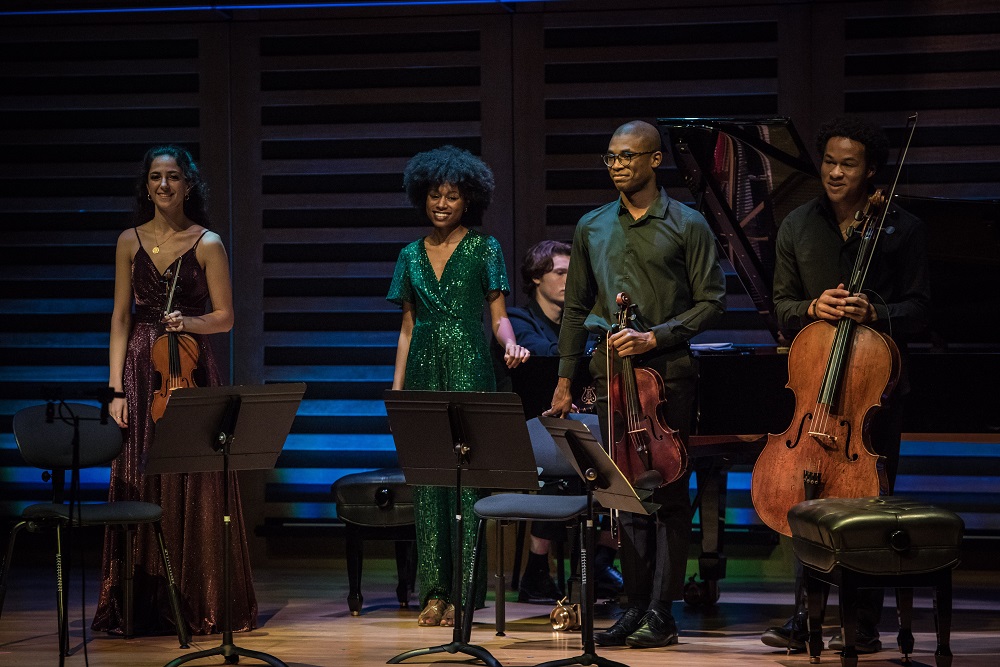 So the guessing game was tantalizing: both works sounding so much like Brahms, but without any of his subtleties or intricacies, let alone thematic memorability (after a long-winded slow movement which not even this team could keep entirely afloat, the main 5/4 theme of the Dohnányi finale has stuck, though – or perhaps because - it's too often repeated). Fair enough, both composers were only in their teens – 17-year-old Dohnányi won Brahms's wholehearted approval – and who else can come up to the fully-fledged genius of Schubert or Mendelssohn at that age?
Even so, if this impressive juvenilia is going to have a hearing in the concert hall, it needs the ardour and sheen it got here. What a pleasure, too, to be introduced to two more fine string players who augment the Kanneh-Mason Trio (Isata, Braimah and Sheku) to make up the Cassadó Ensemble, first violinist Ayla Sahin, and viola player Didier Osindero (pictured above with Isata and Sheku Kanneh-Mason after the Piano Quartet performance). In the twilight zone after Mahler's tumultuous central climax, Osindero's high solo line was out of this world, and Isata – a fine Rachmaninov interpreter, not irrelevant here – excelled in tumbling octaves, while always keeping the more intricate writing clear. Interesting how Sheku adapts his sound to the chamber ensemble; there were times when he could have let rip with golden tone, but the sensitivity is to be applauded in a cellist who shows no signs of big soloistic ego (if he hasn't now, he never will).
The best music, though, undoubtedly, was that from the fewest players, the Ravel Duo, where the initial high-wire meshing of violin and cello proved instantly seductive. There's wildness here, too, in earthy quasi-folksong; it was good to see and hear Sheku encourage his more consistently introspective older brother (both pictured above) to let rip. This has been an amazingly good year for the entire Kanneh-Mason family, among the few musicians to actually benefit from the earlier lockdown, and they remain the best of ambassadors in showing how personality can be fused with the championship of good music at the highest level.
The best work was the Ravel Duo, where the initial high-wire meshing of violin and cello proved instantly seductive
rating
Explore topics
Share this article