Kozhukhin, BBC Philharmonic, Carneiro, Bridgewater Hall, Manchester review - melancholy heart of Mahler |

reviews, news & interviews
Kozhukhin, BBC Philharmonic, Carneiro, Bridgewater Hall, Manchester review - melancholy heart of Mahler
Kozhukhin, BBC Philharmonic, Carneiro, Bridgewater Hall, Manchester review - melancholy heart of Mahler
Gracefulness and appealing energy in different emotional worlds
Everything a species of dance - Joana Carneiro
Mahler's Fifth Symphony is a repertoire piece nowadays, probably as familiar to as many listeners as to orchestral players, which means you look for something distinctive in any performance to identify its essential quality against all the others.

With Portuguese conductor Joana Carneiro in charge, concluding the BBC Philharmonic's concert at the Bridgewater Hall last night, it was the soulful obbligato horn solo in the Scherzo (superbly played by guest principal Itamar Leshem) and the immediately following passage that became the emotional heart of the piece. The movement itself had been relaxed and feel-good (not as manic as in some approaches) until suddenly its merry-go-round seemed to stop, and that solo emerged as a desperate attempt to find real emotional fulfilment in the whirl of waltz rhythms.
How did this come about? Carneiro brings a kind of gracefulness to the most harrowing of musical gestures – and did so in the first two movements of the symphony – as if everything were a species of dance. It wasn't the demonstrative, neurotic emotions that dominated in the Funeral March and its successor (though they were there) but a kind of melancholy, with its own measured tread, though the strings' own quiet tune in the opening held a deep emotional charge, and the interludes of longing in the second movement were beautifully tender and eloquent, and eventually warm and passionate.
But after that Scherzo even the intensity of the "Death in Venice" Adagietto could not overbalance the shape of the symphony: she made it definitely a song, moving gently along, not dragged out as if a highspot in its own right.
The Rondo-Finale then became a matter of straightforward, open-air elation, with momentum held to a positive and clearly optimistic conclusion – as if to emphasise the work as being in the tradition of darkness-to-light journeys … and a beautiful one at that.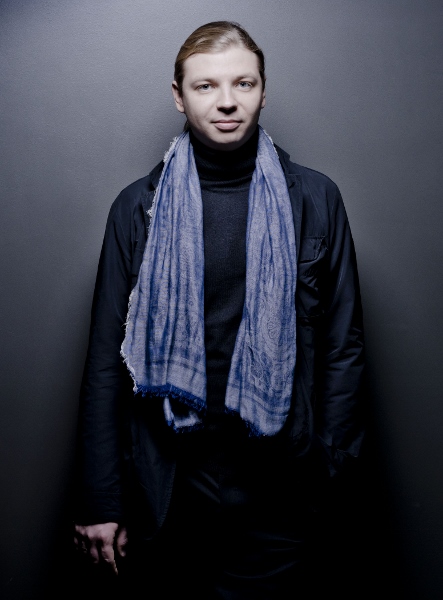 Carneiro began with the world premiere of within diffuse echoes … softly spreading, a 20-minute work by American composer Jeffrey Mumford, commissioned by the BBC. It's a long, long way from Mahler: in a predominantly slow tempo, with few observable rhythmic units, sounding as if it's music in process of becoming something but never completely reaching final form. Indeed, the phenomenon of cloud movement, collecting and dispersing, is its confessed inspiration: different instrumental combinations from within a large orchestra (maybe they told him there would be Mahler's multiple wind resources available …?) emerge, coalesce and dissolve, though there are also incisive, brassy note clusters to mark the piece's progress, busy string effects, and a fade-out with plucked string sounds and harp creating the "echoes" of the title.
In many ways the most appealingly energetic music of the evening came from Denis Kozhukhin (pictured above right), soloist in Mendelssohn's First PIano Concerto.

Once a staple of 19th century concert programmes (it lasted as top popular repertoire until pushed out by Grieg's concerto), today it opens a window on the world of early Romanticism – heart-on-sleeve, yet civilised, willing to be dazzled by a virtuoso's pyrotechnics but also seduced by sweet simplicity.
Kozhukhin was the man for this. His technique is phenomenal, with a big tonal range and icily clear articulation, but in the Andante revealing another side to his playing altogether – gentle, full of feeling and aspiration, the cantabile bell-like and crystalline. Carneiro was with him all the way, her clear downbeat helping provide momentum and a sense of thrill, while the Philharmonic lower strings glowed in the song-like melody of the central movement. Another wordless song followed, as Kozhukin (who has put some of the Songs Without Words on CD) played a little more enchanting Mendelssohn as his encore.
Kozhukhin's technique is phenomenal, with a big tonal range and icily clear articulation
rating
Share this article