MacMillan Christmas Oratorio, LPO, Elder, RFH review – a new star for the season |

reviews, news & interviews
MacMillan Christmas Oratorio, LPO, Elder, RFH review – a new star for the season
MacMillan Christmas Oratorio, LPO, Elder, RFH review – a new star for the season
Eclectic, epic, accessible: this musical feast deserves to last
Joyful noise: Sir Mark Elder with the LPO and Choir
The shadow of the cross falls over James MacMillan's manger. You may come for his work's consoling, even transporting, beauty and mystery. It's there in abundance in his new Christmas Oratorio. Yet what may grip hardest are his passages of crashing dread and horror. For MacMillan, the incarnation in Bethlehem triggers a journey across human suffering that only redemption, through Christ's crucifixion, can close.
Against the unearthly ripple of the celeste, or the playful tenderness of the solo violin (both frequently recur), a terrifying doomquake of timpani stands ever-ready to erupt. Stoutly Catholic, the Scottish composer differs from assorted modern creators of cherished Christmas pieces – from Berlioz to Vaughan Williams, Britten to carol maestro John Rutter himself – in the fervency of his faith. They, sublimely, channel and enact belief. Even church favourite Rutter will call himself only a "fellow traveller" of formal Christianity. MacMillan, like Messiaen (a palpable presence at some points here), writes its story for everyone, but writes it from within.
First heard via an Amsterdam radio broadcast in January, after pandemic shutdowns had delayed its UK premiere, the Christmas Oratorio finally landed at the Royal Festival Hall on Saturday. The Dutch reviews spoke truly. Within its generous, eclectic and impassioned 100 minutes, it packs a seasonal feast of wonderfully rich and accessible music. Conducted by Sir Mark Elder, the London Philharmonic Orchestra and its choir, together with soloists Lucy Crowe and Roderick Williams [pictured below by Mark Allan], made an overwhelming case for this listener-friendly epic. They stayed alert to its constant rhythmic vitality, its quicksilver shifts of colour and mood, its cheerful (some would say shameless) embrace of a clutch of musical ancestors – from Bach to Bruckner, Palestrina to Shostakovich. Meanwhile, MacMillan's strong personal signature, whether in a cappella choral sequences or invocations of a Scottish traditional sound-world, deflect charges of pastiche. Yes, it can all sound like some giant anthology – or else a super-sized Christmas tree strewn with shiny baubles – but MacMillan's fierce commitment means that the ensemble has soul as well as sparkle.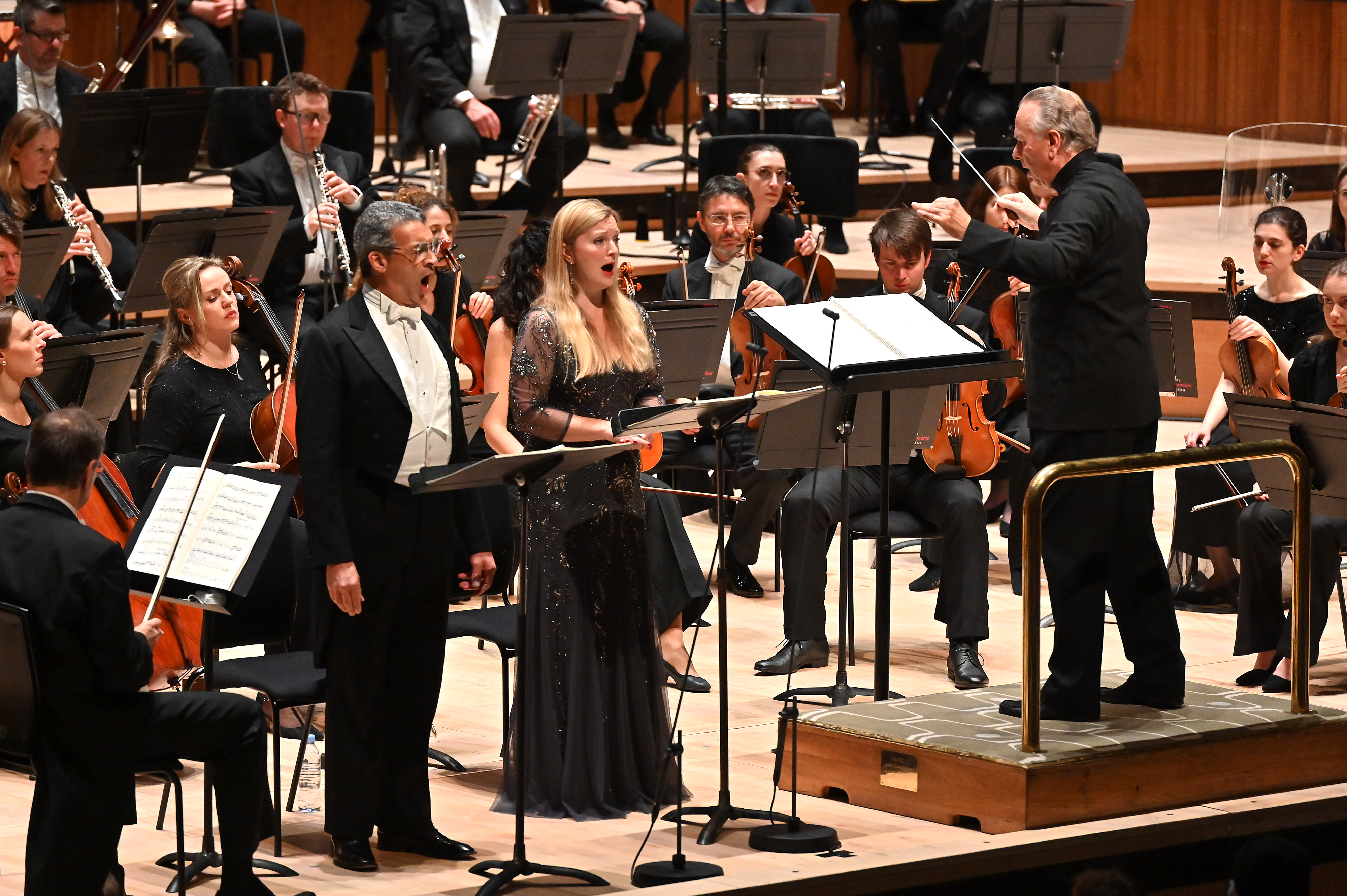 MacMillan may no longer sound much (or at all) like a serialist, but he likes their patterning. His oratorio takes the form of a double palindrome. Both parts, of seven sections each, start and end with an atmosphere-defining, purely orchestral "Sinfonia". Both parts include two choruses with, between them, two arias (one each for soprano and baritone). In both, a central "Tableau" unites choir, solo singers and orchestra. The Christmas words MacMillan sets come from the Latin liturgy, from the Gospels (in the translation of the "Revised Standard Version, Catholic edition"), and from four English poems. Two are by the Elizabethan Jesuit martyr Robert Southwell, plus John Donne's "Nativity" and part of John Milton's "On the Morning of Christ's Nativity" – the latter in a famously tricksy mix of meters that fails to hamper the composer's sinuous flow.
Tender cradle songs and awestruck glimpses of the holy babe alternate with a narrative that foregrounds the looming danger of Herod's tyranny, the massacre of the innocents, and the pre-echoes in this savagery of Christ's redemptive torment on the cross. MacMillan offsets his episodes of seasonal sweetness – as in the gorgeous (translated) Gaelic lullaby he sets for the choir in the second half – with bursts of premonitory violence. These demanded, and got, plenty of knife-sharp, high-impact entries from orchestra and choir.
The first part begins, after a clarinet ripple, with fragments of a folk-tune that usher in the ubiquitous celeste (Catherine Edwards), with its wintry, otherworldly glitter. Behind gentler percussion, especially vibraphones, menacing timpani growl – a hint of threats to come. Beside the rapt opening chorus, its words taken from parts of the Latin mass, chorale-like interjections from low brass create a texture of almost Bruckner-like earthy, robust holiness. It persists through the work. Lucy Crowe's first aria, Southwell's "Behold a silly tender babe", shines above a shimmer of strings in sensuous, near-operatic lines. Beautifully expressive, the LPO's leader Pieter Schoeman began to signal his violin's role as, virtually, a third solo voice. In the first Tableau, choir and singers bring the bad news of Herod's cruelty. Earth-shaking, and skin-prickling, orchestral paroxysms dramatise the slaughter of the first-born and the flight into Egypt. But when choir and soloists come together for "Vox in Rama audita est", delighted listeners can only salute MacMillan's uncanny ear for the kind of vocal magic that sounds both ancient and contemporary. Traditions of plainchant and polyphony are not simply quoted but reimagined and made new.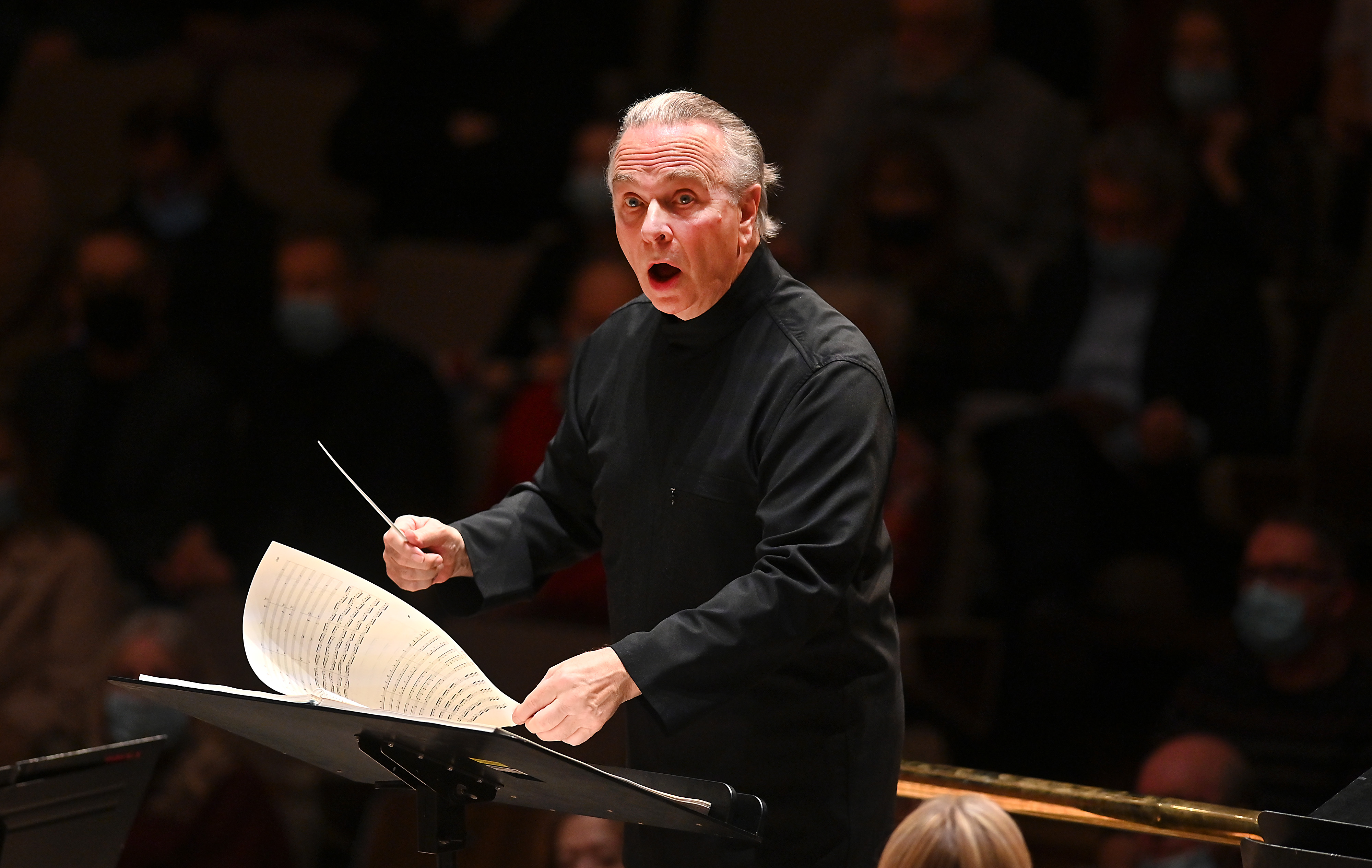 In the aria for Donne's "Nativity" ("Immensity, cloistered in thy dear womb"), Roderick Williams – his diction immaculate, his control of the twisting argument of words and music exemplary – sometimes brought to mind Britten's settings of the same poet's Holy Sonnets. Voice and violin duetted hauntingly before brass and celeste returned us to MacMillan's trademarked Christmas soundscape. And, though many composers have given us versions of "Hodie Christus natus est", MacMillan's carol for the choir proved a genuine show-stopper. It ought to make its merry – indeed, ecstatic – way into standard holiday repertoire. If the LPO choir, directed by Neville Creed, touched the heights both here and later, MacMillan always kept some stardust in reserve for his orchestral players – here, Pieter Schoeman again, his violin part like a skittish child dazzled on Christmas morning.
The second Sinfonia took us to the interval via a furious, stuttering march, a scurrying mutter of woodwind, and figures in the brass that summoned an ecclesiastical serenity. After the break, the same section – with Mark Templeton's trombones and Paul Beniston's trumpets emphatic yet mellow – played energetic riffs over frosty, glistening strings. MacMillan cast another of his choral spells with the "O magnum mysterium". Angelic aliens seemed to call from outer space; voices from afar slid down the skies to bring news of miracles to earth. Renaissance masters made their presence felt too, amid the chromatic surge and swell. But MacMillan somehow never sounds like just another postmodern mimic. Why? Perhaps it does come down to a matter of sincerity, or faith: because he lives, artistically and spiritually, within the orbit of these sounds, ratter than paying visits as a curious tourist.
Clear and assured in articulation and intonation, Williams returned with the Milton ode ("This is the month, and this the happy morn") as the LPO painted another sharp-edged winter scene. For the second narrative Tableau, MacMillan's choice of St John's Gospel – mystic and prophetic, rather than the cosy, storytelling Luke – indicates his theological tilt. Here, sung by soloists and choir, the sacred Word emerges in the beginning out of a void of fragmentary, disconnected sounds (another musical nod maybe, this time to Haydn's Creation). Soon the Word becomes flesh, and heaven comes to earth, in some explosive tutti.
Another rapid mood-change led to Crowe's second aria from Southwell. Agitated, dissonant strings partner his lines about a "burning babe" whose anguish will release errant humankind from death and sin. As Crowe's sumptuous, rounded soprano took firm command of this far-from-simple verse, MacMillan didn't stint on the dark drama of redemption – even when his orchestral writing can swoon into a Viennese, fin-de-siècle lushness. If the chiming celeste hints once more at Christmas bells, they are ringing on the far side of grief and pain.
They ring, too, behind the delicate carol-lullaby, "My love and tender one are you", the choir sings in farewell. It gave further proof of the captivating alloy of simplicity and subtlety that should endear MacMillan's Oratorio to a broader public than large-scale novelties generally reach. The LPO signed off with a closing Sinfonia that bore heady traces of a late-Romantic Scottishness; both Schoeman [pictured above] and the fine harpist, Tamara Young, left with memorable gestures. Elder had captained the whole complex voyage with a quietly agile authority that let radiant parts and visionary whole connect. He, and his forces, deserved their standing ovation – as, of course, did the composer himself. A fresh Christmas star shines in the musical firmament. Let's hope that audiences far and wide get to enjoy its light.
MacMillan never sounds just like another postmodern mimic. Why? Perhaps it does come down to sincerity, or faith
rating
Share this article