Nonclassical: The Greenhouse Effect, Barbican Conservatory review - enjoyable freestyle happening |

reviews, news & interviews
Nonclassical: The Greenhouse Effect, Barbican Conservatory review - enjoyable freestyle happening
Nonclassical: The Greenhouse Effect, Barbican Conservatory review - enjoyable freestyle happening
Quirky musical responses to the climate crisis amid indoor greenery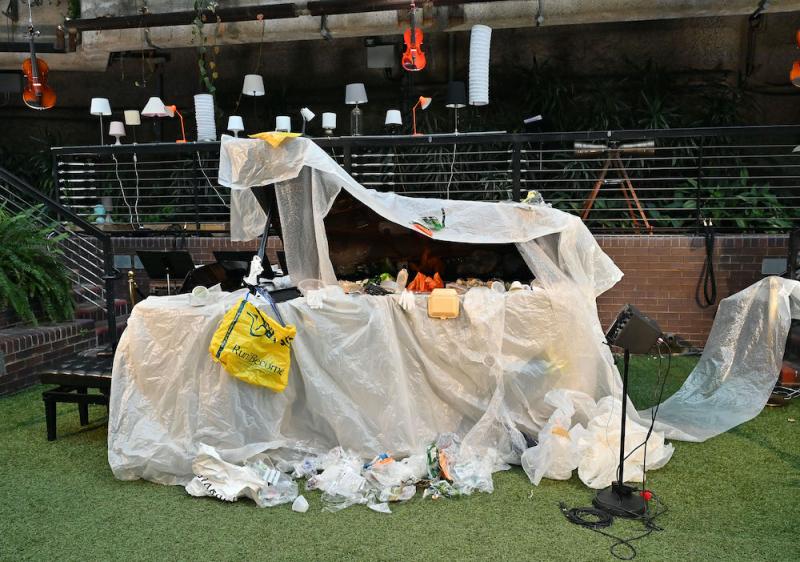 A piano draped in single-use plastic for Claudia Molitor's 'Polymer Hauntings'
It would seem unfitting to report on Nonclassical's event – happening? – in the Barbican Conservatory on Sunday with anything resembling a conventional review. So instead I shall treat this free-form "experience" to a non-sequential response, in the form of 19 observations: things I saw, heard or noticed.
1. Carola Bauckholt's Doppelbelichtung required Linda Jankowska to produce a range of unlikely sounds from her violin, viz.: creaks, squeaks, whistles, swirls, swoops, wails, whines and rasps. They hung in the air, being broadcast in loops via speakers hidden in suspended violins.
2. Playing the double bass animatedly for 25 minutes in a three-piece tweed suit in a greenhouse, as the very dapper Marcus Vergette did (pictured below by Mark Allan), was always going to be pretty warm work.
3. People were sitting around on beanbags – I've not seen so many beanbags since I was in a 1990s student bedroom.
4. The London Triangle Orchestra were like musical pied pipers, leading us from zone to zone with giant triangles made from the steel rods that hold concrete blocks together. Which make a fascinating sound.
5. David Lang's So-Called Laws of Nature ended the show with subtle rhythms from struck pottery, and air of Balinese temple giving way to a strange kind of chorale.
6. When people are told they don't have to sit and listen, but can walk around, come and go, do as they please… they (disobediently) simply sit and listen.
7. Claudia Molitor's Polymer Hauntings involved adorning a grand piano in single-use plastic, in a modern take on Cage's prepared piano. One particularly vigorous crescendo dislodged a Toffee Crisp wrapper, which floated slowly to the floor.
8. The audience was noticeably younger and more diverse at this Nonclassical concert than at most classical concerts.
9. At one point a man kicked a metal table, which normally would have been a terrible faux-pas, but here was treated as a valuable contribution.
10. At another, a couple in the audience shared a smile and a kiss, moved to romantic display by the crackle of Tupperware resonating on piano strings.
11. I come to the conclusion that composers in the experimental tradition must imbibe with their mother's milk the importance of making their pieces 10-15% too long.
12. In Quinta's Meltemia, Dasos & Chloris bell overtones and electronic tones bled into one, indistinguishable sound that was hard to locate in space.
13. For a loose happening, it came in bang on schedule at two hours, almost to the minute – conventional concert planners could learn something from this, but I'm not sure exactly what.
14. At the youngest end of the audience spectrum, a boy jumps on top of two beanbags, sandwiched between which is his brother. For a moment violence threatens to break out, but Steve Reich's Music for Pieces of Wood breaks out instead.
15. There is pulsation in the Reich – absent in a lot of the music. There is even more in Andy Akiho's extraordinary Pillar IV, in which an array of kitchen equipment and bottles is treated to polyrhythmic abandon by the virtuoso players of Abstrukt (pictured above). It sounded like a magical typewriter and I loved it.
16. At one stage a plane goes overhead: is it coincidence, or part of the meditation on climate change?
17. The performers were: the percussion ensemble Abstrukt, Katherine Tinker and Yshani Perinpanayagam, Linda Jankowska, Laura Moody, Marcus Vergette, Matthew Bourne, Emma Smith, Thanos Polymeneas-Liontiris and the London Triangle Orchestra, led by Gabriel Prokofiev.
18. A confluence of communality and commerce: Marcus Vergette's Tintinnabulation, saw the audience encouraged to participate with the bird whistles provided, which could be taken away after – as long as you bought a CD.
19. How have I never set foot in the Conservatory in over 35 years of visiting the Barbican? It is a delightful place, where green ferns and fronds meet concrete, steel and glass. Perfect for this occasion. I will be back.
One particularly vigorous crescendo dislodged a Toffee Crisp wrapper, which floated slowly to the floor
rating
Share this article