Opinion: If the classical concert scene ain't broke, don't fix it |

reviews, news & interviews
Opinion: If the classical concert scene ain't broke, don't fix it
Opinion: If the classical concert scene ain't broke, don't fix it
Try out fresh approaches, but don't change the formula of respectful listening
Most of us don't object to experiments in concert presentation - the occasional one-off showcase to lure the young and suspicious into the arcane world of attentive concert-going, the odd multimedia event as icing on the cake. It's only those pundits obsessed with the key word "accessibility" who tell us that the basic concept of sitting (or standing, as they have at the Proms for well over a century) and listening with respect for those around us needs overhauling. It's a typical journalistic conception of "either/or" instead of "all approaches welcome" - a case of what an American academic I know calls "bad binaries".
So you sit (or stand), you listen, you don't unwrap sweets, text, tweet, talk on your mobile phone or to your neighbour, cough in the quiet bits if you can help it, jangle your hundred and one bangles. This is not a notion unfamiliar to cinema-goers - jettison that popcorn, smother that mother and son giving a running commentary in the front row (ICA regulars for years, reducing others to a helpless incandescent rage) - or in the theatre, where actors have amusingly or furiously spelled out protests against unstifled, sometimes answered ringtones. And yet it's what Charles Hazlewood in his recent feature here on music in Bristol calls "the ludicrous etiquette of the concert hall... which merely alienates people and makes them feel self-conscious".
Hazlewood goes on to tell us that this is only a recent phenomenon: up to the mid-19th century, he says, "People would go to a gig and they'd drink and chat to their mates – they might even play cards – and if the music was any good, they'd sit up and listen." But that's to ignore the parallel role concert music came to play as a kind of sacred rite. Blame Beethoven, Berlioz and Mahler, if you like, but the amount of concentration - which is not the same as intellectual knowledge - required to absorb the Eroica or Resurrection symphonies simply doesn't allow you to "sit up and listen" from time to time.
Sure, you can do that with a programme of lollipops or short, five to 10-minute pieces, anything from Mozart's Eine kleine nachtmusik to John Adams's Short Ride in a Fast Machine. But the real challenge is getting the soundbite generation to understand, or at least to intuit, the emotional trajectories of large-scale orchestral drama. As composer James MacMillan said, it's easy to get an "instant spiritual high" from a slice of heaven on a plate by John Tavener or Arvo Pärt, but isn't it more rewarding to find that coming out of the conflicts and shifting perspectives of a great symphonic argument?
So how do you lure people to the concert-hall church in the first place? Cloud projections and images of Van Gogh paintings for Bartók, Monet for Debussy are ingenious but ultimately misleading; this isn't what you're eventually going to get when you grow up and let your ears conjure the images for you, something artists who attend concerts don't find too difficult to grasp. If the visuals are so important, there are plenty of film screenings with live musical accompaniment these days; but with the honourable exception of Prokofiev's music for Eisenstein's Alexander Nevsky and Ivan the Terrible, or Shostakovich's score for New Babylon, the music is always going to be of secondary importance - it accompanies the image, it doesn't require you to visualise it from what you hear the players unfold.
The Orchestra of the Age of Enlightenment seems to have got it right with its occasional Night Shift events (pictured right), where personable conductors - and there is none more youth-friendly than Vladimir Jurowski - perform sections of the main concerts they're giving to a more or less youthful audience given exactly that kind of licence to drink and chat that Hazlewood recommends. The idea seems to have originated in the cabaret presentations of smaller ensembles in Berlin, working alongside DJs and mixers - and who'd have thought that was on the cards 20 years ago?
It's a great idea in principle, but one I've not had the privilege of attending so far, if only because I've wanted to hear everything that's on the main programme which is going to be deconstructed for the Night Shift events. Presumably the ideal for the orchestra, too, is to encourage that new audience to go on to the full works. It's reassuring, all the same, to learn from Jurowski that he'd been a bit apprehensive about performing Beethoven's Seventh in the Roundhouse, where they'd even opened up an area upstairs for those who felt inclined to tweet and chat on their mobiles to do so. But what happened was that the audience was so riveted by what it heard that there was more or less total silence from the start.
And that is surely a matter of the conductor's charisma or authority. It always helps if the charisma extends to a friendly spoken introduction: I've seen that from three very audience-friendly live wires - Andris Nelsons in Birmingham, Vasily Petrenko in Liverpool and Stephane Denève in Scotland - and it goes down a treat, helping to build a loyal following. As for the main event, a general aura of inattentiveness and shuffling - spasmodic hack-fests prove less tractable - can usually be ascribed to a less than engaging performance. In fact I'd say that the minute or more of silence after a shattering interpretation is something encountered more, rather than less, often in a packed concert hall these days (and the big events are always packed - whatever the cuts to come, there's no shortage of enthusiastic audiences, even if a sellout still doesn't pay its way). A conductor who's more than a showman will know how to freeze incipient, untimely applause at the end of the euphoric march-scherzo of Tchaikovsky's Pathétique Symphony so that the tragedy that bursts on the audience at the beginning of the slow finale is all the more devastating.
Indeed, with applause, as with noise levels, it's a question of horses for courses. Pioneers of the authentic-performance school like Roger Norrington have actively encouraged clapping between movements, on the grounds that spectators used to do it all the time, and would even encore individual movements. Purist Prommers, the least relaxed free-standing audience in the world if also the quietest and most attentive, go spare about this, but I don't usually have a problem with it. Indeed, at the end of the huge opening movements of the big concertos - Beethoven's and Brahms's especially - it's a necessary response to the first bout of virtuosity before the calmer Adagio to follow. Increasingly the more creative conductors, among them Barenboim, Gergiev and Ivan Fischer, will actually run the movements of a symphony with as small a break between them as possible. But again, it's usually a matter of charismatic crowd control.
Does the look matter - for the orchestra or ensemble, that is, since audiences in Britain at least have long got over having to look smart? Should it always be penguin suits and long black dresses? Well, that's a nut that has been selectively cracked over the years. I guess it was probably in the 1980s that the London Sinfonietta wore a bright range of tops - still uniform, but with colour - and the BBC Symphony Orchestra men now go without ties, but still in black. I noticed what a difference it made to see a chorus in clothes all colours of the rainbow when I went to a final rehearsal of Mahler's Resurrection Symphony under Jurowski - the variety really did give the final universal assurance an extra kick. Likewise the brilliance of the BBCSO's Family Orchestra (pictured above left by Simon Jay Price) in a truly fabulous venue, Notting Hill's Tabernacle, last week: the grinning little girls in their sparkly dresses made everyone jolly before anyone had played a note. Not sure you'd want the jollity for requiems and solemn masses, though.
So again, the occasion dictates the degree of visual freedom and relaxation needed for the event. It's certainly not a matter of the life or death of the concert scene. That depends far more on what's done around the concerts: the education programmes, the special outreach events where players visit schools and give workshops. But even that, until recently, fell a little short: were the children actually coming to the concerts? Because there's absolutely no substitute for hearing a hundred-piece orchestra in full spate. I wonder what happened to the pledge of our leading orchestral conductors to find a free concert ticket for every schoolkid in the country? That seems to have gone a bit quiet, though there are now many more family schemes and cheap student tickets on offer than before.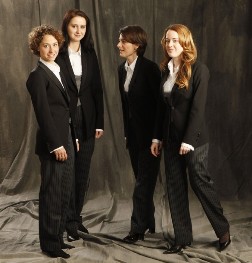 The right programmes need careful choosing: a teenager is less likely to find "uncool", or be bored by, Stravinsky's Rite of Spring than by a Mozart symphony, if only because it takes time and life to make sense of Mozart's later nuances. But once exposed to the new sounds, with no trimmings necessary, who knows where it might lead? Visible engagement from the players certainly helps: there's nothing quite like seeing the love-in of the Lucerne Festival Orchestra musicians with their god, Claudio Abbado, (it even makes that queer fish, the concert DVD, a must-have) or the obvious enthusiasm of Venezuelan and British youth orchestras when it's married to such top-quality music-making. And the recent BBC Symphony Orchestra 80th birthday concert, with its little films of concerts over the last 80 years, showed us how much we have to be thankful for in a younger and far more women-friendly orchestral scene, even if inwardly the playing might not have changed much (pictured above right, the new costumes for the still far too few ladies of the Vienna Philharmonic Orchestra).
So it's all there to be engaged with - the eye contact, the huge diversity of the musicians (I know, the ethnic range is still pretty limited, and there aren't enough women conductors, but all that's changing too, if slowly). It doesn't even matter if young newcomers slump in their seats, unimpressed. Because if you don't even know what a classical concert is, with all its rules and regulations, you can't really go back to it later in life. But I hazard a guess that the essential format won't have changed when today's more jaded teens discover a hunger for something that runs so little to eye.
Share this article