Oriole Ensemble, Conway Hall review - sublimely peculiar chamber music |

reviews, news & interviews
Oriole Ensemble, Conway Hall review - sublimely peculiar chamber music
Oriole Ensemble, Conway Hall review - sublimely peculiar chamber music
Interesting juxtaposition throws a light on 20th century repertoire
The Oriole Ensemble at Conway Hall on Sunday
When I reviewed the Philharmonia's Weimar season last year I expressed a hope to hear more Hindemith performed in London. When, also last year, I reviewed chamber music at Conway Hall I looked forward to my next visit. So a Conway Hall programme including Hindemith's Clarinet Quartet was like a magnet.
And I wasn't disappointed by the Hindemith, or by
Messiaen
's extraordinary
Quartet for the End of Time
that made up the second half.
Conway Hall is an enterprising venue, as much community centre as concert hall, with a long tradition of Sunday evening chamber music. The attendance was impressive, especially for a programme of fairly challenging 20th century repertoire. The ensemble is a new group called the Oriole Ensemble, a group of old friends and colleagues centred around pianist Hiro Takenouchi (pictured below by Jean-Baptiste Millot). They played with the easy assurance and comfortable familiarity of an established group and were very well-received.
The fact that Hindemith and Messiaen both chose the same scoring for their pieces is fortuitous. Hindemith wrote his quartet in 1938, apparently not to commission, and the composition of the Messiaen, in an internment camp during World War II, was entirely determined by the players who happened to be there. For pieces written so near in time they are remarkably different, Hindemith's clearly in the European chamber music tradition, although with lots of nods to Baroque textures, while the Messiaen is a unique conception, utterly eccentric in lots of respects, a fact that can be forgotten through its familiarity.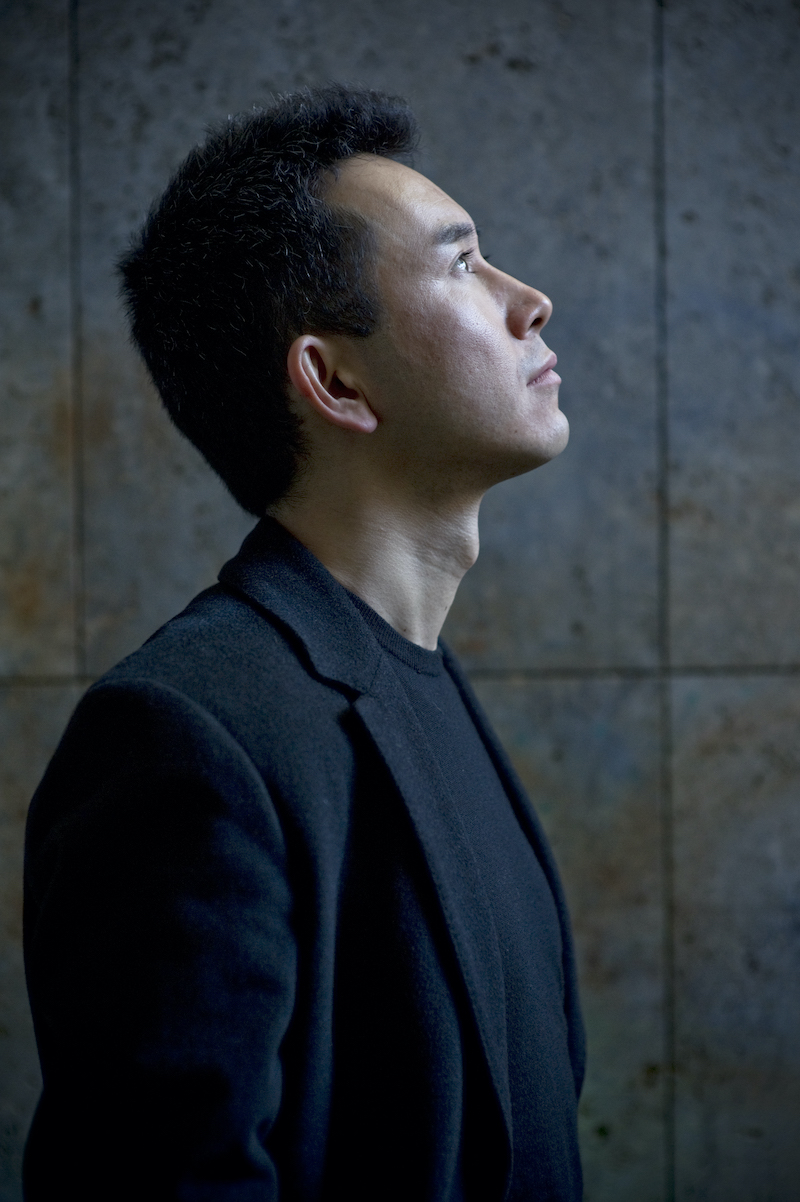 The Hindemith is a very democratic chamber music, all the instruments equal in status, whether in contrapuntal textures, or when taking turns with the primary melody. The Oriole Ensemble were sensitive to balance at all times, especially when the piano dropped out: the beginning of the second movement was wonderfully together in its sense of stillness. Pianist Hiro Takenouchi was equally at home in Brahmsian ripples or in the clangorous chords of the stormy middle section, which lifted him off his feet. The finale has sections of American expansiveness (Hindemith was to move to the US shortly after) and – in its startling coda – Bartókian wildness leading to an unresolved ending.
If the Hindemith Quartet has its peculiarities, Messiaen's Quartet for the End of Time is completely strange, an unlikely masterpiece, no doubt helped in its popularity by the extraordinary story of its composition and first performance, on decrepit instruments to an outdoor audience of prisoners and guards in Stalag VIII-A in January 1941. Compositionally it draws together all Messiaen's techniques of the time: harmony derived from his modes, melody from his study of birdsong, and rhythm through an Indian primer he had come across. It is as sternly Catholic as anything he wrote, but with a religious ecstasy that often borders on kitsch.
As an eight-movement chamber piece it is also odd. Only four of the movements feature all four instruments, and one of those has them all playing in unison throughout. This is the sixth movement, the "Dance of Fury", and furious it was, fast and exciting, an unforgiving texture for the players (there were occasional tiny slips of ensemble). The first movement, "Liturgy of Crystal" is my favourite, the piano playing an eternally looping series of chords against birdsong melodies in the other instruments, serene, undeveloping, unvarying, magical.
But the real heart of the piece is in the three solo movements, for clarinet alone, and violin and cello respectively with piano. The clarinet movement, "Abyss of Birds" is extraordinary theatre, the other players sitting and listening for 10 minutes of mostly hushed solo music. Clarinettist William Stafford controlled both the theatre and music beautifully, long notes emerging from nothing, glistening with overtones.
The fifth movement puts a long-breathed melody over repeating, occasionally shifting, piano chords. Takenouchi shaped these intelligently, letting the ebb and flow pick out the way the chords always threaten to resolve but never do. Cellist Christian Elliott soared appropriately, but also found moments of fragility. The music is maximalist, wearing its heart on its sleeve, but its sentimentality at times threatens to overwhelm, maybe just remaining tethered to good taste by Messiaen's sincerity.
The final movement is companion to the fifth, offering another view of the eternal, this time the violin (Sijie Chen) takes her turn to soar, the piano chords now unevenly spaced and Takenouchi bringing out individual notes, finding inner lines from within the chords, and finding resonances from the body of the piano. The music eventually floats off the top of the instruments as if a bird set free, an affecting image to end a piece written in captivity, and a monument to its composer's faith.
Hiro Takenouchi was equally at home in Brahmsian ripples or in the clangorous chords of the stormy middle section
rating
Explore topics
Share this article