Tetzlaff, Philharmonia, Salonen, RFH review - glories of the Weimar era |

reviews, news & interviews
Tetzlaff, Philharmonia, Salonen, RFH review - glories of the Weimar era
Tetzlaff, Philharmonia, Salonen, RFH review - glories of the Weimar era
Bach-themed programme eloquently embraces both tragedy and triumph
Friday, 27 September 2019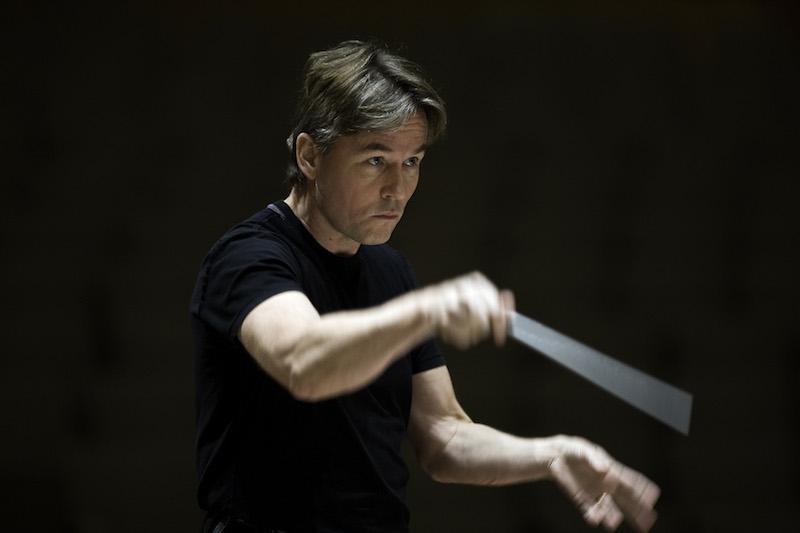 Esa-Pekka Salonen conducts the Philharmonia Orchestra
The mid-1930s, when the Nazi government replaced the Weimar republic, was a bleak time for the composers featured in last night's Philharmonia concert. Arnold Schoenberg was the first to leave for the US, followed by Paul Hindemith in 1938.
Alban Berg avoided emigration only by the extreme measure of dying, suddenly, in 1935. But the music they were writing was not bleak, even when marking the death of a teenage "angel".
The three composers shared something else apart from the disfavour of the Nazis: a veneration of J.S. Bach, and this was the thread that bound together the first half. Hindemith's Ragtime, cheekily jazzing up a motif from a Bach keyboard fugue, gave way to the more reverential Schoenberg arrangements of two of Bach's organ pieces, and was followed in turn by Berg's Violin Concerto, with its Bach-quoting final movement.
The Ragtime of 1922 is a close cousin of Stravinsky's better-known piece of the same name, and has about as much in common with "real" ragtime. In both cases it is a licence for the composer to have fun, try on a mask and show themselves au courant. Hindemith's music is full of vigour – as was Esa-Pekka Salonen's conducting of it – but he couldn't help himself drifting into the muscular counterpoint that is the main hallmark of his style (but not of ragtime). The Bach that followed was enjoyable if only for being opulent and well-padded in a way foreign to most contemporary Bach performances. Schoenberg's orchestrations are "straight" – no added dissonances here – but show his skill, an extended cello solo unfolded delightfully by Timothy Walden and the technicolour ending, replete with clash cymbals, put a smile on my face.
This is very much not the aim of Berg's Violin Concerto, dedicated to the memory of Alma Mahler's daughter Manon Gropius. It is an elegy, with an exquisite melancholy that soloist Christian Tetzlaff (pictured above by Georgia Bertazzi) gave beautiful voice to, but simultaneously a brilliantly-scored concerto for orchestra. Berg is one of the great masters of orchestration, rarely using the orchestra as a whole, instead focusing on small instrumental groups and individual players. There were solo spots for bass clarinet (Laurent Ben Slimane, eager and propulsive), trumpet (a plaintive Chris Avison) and even tuba (Peter Smith).
Most impressive was the balance between solo violin and ensemble, which I have often found problematic in this piece. Here Tetzlaff found his own sonic space, not afraid to play quietly, very sensitively accompanied by Salonen and the Philharmonia, cushioning but never stifling the soloist. Tetzlaff not only recalls 1980s-era Billy Connolly physically but also has his sure sense of rhythm and phrasing, albeit in a more rarified sphere, and his rhapsodic playing had a similar feeling of inspired improvisation.
Where Salonen was restrained and a happy second-fiddle in the Berg, he revelled in the large gestures of Hindemith's Symphony: Mathis der Maler. An off-shoot of the opera that Hindemith was beginning to suspect might never be staged under the Nazis, it portrays a German Renaissance painter by using an old German song, "Es sungen drei Engel" that dominates the first movement, and returns in triumph at the very end.
Although Bach isn't quoted directly in Hindemith's symphony, his spirit is always there in Hindemith's ubiquitous counterpoint, and his use of pre-existing melody as a cantus firmus, much as Bach does in his chorale-preludes. Hindemith's bustling fugues carry the piece along, punctuated by moments of filmic scoring – the wonderful hushed strings in the second movement, the blinding luminescence of the final chord greeted by Salonen, arms outstretched in exultation.
The Philharmonia continue to stage interesting themed series and to programme innovative repertoire – it has been really welcome to hear Hindemith in a London concert hall – and were rewarded with a good attendance for a concert of less familiar music. I look forward to this enterprising spirit continuing under the new Principal Conductor.
Tetzlaff not only recalls 1980s-era Billy Connolly physically but also has his sure sense of rhythm and phrasing
rating
Explore topics
Share this article