Prom 43, Solomon, The English Concert, Jeannin review - a Handelian box of delights |

reviews, news & interviews
Prom 43, Solomon, The English Concert, Jeannin review - a Handelian box of delights
Prom 43, Solomon, The English Concert, Jeannin review - a Handelian box of delights
Unexpected drama, and tenderness, amid a grand pageant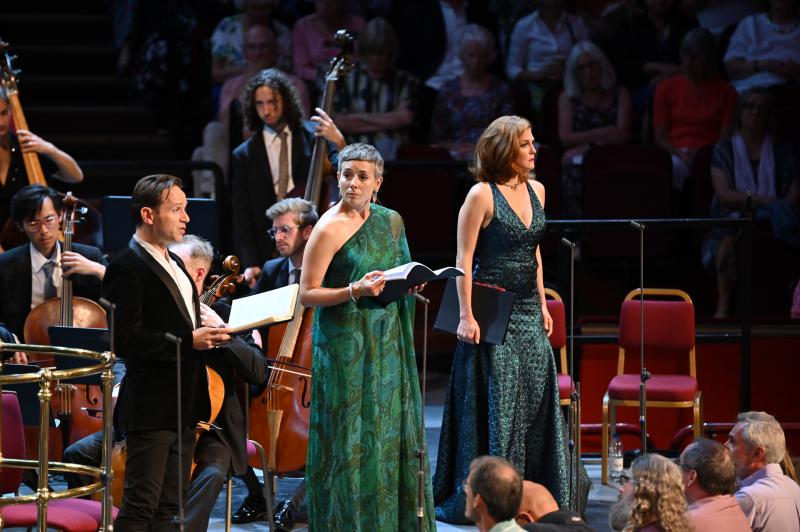 Child support: Iestyn Davies, Anna Dennis & Wallis Giunta
Like many people, I grew up with cut-and-paste Handel. It could take decades before you found out where that shiny snippet of a childhood earworm truly belonged.
A full-length Solomon, for instance – as delivered by The English Concert with a luxury handful of soloists at the Proms – will reveal that the so-called "Arrival of the Queen of Sheba" (named, it seems by Thomas Beecham) takes place just after an extraordinary middle act. In it, two "harlots" compete before the wise king for custody of a babe both claim as theirs. Exercising that famous judgment, Solomon orders the kid to be bisected – whereupon the real mother yields to the fake to save her son (and so wins in the end). A work written off by some music histories as a static, even lifeless procession with a duff Bible-based libretto turns out – with the right interpretation – to have a wrenching drama at its core to match anything in Handel's operas.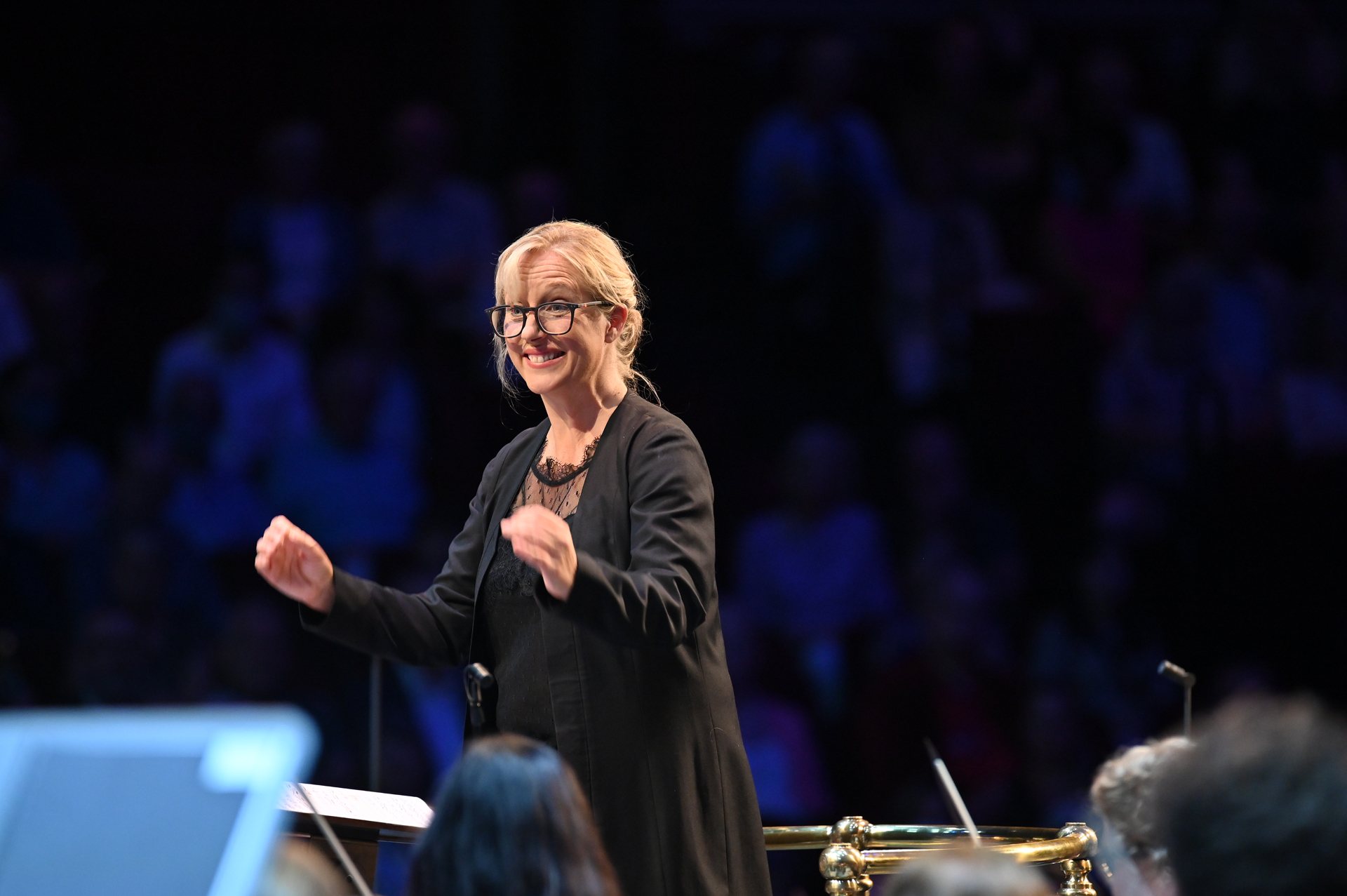 With Sofi Jeannin (pictured above) conducting The English Concert, this Solomon (wisely) had no attempt to stage the oratorio's music in a fussily intrusive way. In any case, it would would be a big ask to transform the whole pageant-like work into credible music-theatre, as (for instance) has happened with Theodora – written in the following year. So mezzo Wallis Giunta simply changed frocks (into a suitably spangly number) as she moved from "Second Harlot" to Queen of Sheba, while the strategic placing of trumpets, woods and timpani made the most of the multiple thrills that stud Handel's score. Otherwise, the music – and the singing – supplied drama aplenty.
Iestyn Davies's regal, assured and deeply expressive counter-tenor (pictured below) commanded from first note to last as the sage monarch: a taxing role originally composed (in 1748) for a mezzo, Caterina Galli. Like Giunta, soprano Anna Dennis also played twin parts with quick-change versatility, as Solomon's Queen and the vindicated mother (aka "First Harlot"). Benjamin Hulett's Zadok the priest, Ashley Riches' Levite and Peter Davoren's Attendant made up the rest of the court personnel, each injecting colour, light and shade into their long, grave (and potentially wearying) recitatives and stately arias.
The BBC Singers – 24-strong, but mighty and athletic enough when the occasion demanded – became a personality in the own right in their forcefully executed commentaries, interjections and praise-songs, often written with a zesty antiphonal dialogue between the parts. As for the orchestra, it feasted on the ever-changing flavours and textures that Handel demands from his band with perky, nicely accented woodwind pairs balancing the rich string sound. The show-stopping passages here can match anything in his vast oeuvre.
That said, not much happens. Solomon is lauded for his wisdom and justice. Hey, guys, I owe it all to Jehovah, he replies. Yeah, it's tough at the top, but the Big Man guides me (even when I killed my own half-brother, Adonijah). The "Harlots" turn up with their cradle-snatching accusations. Good old Sol sorts them out. Then it's the Queen of Sheba on a diplomatic visit: let's pull out all the stops to overawe the lady. Fancy place you've got here, she sings. More praise. More piety. More propaganda? Solomon was taken as a veiled eulogy to George II and the Hanoverian monarchy in Britain – in a piece written three years after Jacobite armies marched unopposed as far as Derby in the rebellion of 1745. Sometimes, you have to read between the lines.
Given its content (or lack thereof), a full-dress Solomon in the pompous, old-school oratorio style would feel pretty insupportable. Thankfully, Jeannin, with her singers and players, found the tenderness, playfulness and moments of wonder and affection that nestle within the palatial grandeur of this work. The king's arbitration of the quarrel between the mothers (actual or pretended) has – at least, last night it had – an edge, intensity and pathos to rival stand-out scenes in the operas its composer no longer wrote.
Giunta's part, as the delusional baby-claimant, has all the crazed, coloratura witchiness that Handel wrote so well, and she rose to its challenge in fine style. As the "good mother", Dennis (pictured below) held firm with a poised poignancy and dignity. That this all-too-human drama unfolds between two knockout choruses – with snortingly eloquent trumpets, woods and timpani, and entwined vocal lines that eddy, swell, surge and break with hair-raising power – only leaves you even more in awe of Handel's own heaven-sent powers of judgment.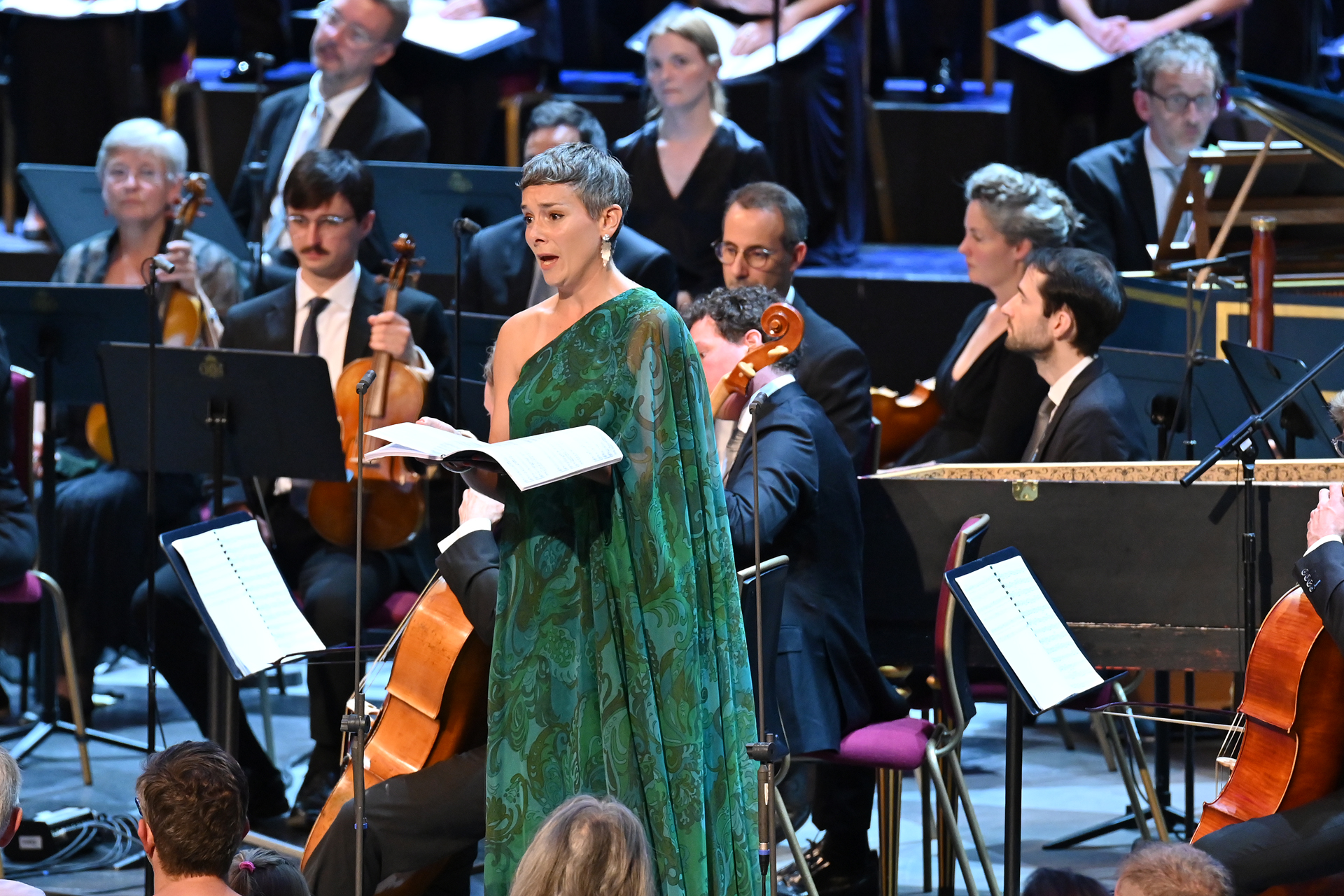 Solomon, though, does have its longueurs. Zadok and the Levite must search for movement and variety in long stretches of laudatory guff. Hulett's tenor had a polished suavity and nobility, and Riches' bass-baritone a teak-hued depth and fullness, that helped bring flesh to these ceremonial roles. Though the anonymous libretto has touches of the purest panto (how about "Thou fair inhabitant of Nile,/ Rejoice thy lover with a smile!"?), Davies's Solomon showed such a warm, relaxed mastery across his range that bathos never threatened. Besides, you know that soon enough the sun of Handel's skittish, even shameless inventiveness will break through the Biblical clouds – whether in the impossibly pretty flutes that enliven the choral blessing on the royal couple ("May no rash intruder disturb their soft hours") or the Messiah-level splendour of set-pieces such as the concluding "Praise the Lord with harp and tongue!" Jeannin kept the orchestral interludes (Sheba's arrival included) brisk and bright; she allowed enough space for those glorious instrumental parts to dazzle, and brought a loose-limbed swing and lilt to several sections that offset any tendency to puffed-up grandiosity in the material.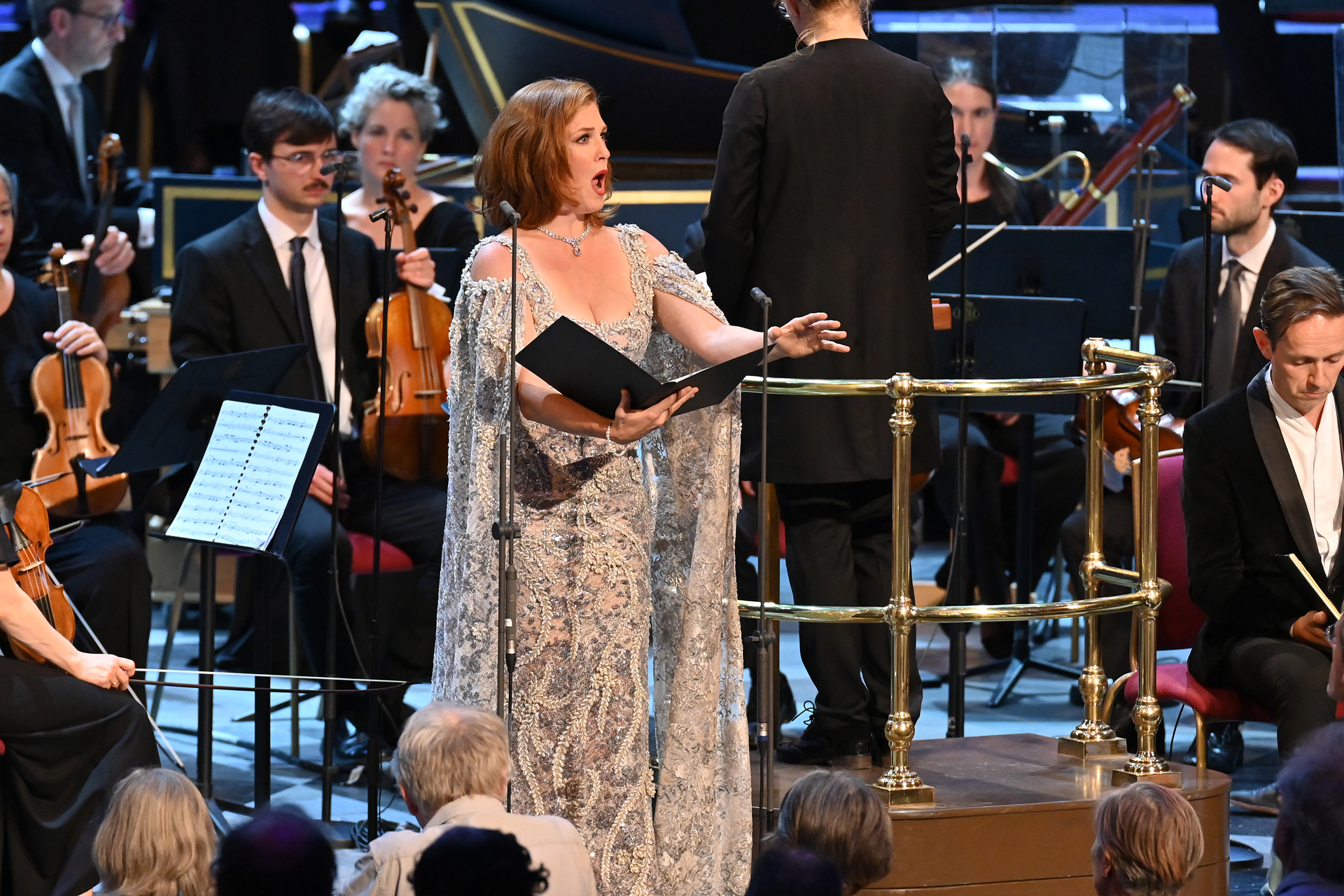 While the king displays his top-of-the-range amenities to Giunta's Sheba (pictured above), the music segues into a sort of stylistic shop-window. It offers up one tasty Handelian speciality after another: like a GFH chocolate-box selection, from dainty pastoral air to scary storm effects and even ("Though rolling surges rise, and plough the troubled main") something rather like a sea-shanty. Terrific fun, absurdly smart, beautifully performed – and with a hint, perhaps, that Handel didn't take his implicit brief of bigging up the corrupt and despised Hanoverians entirely seriously. No matter: Solomon lets us enjoy its protean composer in a dozen flavours (sweet, nutty, creamy, dark, fruity), while each of these treats came served with artistry and flair. And now I know what goes down before (and after) the Queen of Sheba sails through the door.
The music offers up one tasty speciality after another: like a Handel chocolate-box selection
rating
Explore topics
Share this article