Prom 67: Simón Bolívar Symphony Orchestra, Dudamel
Prom 67: Simón Bolívar Symphony Orchestra, Dudamel
From siesta to fiesta, with subtle textures the Venezuelans' unusual keynote
Monday, 05 September 2016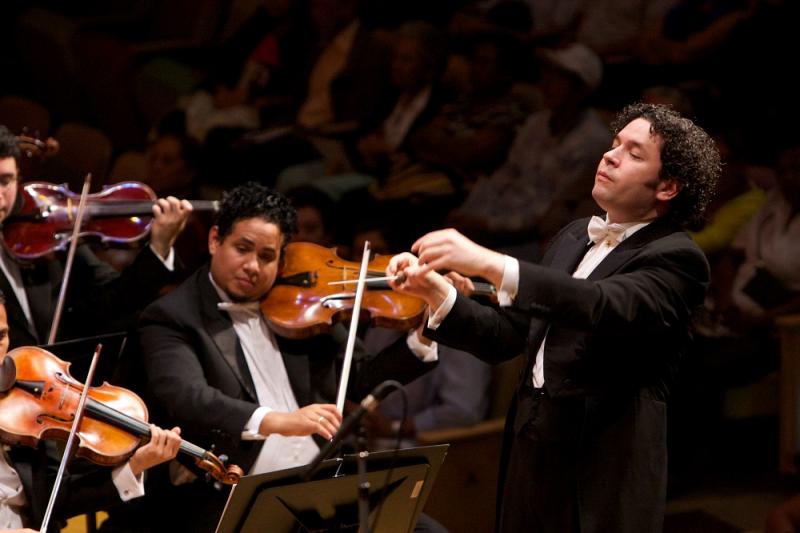 Dudamel and members of the Simón Bolívar Symphony Orchestra
Gone, it seems, is the era of epic three-part Proms. Sunday afternoon's programme, partly billed as a children's hour, might have pleased pianist and pundit Stephen Hough, whose recent broadsheet plea for shorter concerts somewhat overdid the need (lunchtime events already cater to concertgoers in a hurry very well, and the Proms has its late-nighters too).
But it left many of us wanting more, not just of Ravel in the second half but also of the distinctive Simón Bolívar earthiness, which was given free rein only in one spirited encore. Subtlety, for the most part, was the real name of Gustavo Dudamel's game.
It was surprising to find so much of it in a Latin American first half which held melody, rhythm and inventive orchestration in such fine balance. That went almost as much for the most recent work, Caracas born Paul Desenne's Hipnosis Mariposa (the composer as cellist pictured below by Giles Branch), as it did for the real discovery of the afternoon, Villa-Lobos's Bachianas brasileiras No. 2, which few listeners will have heard in its entirety (this was the complete four-movement work's Proms premiere).
Desenne's main melody in a sinuous 5/8 actually belongs to folk singer and composer Simón Díaz, the tune of "The Little Calf" aka "A Cow Named Butterfy" ("La vaca mariposa"). But it's given such kaleidoscopic colouring and is so rewarding for the players that the piece makes a fine orchestral showpiece. The whole concert, in fact, might have been made to spotlight piccolo player Diego Hernandez, making the first of four major gambits with parakeet shrieks.
The opening theme of Villa-Lobos's second idiosyncratic fusion of Bach and popular music - as he claimed, though it's hard to hear JSB anywhere here, even in spirit - is even more distinctive than Díaz's hit, a truly original melody that goes off at interesting tangents. José Álvarez gave it distinction on the alto saxophone before handing it over to, among others, lounge-lizard trombonist Pedro Carrero. Cellist Aimon Mata was the star of the slow movement, "The Song of Our Country", in a work which cleverly favours lower colours throughout - even in the relatively famous finale I knew at school as "The Little Train of the Caipira". It's a modest regional journey through pretty countryside, with a pretty violin melody to match, and nothing like the monster of Honegger's earlier Pacific 231.
This is the dark, full-blooded Simón Bolívar sound we know so well
Shifting from Brazilian landscapes to classical idyll, Dudamel gilded the first two-thirds of Ravel's Daphnis et Chloé Suite No. 2 at leisure, keeping the gauze down to show that the Simón Bolívars don't just do full-on sensuality. The orgiastic "Danse générale" shuddered and wriggled with the best of them, but I always miss the extra graphic twist of the complete ballet's wordless chorus, a palpable absence in the two concert suites.
La Valse began with silky basses barely breaking the silence, found muted strings swooning with the harps and ended with predictable tumultuousness; the slightly stiffer manner in between, though, before imploding rather suggested that the Vienna Phil won't be calling on the Venezuelan conductor for any New Year's Day concert in the near future, well as he handles dances other than the waltz (but the VPO is doing exactly that, according to Jim Pritchard's comment below, showing he knew more than I did). More like it was the encore, a traditional dance, "Pajarillo" from Aires de Venezuela arranged by Giuseppe Terenzio, complete with foreground maracas from one of the many percussionists. This is the dark, full-blooded Simón Bolívar sound we know so well. I just wish there had been a bit more of it, for all the clever planning of the programme.
The distinctive Simon Bolivar earthiness was only given free rein in one spirited encore
rating
Share this article