Proms at Cadogan Hall 7, Giunta, Sikich, review - dazzlement in Bernstein and beyond |

reviews, news & interviews
Proms at...Cadogan Hall 7, Giunta, Sikich, review - dazzlement in Bernstein and beyond
Proms at...Cadogan Hall 7, Giunta, Sikich, review - dazzlement in Bernstein and beyond
Mezzo magic in an (almost) all-American recital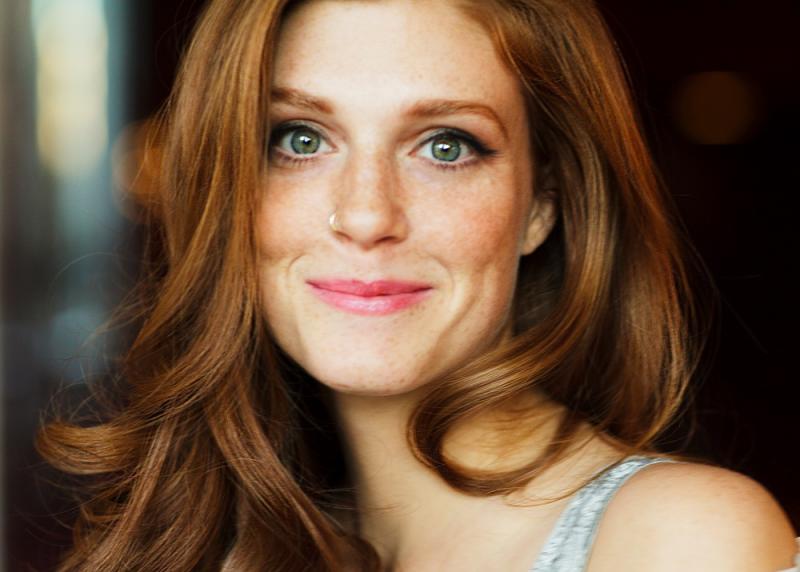 Wallis Giunta: 'one hell of a career ahead of her'
"What drivel! What nonsense! What escapist Techicolor twaddle!" No, not a description of Wallis Giunta's scintillating BBC Proms at Cadogan Hall recital, it's a lyric from "What A Movie", Leonard Bernstein's outstanding stand-alone number from his one-act opera Trouble In Tahiti.
Narrating the story of a ridiculously torrid movie the heroine has sat through, Giunta joyously inhabited its every moment and delivered it with complete theatrical assurance. That's only to be expected;
theartsdesk
reviewed her stunning performance in the role for Opera North last year. What really impressed here was her ability to bring similar vocal and dramatic command to almost everything else in her exceedingly smartly chosen programme.
Book-ended by Bernstein – she opened with a delicious run at his rapid-fire, five-minute, five-song set of recipes to music La Bonne Cuisine – the concert comprised music not only by the man whose centenary the Proms has been celebrating but also songs by his friends and colleagues plus the premiere of a BBC commission.
This was Wallis Giunta's Prom debut but she is clearly going to be back soon
If Giunta had wanted a showcase for her dazzling technique, she couldn't have asked for more than the six-minute wonder that is Bushra El-Turk's Crème Brûlée on a Tree. Commissioned as a direct response to Bernstein's cycle, the latter's wit and rhythmic dazzle was all over the wildly demanding score which sets another recipe, this time Andy Ricker's one for durian custard. Durian, as is (not) wildly well-known, is a fruit banned from use in public places and on planes. The late Anthony Bourdain said of it, "Your breath will smell as if you're been French kissing your dead grandmother."
El-Turk's setting, however (the composer pictured below, by Crooked Door Images), turns out to be a great deal more tasty than that as it leaps up and down to each equally assured end of Guinta's wide range. It's an unexpected little thriller that flies past using every possible sonority, beginning with pianist Michael Sikich just audibly stroking but not playing the keys of the Steinway. From there, the usually breakneck piano writing turns fiendishly tricky (carried off with serious aplomb) while the vocal line zips along, as chirruped, bleated and trilled as it is sung. With as many rhythmic changes – and finger clicks – as Bernstein himself might have used, the piece felt not only idiosyncratic (harder and less common than one might imagine) but also – a serious rarity – properly witty.
In addition to that world premiere, the concert also featured an equally exciting UK premiere of Conch Town, a 12-minute ballet that 23-year-old Bernstein began in 1941 after a trip to Cuba, but then abandoned. Completed by Nigel Simeone and Tom Owen in 2009 for two pianists and two percussionists, it could easily be subtitled "Theme and Variations on 'America'" since it features the tune that Bernstein would use 16 years later in West Side Story. Simeone and Owen are the equivalent of invisible menders since the infectiously zesty, Latin-toned piece feels strikingly coherent, even with a melancholic, bluesy central section which turns the "America" theme into something with faint echoes of the second of Gershwin's Three Piano Preludes.
Giunta was ideally crisp in two of Samuel Barber's Hermit Songs, giving both all the attentive colour they deserve. That was equally true of her approach to the first of two absurdly neglected songs by Marc Blitzstein who was 13 years Bernstein's senior and a close friend. With her mane of red hair and tall self-confidence making her look like Judy Garland's stern-seeming elder sister Lucille Bremer in Meet Me in St. Louis, Giunta had a ball with Blitzstein's "Modest Maid". With whiplash timing, she switched between the song's initial "neatness" and "discreetness" to the full-blooded, down'n'dirty "Give me LECHERY, lovely LECHERY". Any mezzo-soprano looking for encore material should grab a copy – though whether they can match Giunta's passion and precision is doubtful.
Encore-hunters should also seek out her other Blitzstein song, the equally neglected "Stay in My Arms". That said, against the gleaming authority of her other performances, including an ideally characterised "The Miller's Son" from Sondheim's A Little Night Music, this was less successful. A ravishing little lullaby of two lovers, the song occasionally rails against a world that is "gasping and shrieking" but by over-colouring the angrier words – and at so markedly slow a tempo – she milked the emotions and missed the regret, robbing the song, until its final moments, of its tenderness.
The same was true of her (un-broadcast) encore, "Send in the Clowns". Sondheim's most famous song, written overnight specifically for an actor with little voice and less breath, consists therefore of consciously short-winded phrases – "Isn't it rich? Isn't it queer?" – whose clear isolation underlines their meaning. Ignoring the rests and overextending the phrases – "isnt it r-i-i-i-i-ich" – emphasises the sheer loveliness of her voice but drains the words of sense and dramatic impact.
Yet if those were slips, they were slips from a startlingly high level. This was Wallis Giunta's Prom debut but she is clearly going to be back soon – so long as they book her quickly. She has one hell of a career ahead of her.
Giunta opened with a delicious run at Bernstein's rapid-fire, five-minute, five-song set of recipes to music 'La Bonne Cuisine'
rating
Share this article