Proust Night, Wigmore Hall review – the music of memory |

reviews, news & interviews
Proust Night, Wigmore Hall review – the music of memory
Proust Night, Wigmore Hall review – the music of memory
A haunting, stylish trip into the novelist's sound-world
Notes from the past: Lucy Crowe and Simon Callow
In a bold first strike – straight to the gut, surely, for many in the audience – the Wigmore Hall's "Proust Night" began with an old recording of the Berceuse from Fauré's Dolly Suite. Clever.
How apt that the signature tune from
Listen With Mother
(a beloved old BBC radio show of stories for younger children) should have been composed by a friend – and idol – of the writer whose own rapt entanglement in the mother-child bond threads through his life and work. Memory, elegy, nostalgia, lost bliss, solace beyond pain, the quest to recapture in art whatever time has snatched from us: the music-loving
Marcel Proust
sought in the pieces, and composers, he loved the same qualities that his prose so lavishly, so euphoniously, aims to define.
Then, out of the shadows, stepped Simon Callow – the evening's narrator – to deliver the young Proust's starstruck account of a grand musical salon at Versailles in 1894. Private and public; spiritual and satirical; reflective and observant: Proust's authorial persona in A la recherche du temps perdu has two faces, two modes. Any evocation of his music should honour both of them. At the Wigmore, Callow read extracts from Proust's own prose while cellist Steven Isserlis's script sketched the social and musical background for the pieces we heard.
A suitably classy team of performers – among them soprano Lucy Crowe, violinist Alina Ibragimova (pictured below), pianists Connie Shih and Alasdair Beatson, as well as Isserlis himself – ushered us into the sound-world of the Parisian salons of the Belle Epoque. There Proust absorbed the repertoire he adored, while his super-sensitive antennae noticed and recorded every detail of the people and the passions that would later fill his fiction. We heard, too, how the writer, afflicted with asthma, eventually retreated to his cork-lined room where scrutiny gave way to memory – although in 1916 he did hire a string quartet to play for him in bed, an episode that Alan Bennett movingly, wittily, dramatised in his TV film 102 Boulevard Haussmann.
With a few dips back into the earlier music that meant most to Proust – Schumann, Chopin – most of the selections drew from the tastes of the late 19th-century salons, and his favourites from this relatively narrow domain. Fauré, Franck and Saint-Saëns all loomed large. So did the songs of the Venezuelan-born composer Reynaldo Hahn: Proust's long-term soulmate, and shorter-term lover. Lucy Crowe (pictured below with Connie Shih), versatile in tone and warmly communicative throughout the concert, made us hear why Proust saluted the "genuine humanity and absolute beauty" in his friend's work.
Overall, the performances gave us access to the lyrical, meditative Proust, while Callow's readings majored on the droll, waspish witness to high-society follies and fancies – such as the hostess Madame Verdurin, whose temples throb whenever sweet music plays in involuntary homage to "the ever-impending sufferings inflicted by beauty". These passages played to Callow's strengths (famously, he's a terrific stage Dickens) but their fruity mischievousness tended to skew the balance of the gig. Perhaps a second reader, with a less orotund manner, would have given us a deeper sense of the solitary seeker as well as the drawing-room comedian – although Proust really can be a hoot.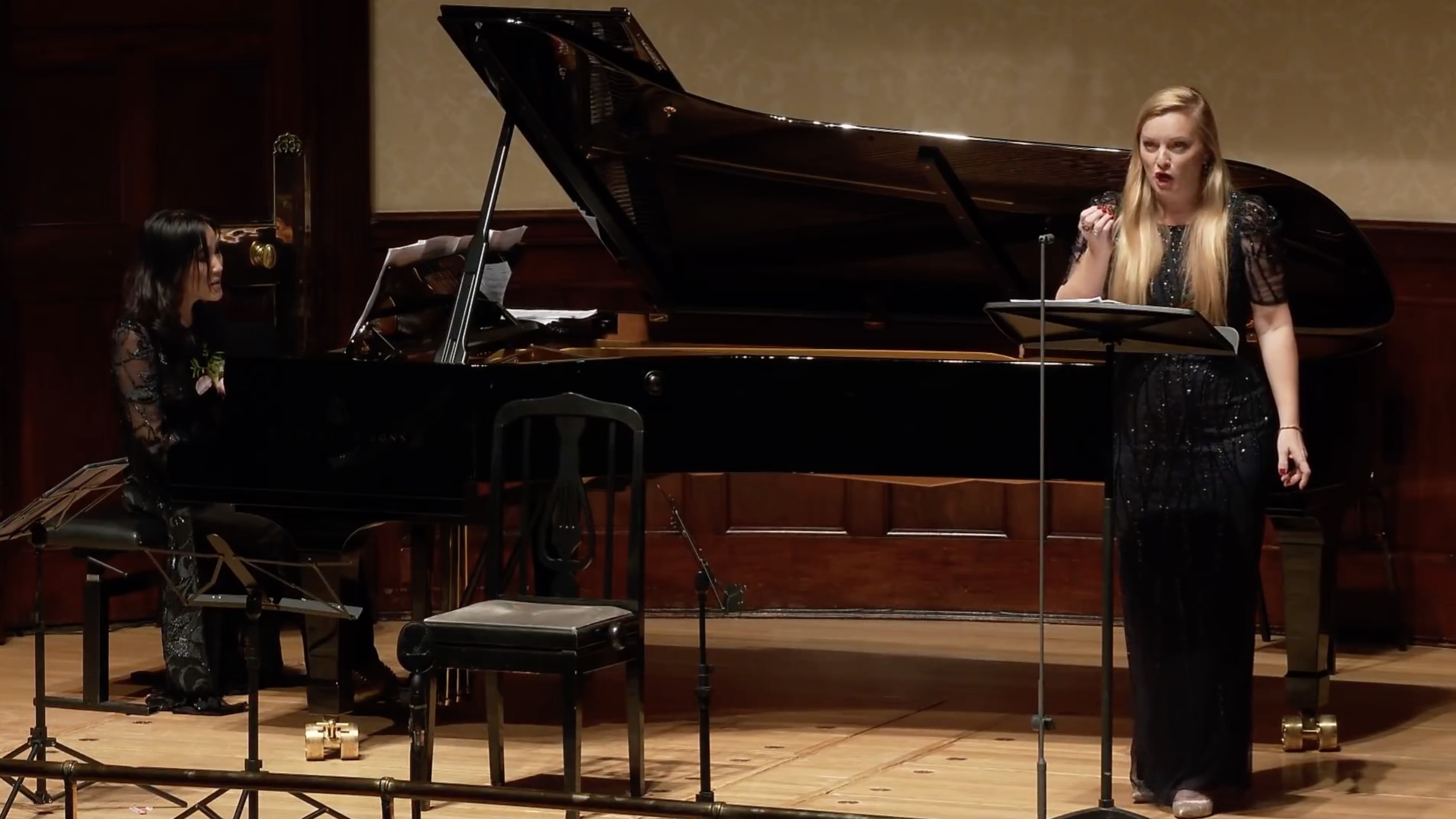 Still, the music led us inward with sure hands and voices. Alasdair Beatson brought a liquid, twilit tenderness to Schumann's "Des Abends", and commadingly balanced tumult with refinement in Chopin's Ballade in F. Alina Ibragimova kept Gounod's "Ave Maria" – built on Bach's opening C major Prelude from the Well-Tempered Clavier – just this side of schmaltz while letting us appreciate why this old chestnut made the salon ladies swoon. Lucy Crowe's dramatised delivery of Franck songs – "Nocturne" and "Le Sylphe" – channelled the florid exoticism that often seduced the Paris salons as much as formal and harmonic politesse. And a show-stealing turn from counter-tenor Francis Gush – resplendent in both ball gown and bushy beard, and certainly a shoo-in for the next Eurovision – hinted at the louche, camp demi-monde that's never all that far away in Proust's Paris.
We'll never know whether Proust had one particular piece in mind when he evoked the "Vinteuil Sonata". Its haunting "little phrase", a talisman of his love for the elusive Odette, obsesses Charles Swann in A la recherche… Works by Saint-Saëns, Franck and Fauré all sound likely candidates for the fictitious Vinteuil, perhaps in some ideal combination that only the author could ever hear. If one composer matches the sensibility of Proust's prose, however, it has to be Fauré. The author revered him, professed himself "in love with your music", and assured Fauré that he could write a 300-page book on his work.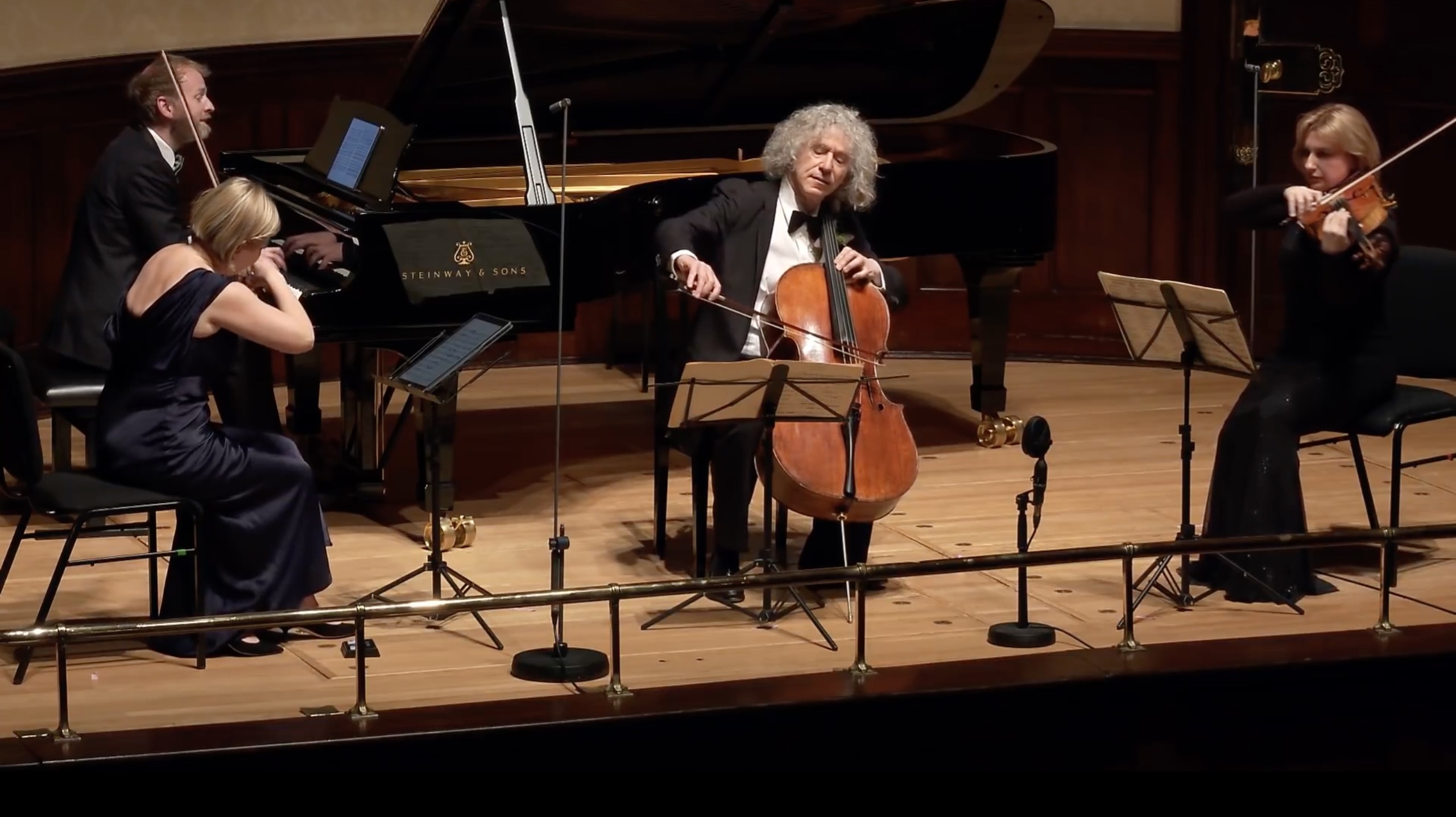 If only he had. "Proust Night" closed with the Adagio from his first Piano Quartet, with Isserlis, Ibragimova and Beatson joined by Rachel Roberts's viola (pictured above). Its melting modulations and fugitive chromaticism took us into a mistily bittersweet realm that – with any other author – you might imagine beyond words. Except that Proust above all leads prose into shadowed places where, normally, only music goes. With a dying fall on the piano, the last one of Fauré's little phrases faded into silence, "passed" – as Proust writes – "with simple and immortal movements, scattering on every side the bounties of its grace, smiling ineffably still". And so, with lockdown looming again, we happily filed out, or logged off, back to our own equivalent of cork-lined rooms.
Proust assured Fauré he could write a 300-page book on his work. If only he had
rating
Share this article