SCO, Leleux, Queen's Hall, Edinburgh review – new concerto for a deepening partnership |

reviews, news & interviews
SCO, Leleux, Queen's Hall, Edinburgh review – new concerto for a deepening partnership
SCO, Leleux, Queen's Hall, Edinburgh review – new concerto for a deepening partnership
The oboist plays and conducts Petitgirard's new concerto, but was the journey worth it?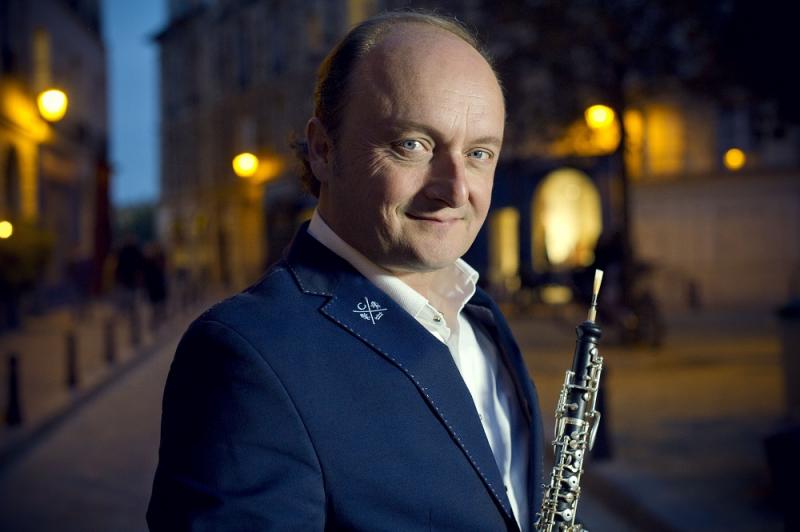 François Leleux: ever closer ties with the Scottish Chamber Orchestra
You may well have seen a concerto performance that has been "directed from the keyboard", or maybe even one that's "led from the violin", but have you ever seen a concerto that's directed from the oboe?
It's quite a sight, I can tell you, and it needs a level of skill and insight that I can't imagine many oboists possess. François Leleux has it in spades, though, and has fine-tuned it during his regular appearances with the Scottish Chamber Orchestra over the last few years, which have begun to take on the air of a festive occasion. I've seen him conduct lots of pieces while playing, but to date it has been well established composers like Haydn, Gounod or Dvořák, works in which the orchestra could reasonably be expected to take charge of affairs themselves, if need be.
It's a different matter altogether when you're giving the world premiere of a work that has been written for you. That needs much more focus and concentration from everyone involved, together with communicative skills that have been raised to the level of mystical; and mystical is the vibe that Laurent Petitgirard was going for in his new concerto, SOUEN WOU K'ONG. It's based on the 16th century Chinese fable on Monkey's Journey to the West, and in it Petitgirard draws on material he has written for an opera on the subject, the music for which featured a prominent oboe part. (PIctured below: Leleux rehearsing with the SCO in 2019)
Everyone played well, but I couldn't dismiss a nagging doubt that there was something missing from the music. Petitgirard's orchestral textures are attractive, tonal and often warmly harmonic, but also very episodic. The music tends to circulate and juxtapose, with textures that are often perfectly attractive, but which tend to do little more than alternate with one another. The same is true of the oboe line, played with mellifluous tone by Leleux. It was by turns spidery, wandering, upbeat and meditative, but it was so varied and lacking in drive that it put me in mind of trying on various outfits then leaving the shop without buying. I couldn't detect an overall coherence to the piece, let alone a sense of a journey. This quest culminated in a mystical end-point, but it couldn't convince me that the trip had been worthwhile.
No complaints, however, about what else was on offer, when Leleux laid down his oboe and picked up his baton. Bizet's first L'Arlésienne suite featured strings that were as clipped as the winds were flowing, and had a knockout solo saxophone that stayed on just the right side of being sultry. Beethoven's Second Symphony really benefited from natural timps and brass, with lithe, agile outer movements, and a raw, thrusting Scherzo with a butter-wouldn't-melt Trio. The slow movement, surely one of Beethoven's most beautiful creations, was lyrical and lovely, but with a nutty edge to the string tone that came into its own in the minor key central section.
Leleux's relationship with the SCO has deepened over years, and they clearly enjoy working together. It also felt completely appropriate that they opened the concert with "A Prayer for Ukraine", a tribute that was both solemn and strangely uplifting. Leleux's bond with the orchestra is a great example of cooperation and friendship across borders, something we all need reminding of at the minute.
The oboe line was so varied and lacking in drive that it put me in mind of trying on various outfits then leaving the shop without buying
rating
Explore topics
Share this article