Vassallo, CBSO, Chauhan, Symphony Hall Birmingham |

reviews, news & interviews
Vassallo, CBSO, Chauhan, Symphony Hall Birmingham
Vassallo, CBSO, Chauhan, Symphony Hall Birmingham
Compelling Shostakovich and a Golijov premiere from a young British conductor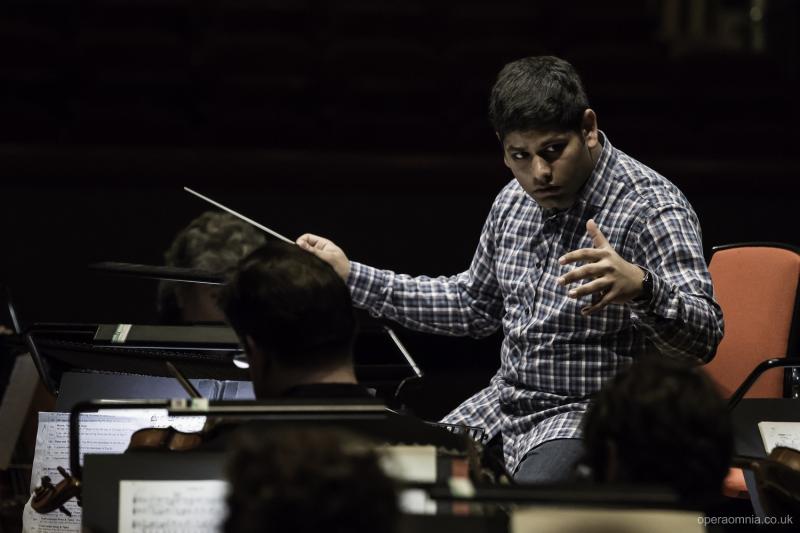 Alpesh Chauhan - intelligent and bold, with musicianship to spare
Funny thing, musical fashion. Most listeners would call Borodin's Polovtsian Dances a popular classic – yet before tonight, I doubt they'd had a professional performance in Birmingham this century. Then there's the case of Osvaldo Golijov. Remember him?
The very fact that it's taken 10 years for a work as substantial and appealing as his cello concerto
Azul
to receive this UK premiere tells you all you need to know about how far his stock has fallen – at least for now.
It owed this performance to the CBSO's assistant conductor Alpesh Chauhan and principal cello Eduardo Vassallo (pictured below right) – the central panel of a fascinatingly conceived programme that concluded with Shostakovich's Fifteenth Symphony. For a young conductor making his official CBSO main season debut (Chauhan stood in for an indisposed Andris Nelsons late last season), these were bold, self-denying choices – and after seven years of Nelsons's meat-and-potatoes programming, a welcome return to the kind of musical adventure Birmingham was offered each week under Sakari Oramo and Simon Rattle.

This was something of a homecoming gig for Chauhan, and the warmth in the hall was genuine As for Azul itself, it's a 30-minute, single-movement arc for solo cello and an orchestra augmented by accordion, exotic percussion and occasional eerie touches of electronics. Golijov's notion, apparently, is to "evoke the majesty of certain Baroque adagios", with the cello less a virtuoso soloist than a leading voice, and the extra instruments serving as a kind of continuo section. In practice, this meant stretches of lush, harmonically static music broken by jagged, gradually building rhythmic ostinatos, fading at length to a horn-coloured sunset and a long, sliding final sigh.


Vassallo played with a sweet, glowing tone and evident commitment in music that didn't sound particularly grateful for the cello (Golijov cites Berlioz's Harold in Italy as a model). The lyrical opening section seemed to work best, making an effect somewhere between Tavener's The Protecting Veil and one of those "Rainforest Moods" relaxation CDs they sell at garden centres. The audience gave it a standing ovation – almost unheard of at a CBSO concert.

But then, that was the spirit of the evening. Chauhan had set the mood with a flying, joyously balletic account of the Polovtsian Dances: springy, vividly colourful and delivered without a trace of self-indulgence. And laughter ran through the audience as he stepped down to adjust Vassallo's music stand before Azul. "I was his student – some things never change," he explained. As a product of Birmingham's schools music service and a former cellist in the CBSO Youth Orchestra, this was something of a homecoming gig for Chauhan, and the warmth in the hall was genuine.

But that can't account for the impression that Chauhan has made in recent seasons with orchestras as far apart as Scotland, Finland and Italy; nor is it enough to explain the sense of atmosphere and quiet power that he generated in Shostakovich's Fifteenth Symphony. Objective was the first word that came to mind, faced with the no-nonsense way in which he assembled the puzzle of the first movement, and the poker face with which the CBSO players delivered Shostakovich's musical jokes. In the Adagio, though, Chauhan placed each each muted brass chord and grumbling bass line in its own space like a sculptor assembling an installation – then without forcing anything, simply let the climax erupt from the bottom of the orchestra. The effect was overwhelming, helped by Chauhan's decision to place the basses at the back of the orchestra. In Symphony Hall, the frontal advance of that great wall of black sound really gets you in the gut.

That same discreet understanding and large-scale vision underpinned the whole performance. Chauhan let his players play, and Adrian Spillett's percussion team, in particular, worked little miracles of delicacy and precision. But Chauhan is one of those conductors who makes every phrase and detail sound like it's communicating something – and he possesses that magical, Beecham-like knack for making even rests sing. The result, at the end of Shostakovich's unanswered question of a finale, was a 30-second silence that spoke louder than any ovation. A remarkable achievement from a young conductor of intelligence and courage – and musicianship enough to justify both.
Chauhan placed each each muted brass chord and grumbling bass line like a sculptor assembling an installation
rating
Explore topics
Share this article