Williams, Hallé, Elder online review - big results from small forces |

reviews, news & interviews
Williams, Hallé, Elder online review - big results from small forces
Williams, Hallé, Elder online review - big results from small forces
Second Covid-style film performance offers a memorable sequence of ensembles
Saturday, 12 December 2020
Flow and energy: Sir Mark Elder conducts the Hallé Orchestra on film, at Hallé St Peter's
The second of the Hallé's Winter Season concerts-on-film is scarcely less ground-breaking than the first. But this time we are in the orchestra's second home, the former church now extended to be Hallé St Peter's in the regenerated part of Manchester's city centre.
The same skilful use of camera techniques to show a socially distanced ensemble, with Sir Mark Elder as conductor and, this time, Roderick Williams as vocal soloist, makes satisfying visuals to go with arresting sound. Despite limited resources in the installed lighting, there's still effective use of washes of colour in the background to many shots.
The music might have been selected for a Remembrance-tide concert that never was, such are its memorial and wartime resonances, though its four 20th century works are worth hearing at any point. There's a smaller playing area than the Bridgewater Hall offered from its super-stage in "Episode 1", so what you get in this programme is a sequence of ensembles. The first we see is of brass players, in Britten's Russian Funeral of 1936. His only piece for brass band (with percussion), say the publishers: well, this isn't a band but a select group of players, giving welcome clarity to the textures conceived for a concert of hopefully socialist music, from a time when Russia could still be seen as a proto-Utopia. There's a sense of an approaching procession, mourning heroes of the proletarian struggle, but this dissolves for a time into something more fragmented and uncertain, with pre-echoes (for those who like to hear such things) of the forlorn bugle calls so vividly used in the War Requiem 30 years later. It's played with spiky precision and, by the end as the procession returns, impressive weight.
Then, appropriately, Arvo Pärt's Cantus in memory of Benjamin Britten follows. This time it's a string ensemble (with one, tolling, tubular bell), spread around the space and all, except for the cellos, standing. For some interpreters this piece is all ethereal waves of tone-with-no-rhythm, but Elder makes it much more intense than that, full of attack and with the leading motives in its multi-speed canons clearly elucidated. It's also another exercise in controlled crescendo, gripping in its power.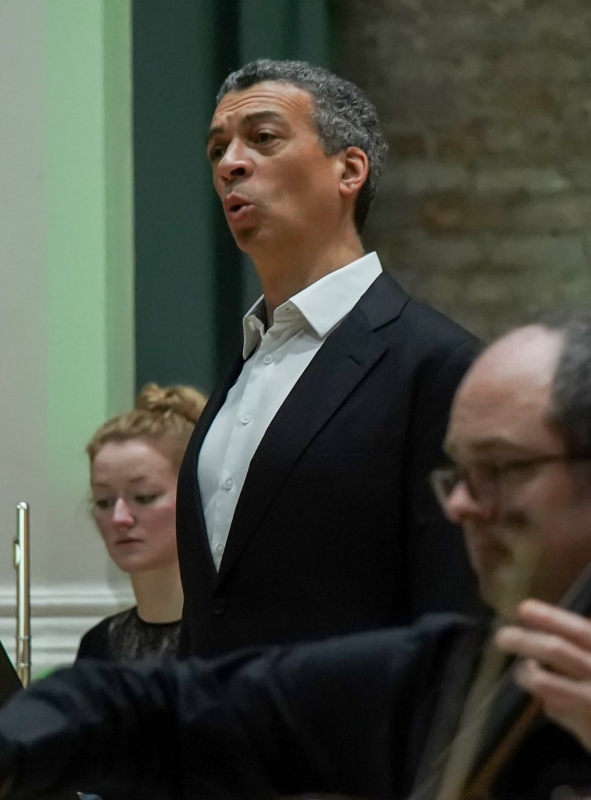 It's followed by some clips of Elder talking about the pieces just heard and introducing four Hallé players – principal percussion David Hext, principal clarinet Sergio Castelló López, principal cello Nicholas Trygstad and principal trombone Katie Jones – who each say briefly how much music means to them. They segue into Elder and Roderick Williams (pictured right) talking illuminatingly about George Butterworth's ever-popular Six Songs from A Shropshire Lad, which is then heard in the world premiere of a new orchestral arrangement by Williams himself (a Hallé commission).
It's not the first orchestral adaptation of the accompaniments that Butterworth left only in piano guise – and Williams has himself made one for string chamber orchestra before. But this is a striking example of making relatively little do a lot: the strings are hardly more than a double quintet, but with modest wind, brass and percussion added and delicately balanced, there's a variety of colour and weight that itself is quite thrilling. Williams the baritone soloist is a much respected exponent of these songs and knows every nuance of their gently implied pathos (originally relating to those young men who volunteered for the Boer War, but since a century ago indelibly associated with the First World War, when many Tommies clutched their copies of Housman's poems along with their New Testaments, and which tragically brought Butterworth's own life to an untimely end). In the last song, "Is my team ploughing?", Williams brings enviable contrasts of vocal tone to singing the question-and-reply of the poem, and, with a tiny pause just before the final plea and a gentle timpani roll in his accompaniment, unforgettably underlines the fatefulness of the last answer (with appreciative applause from the orchestra left in the clip).
Elder talks again, to introduce new Hallé violinist Katie Jones as they and cellist Simon Turner discuss the major work in the film – Richard Strauss's Metamorphosen. They mention how the necessary spacing of the 23 solo string players in Covid-safe conditions makes for a different kind of sonority than might otherwise have been heard. Not unless you have exceptionally good surround-sound on your home device, perhaps, but these strings, led by Paul Barritt (and again all standing who could), are undoubtedly wonderful to hear on any terms. The pre-performance clip mentions that conductor and players both found the piece fun to play, despite its being full of the anguish Strauss felt at the destruction in the Second World War of so much that was dear to him. A strange quality, perhaps? But sad music can still be very beautiful, and this has the additional factor that Elder brings a sense of flow and energy to it, again leading us through its structure and textures by focus on the singing themes. There is a marvellously executed build-up to the last, almost-glorious, climax, which instantly crumbles into despond.
Credits are again due to Maestro Broadcasting and the sound team led by Stephen Portnoi.
Sad music can still be very beautiful
rating
Share this article