Amy Schumer, Netflix Special review - New York smarts about being a fortysomething |

reviews, news & interviews
Amy Schumer, Netflix Special review - New York smarts about being a fortysomething
Amy Schumer, Netflix Special review - New York smarts about being a fortysomething
Pointed observational material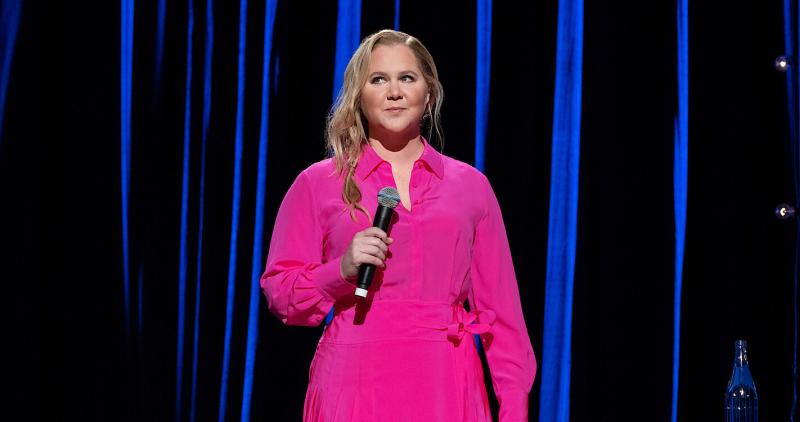 Amy Schumer often uses misdirection to land a bigger laugh
Amy Schumer opens Emergency Contact, her latest Netflix Special, by asking a young woman in the front row how old she is. When the answer comes back as "27", the New York comic has found the perfect segue into material about being 42 and feeling her age.
It's anything but quotidian though as Schumer is a wry – and often very sharp – observer of the human condition. Indeed her material about actor Alec Baldwin and his "not-Spanish Spanish" wife, Hilaria (christened Hilary) is deliciously pointed in reflecting on identity and self-awareness, or lack of it.
Most of the show – derived from its touring version Whore Tour – is about Schumer's own current condition. She has a young son, whom she named after a comedy hero but whose name, she now realises, said quickly sounds like a horrible medical condition. We hear how sex with her husband has dried up but she still has nights out with the girls, even though she can't drink like she used to when she was 27. Then again, she drinks on her non-drinking days, but that doesn't count., she says..
On the surface, Schumer might be considered an over-sharer but, as with so many of her jokes, she uses misdirection to make a greater impact – and land a bigger laugh – when the reveal comes. And so, in talking about the hysterectomy she had after years of suffering from endometriosis, she explains that there's little research on the female condition but – good news, guys! – scientists have invented a chewable version of Prozac for "men who don't like taking a tablet". This is said while she rubs away pretend tears, all faux concern.
This show was recorded at the Orpheus Theatre in Los Angeles and Schumer was back in the city after co-hosting the 2022 Oscars ceremony. Strangely the infamous Will Smith incident that night – which she handled with aplomb – isn't mentioned but she does make a nod to comics being cancelled, laughing at the notion of comedy being dangerous and of comics being "on the front lines every night". No one is going to land a slap on her, she says – "My people are like me. We're tired."
Schumer makes some astute observations about people's desire to look good – in a city obsessed with good looks – by talking about the time she believed some guff about the benefits of facial lasering and when she had liposuction. But, while taking aim at those who profit from people's insecurities, she admits her own failings: "I would rather have major surgery than be a little hungry once."
Emergency Contact isn't Schumer's strongest show but it's entertaining and well crafted, and delivers some solid laughs.
Schumer was back in Los Angeles after co-hosting the 2022 Oscars ceremony
rating
Explore topics
Share this article