Squid Game, Netflix review - murderous game show hits the ratings jackpot |

reviews, news & interviews
Squid Game, Netflix review - murderous game show hits the ratings jackpot
Squid Game, Netflix review - murderous game show hits the ratings jackpot
South Korean series mixes slaughter and greed with a dash of moral philosophy
Saturday, 23 October 2021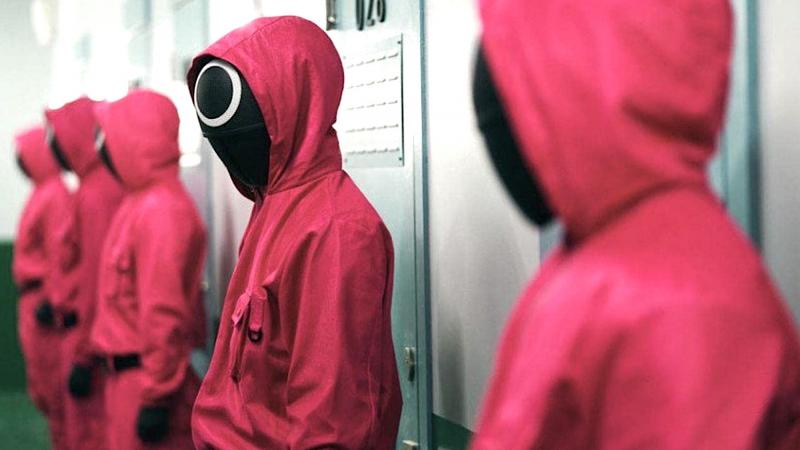 Welcome to dystopia: faceless guards keep the contestants under control
This Korean-made show suddenly became Netflix's all-time greatest hit, demonstrating once again the irresistible allure of a game show which ruthlessly massacres its contestants.
Squid Game
has some fairly obvious antecedents – for instance
The Hunger Games
, the Schwarzenegger vehicle
The Running Man
and the Japanese TV show
Battle Royale
– and also carries echoes of the 1960s cult mystery
The Prisoner
and perhaps a soupçon of
Lord of the Flies
. The fact that it has come out of
South Korea
undoubtedly sprays on an added miasma of strangeness (avoid the dubbed English dialogue option, because it's infinitely more effective in the original language with English subtitles).
In outline, it's straightforward. A group of desperate and downtrodden citizens, many of them crushed by unpayable debts or barely existing on the fringes of the criminal underworld, are recruited to take part in a series of contests, which are simple childhood games adapted into ghastly killing mechanisms. The recruits (including Seong Gi-hun, pictured below, who's our unwitting guide on this infernal journey) are lured in by an enigmatically-smiling man on the subway who makes them an offer of riches they can't refuse. The volunteers end up being sedated and transported to a mysterious offshore island (kind of Tracy Island meets Thunderball). Here, amid bizarre Escher-like staircases painted garish yellow and pink, they're dragooned by anonymous uniformed guards into playing "Red Light, Green Light" (a version of "Grandmother's Footsteps") in which anybody spotted moving by a motion sensor is mown down by snipers, or a tug-of-war contest in which the losing team is unceremoniously tipped into the void when a guillotine severs their rope.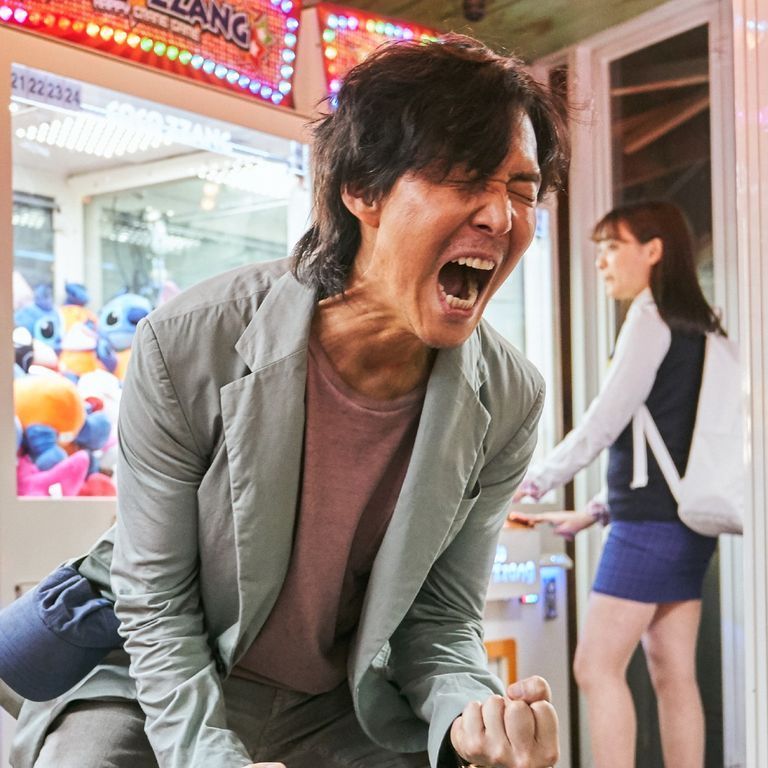 All this casual slaughter might seem merely gratuitous (spurting jets of blood are laid on with abandon) had not the show's creator Hwang Dong-hyuk built in some poignant back-story interest for his hapless characters. For instance Gi-hun (Lee Jung-jae) may seem like a feckless wastrel, leeching off his poor old mother to squander her money on gambling, but as the story unfolds we learn more about his fate as a victim of bad luck and brutalist capitalism. Kang Sae-byeok (Jung Ho-yeon) has defected from North Korea to the south, and is desperate for money to bring her parents across the border. Gi-hun's childhood friend Cho Sang-woo (Park Hae-soo) has let his family think he's still a successful businessman, but in fact is being hounded by creditors for incalculably huge sums. Oh Il-nam (O Yoong-su) is a very elderly man suffering from a brain tumour, yet has a strange gift for survival.
Squid Game's central question is what are you prepared to do to survive? The winner's prize, 45.6 billon Won (£28.2m), is dangled tauntingly over the players' heads inside a giant transparent piggy-bank, but can only be won at the cost of hundreds of other people's lives. It would take a heart of stone to collect the loot and walk off whistling cheerily into the sunset, but some of the entrants comfortably qualify. All the participants vote freely to keep playing, so are at least in part authors of their own misfortune (or otherwise). As the eerily-masked games-master known as The Frontman points out, these are people who have been battered and spat upon by an uncaring world, and at least the game offers them the chance of a level playing field.
It's weird, but becomes increasingly hypnotising as the story progresses. And inevitably, there are plenty of loose ends left over to set up series 2.