The North Water, BBC Two review - a terrible voyage into the great beyond |

reviews, news & interviews
The North Water, BBC Two review - a terrible voyage into the great beyond
The North Water, BBC Two review - a terrible voyage into the great beyond
Director Andrew Haigh brings cinematic heft to this bloody whaling odyssey
Saturday, 11 September 2021
To the ends of the earth: the crew of the whaling ship 'Volunteer'
It's perhaps unfortunate that The North Water arrives on BBC Two only a few months after The Terror, since it's impossible to avoid the parallels between them.
They're set only a few years apart (1859 for
The North Water
, 1845 for
The Terror
), both involve doomed voyages into Arctic waters, and each of them gets darker and bloodier as it depicts man's inhumanity to man (and not just man) and the encroaching horror of a heart of darkness.
But there are differences, too. The North Water is based on Ian McGuire's novel, but this five-part series is indelibly stamped with the mark of screenwriter and director Andrew Haigh (director of 45 Years and Lean On Pete). The characterisations are strong and the narrative grimly powerful, though where it really excels is in the cinematography. Where The Terror resorted to CGI, Haigh has boldly gone full tilt into location shooting in Norway's Svalbard archipelago (this is a co-production with See-Saw Films and Rhombus Media, and the budget looks generous). Allegedly, no drama shoot has ever ventured so far north. Haigh makes spine-chilling use of epic wide shots of turbulent ocean, barren far-north landscapes and bleached-out vistas of ice, speckled with fragile rowing boats and tiny figures of men, laughably insignificant in a deep-frozen wilderness.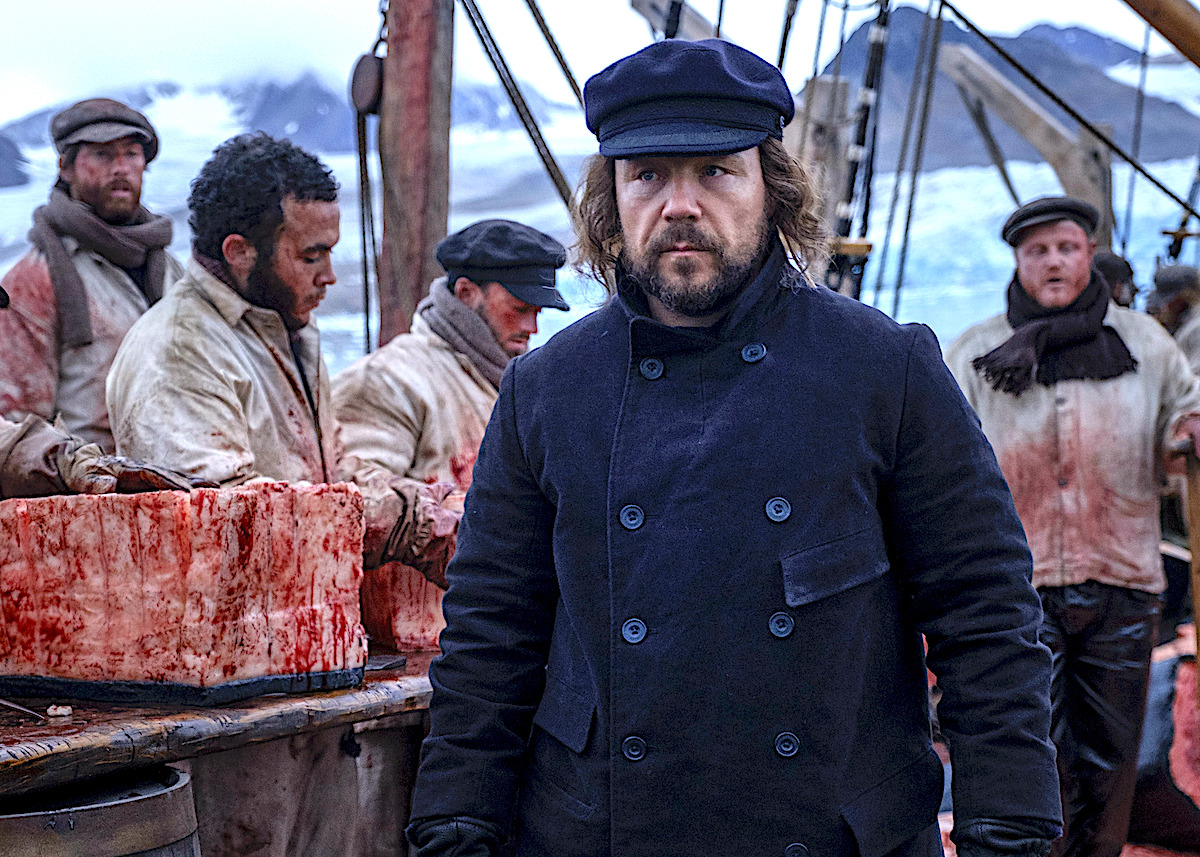 Great cast, too. Stephen Graham (pictured above), suddenly the world's most employable actor, is Captain Brownlee, skippering the Hull-based whaling ship Volunteer. Among his crew is the harpoon specialist Henry Drax (Colin Farrell), while Sam Spruell is rough-hewn Londoner and first mate Cavendish. Jack O'Connell pays Patrick Sumner, the Volunteer's new onboard doctor. He's on the run from a tortured past in which he was cashiered from the Army, after almost being killed during the Indian Mutiny and double-crossed by a senior officer. He consoles himself by reading Homer and zonking himself out with laudanum.
Volunteer's voyage morphs into a metaphorical odyssey, as personal relationships break down under the stress of the pitiless climate and it becomes clear that this voyage is a one-way trip. Haigh has successfully created several circles of hell, some of them even before the Volunteer sets sail. The town of Hull (built on a sound stage in Budapest) is a blend of stygian gloom and Dickensian squalor, barely penetrated by daylight. Crew-members live a troglodytic life of whoring, boozing and fighting – the bartender keeps a billy-club under the counter and is more like a mafia enforcer than a jovial mine-host – before staggering back to the ship for departure.
But the hapless Jack Tars are mere playthings in the hands of forces greater than themselves. Little do they know that ship-owner Baxter (Tom Courtenay) has lost interest in the dying whaling industry, and in finest vulture-capitalist style is plotting with Brownlee to scupper the Volunteer and claim a bumper insurance pay-out. Baxter couldn't care less how many of them die, and Brownlee has some previous, having steered the Percival to its doom three years earlier.
Where The Terror had a weird mythical monster roaming the Arctic wastes, it's Farrell's demonic Drax (pictured above) who serves much the same purpose here. Unrecognisable beneath a vast beehive of beard and bulked up like a fusion of Desperate Dan with an ox, Farrell delights in his portrayal of a shameless, murderous psychopath, delivering his lines in a fruity, thespianised Dublin burr. He's almost proud of his irredeemable nature, and murder and deceit are his stock-in-trade. He's right at home in stomach-turning scenes of the slaughter of seals and a whale – in our eco-conscious times, these sequences risk provoking outrage among sections of the viewership – but is equally happily to crush human skulls and slit human throats.
I had a peek at future episodes, and later ones get a bit penny-dreadful-ish and can't match the simmering menace of the first couple. Nonetheless, the depth of acting talent and the cinematic texture make The North Water a compelling watch.