Andrew Haigh: 'In the end you have to be able to make the decisions' - interview |

reviews, news & interviews
Andrew Haigh: 'In the end you have to be able to make the decisions' - interview
Andrew Haigh: 'In the end you have to be able to make the decisions' - interview
The Yorkshire-born director on his new film 'Lean on Pete'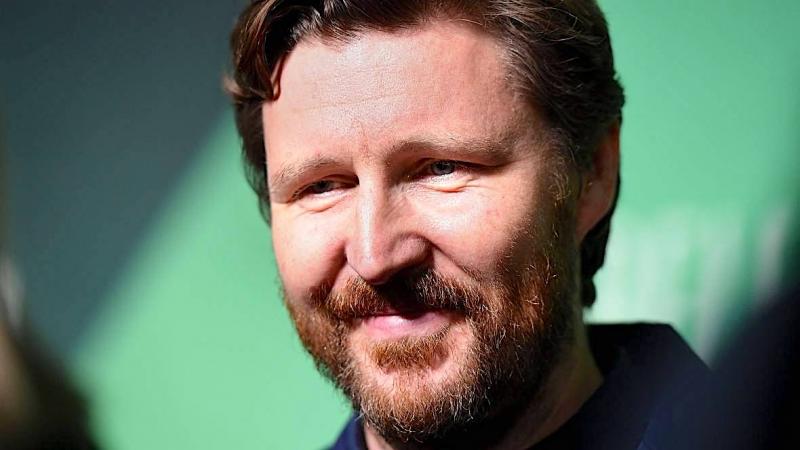 'I never thought I'd be able to stand on a set and have 100 people around me'
Very early in his career, Andrew Haigh worked as an assistant editor on such Ridley Scott blockbusters as Gladiator and Black Hawk Down. He didn't actually meet Scott in person until years later, when the eminent director had no recollection of him.
However, Sir Ridley might have a better idea of who he is now. As a director, Haigh created his first ripples in the filmic pond with Greek Pete (2009), the story of a Greek rent boy in London which collected a gong at LA's LGBT-orientated Outfest. He made an even bigger splash with Weekend (2011), a gay romantic drama which was acclaimed at festivals around the world and won Haigh the Breakthrough British Filmmaker award from the London Film Critics' Circle.
In 2014 he detoured into TV as an executive producer and director on HBO's gay-themed comedy-drama Looking. Meanwhile his film career continued onward and upward with 45 Years (2015), a bittersweet romance starring Tom Courtenay and Charlotte Rampling which reaped another sackful of accolades, including an Oscar nomination for Rampling, and earned a stonking 97 per cent approval rating on movie reviews site Rotten Tomatoes (pictured below, Haigh with Rampling).
Now Haigh returns with his latest movie Lean on Pete, a raw and haunting treatment of Willy Vlautin's novel which you could say was a story about a boy and a horse, though there's somewhat more to it than that. Featuring a fine performance by Steve Buscemi as hard-boiled horse-racer Del and a knockout turn by 18-year-old Charlie Plummer as lost and lonely teenager Charley Thompson, who's struggling to find a foothold in a world doing its best to ignore him, it suggests that Haigh's film-making horizons are expanding at a crisp gallop.
ADAM SWEETING: I read that you got very immersed in the milieu of Lean on Pete, that world of rough, low-rent horse racing.
ANDREW HAIGH: Yeah, after I got the rights for the novel I went out and spent some time with Willy Vlautin, the writer of the novel [and former stalwart of rock band Richmond Fontaine], and he's based in Portland, Oregon. He wrote most of the book at the track that's in the film, that actual Portland track, so he knows a lot of people down there. He knows the jockeys and the trainers, the agents, so he introduced me to lots of them and we went to watch races outside of Portland and watched lots of horse racing. I just got a sense of that world a little bit, and then I went on a road trip for like three months and followed Charley's route, just camping and staying in motels. I wrote the first draft of the script on that journey, just to write it in that environment.
Were you in touch with Willy while you were writing screenplay?
No, I would do a draft and then I would send it to him to have a look at. He was incredibly useful, he would give very detailed notes on things that didn't quite feel right or sometimes things he thought we didn't need, and he did that with every draft. He was on set a lot but he just stood back and watched and enjoyed it. He always seemed to come on for the most dramatic scenes, and I would turn round and he'd be there behind the monitor, visibly upset, because this is his thing that he cares so much about. I always think it must be strange for the writer of a book when someone adapts it, because it's my interpretation of the novel. The actors are who I've cast, they aren't who were in his mind as he wrote the book, so I think it's a very strange experience, but he seems happy so that's good.
The visual thing is not the written thing, is it?
It's totally different. I love books and I think books offer something that films can never offer. The best adaptation of any book is still very different from the book. Books have something, I dunno, internal about them that works. And films don't, you're looking at it.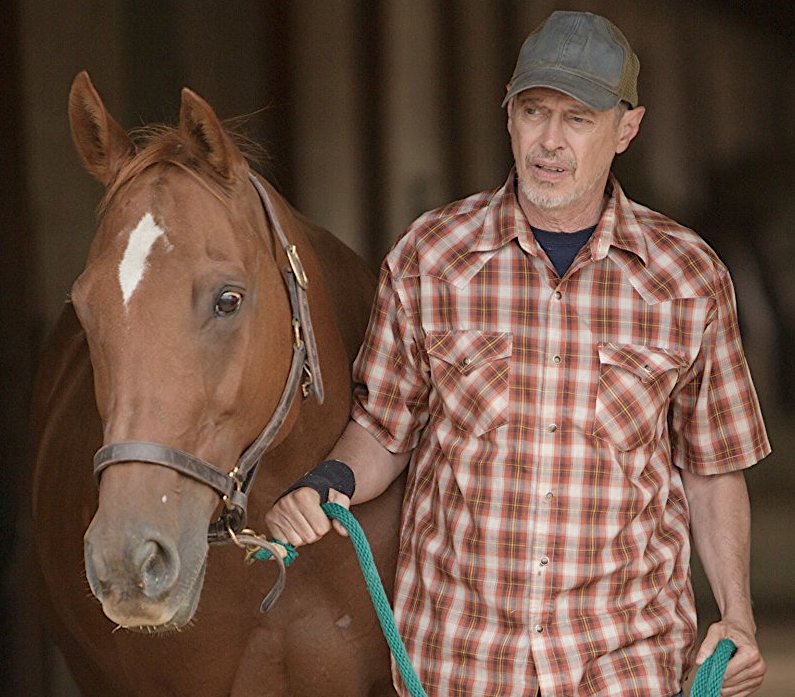 Working with Steve Buscemi (pictured left) must have been a trip?
It was really fun, I've liked him for a long long time. I don't think there are many actors who are just real character actors, that can invent themselves into a world but also can bring a character to life. I met him, we talked a lot about films that we both liked. He talked about Fat City in relation to this film, and the kind of performance style. We talked about his film Trees Lounge, he directed that film but it was a great performance by him. In reality it was only two weeks work probably with Steve so it was quite a short amount of time, but he was so generous and great to work with, he really was.
His is a very nuanced role – he's gruff and quite cruel, but there's a glimpse of a heart of gold in there somewhere.
Exactly. I think there's a version of this story where his could have been a really big performance and he's just an angry gruff man, that's it. And all of the supporting characters to me needed to feel like they were nuanced, that they lived in the world, they had pasts, they had histories, and more importantly they had struggles. Even Steve Zahn, who plays Silver, the homeless man at the end, even though you don't like what he does, I want you to have some sympathy for him, because these are all people with very difficult lives who essentially like Charley, care about Charley, but haven't got enough to be able to help him and protect him. They're dealing with their own struggles and difficulties.
The scene where Charley goes at Silver with a tyre iron is quite dramatic.
Yeah, and it was in the novel and I think it's such a kind of "whoa!" moment, y'know. I don't want you to say "way to go Charley, this is good!", I want you to think "No Charley, don't do that! This is the worst thing you can do right now." You understand that he wants his money back and everything, but still you don't want him to resort to violence. He is a really good kid but in that moment he makes a shitty decision, and he'll have to live with that decision for the rest of his life. The ending to me is not super optimistic and it's not super pessimistic, it's somewhere in between. The story is going on, his life will continue, and he'll have to remember what he did to Silver, and he'll have to remember all the things that have happened to him. I don't believe that anybody committing violence on anybody should ever be seen as a good thing.
How did you cast Charlie Plummer? (pictured above, with equine co-star).

He just auditioned. He went on tape for us and he sent me a really nice, smart letter about him understanding what he thought the role was about. He's just a really sensitive actor. He looks very deeply into what he's trying to do, he's not precious or whatever, but he really cares about what he's doing. I think he finds something in a scene which is surprising, and that to me is the best thing about an actor. You can read a scene and think "well I think I'm supposed to be sad in this scene, so I'll just be sad," without really warranting that sadness. Charlie finds something more interesting in the scene that always feels truthful, and to me it's remarkably similar to how someone like Charlotte Rampling works. Because she will find whatever feels really true in the moment of performance. Sometimes it works, sometimes it doesn't, sometimes it's incredible, sometimes it isn't, but it doesn't matter to her. She wants to find what feels authentic, and I felt like Charlie is the same. It's really exciting to watch when you're thinking "oh wow, what's happening right now? I don't really know but I'm really interested."
How was it working with horses?
The horse was surprisingly easy. There are definitely challenges, but we had a great trainer. The horse actually becomes the most important thing on the set on those days when it's there. No-one's allowed to go near it, everyone's quiet – I love that! Everyone has to wait when the shot is finished so they can calmly leave. They're very well trained, so if you need a horse to move its leg up and down and look agitated, it's just a cue that the horse is given by the trainer and he'll do it. Then it gets a treat, it's as simple as that.
There's a very fateful scene with the horse which must have been difficult?

It was a very complicated shot and I was oddly devastated. I think it was exhaustion and tiredness. I had to go off into the desert and have a cry, I was completely overwhelmed. If you notice it's all shot at dusk, so we basically had half an hour to get the shot and we had four takes at it before the sun had gone. You could feel everyone on the set just willing it to go well, and that was a lovely moment because it's when you suddenly feel like 100 people are totally focused on trying to get something right.
As a director I guess you need a sense that you can take command of a situation, and step in and be decisive if necessary?
I think decisive is the word. There are lots of different ways that people direct. Some of them shout and scream, some people manipulate, some people are quiet, but in the end you have to be able to make the decisions. When things go wrong it's when the director can't make a decision, and can't say "this is what we should do". For me that's what it's about. I think people would say I'm quite a calm, relaxed person on the set, and I try to be nice and have a good environment, but when something comes up you have to be like "yeah, I think this is the way to do it". On this there were 150 people waiting for you to decide what you're going to do, and there's a lot of pressure. The sun goes down, you've run out of time, the actor's late or a scene just isn't working. You have to make those quick decisions and say "I think this is alright, we've got this, we can move on".
Presumably you have to find a balance between decisiveness and letting too many other ideas from the Director of Photography, the assistant director or whoever sway your thinking?
It's really tricky. If you go down a path you don't really believe in, there's no point. I want my sets to be friendly, enjoyable places where people have fun, and then sometimes you realise that people are having too much fun. Then suddenly the job's not getting done and you have to be like "ok, now we need to do the work".
Could you make a film like Weekend in Hollywood? (pictured above, Chris New and Tom Cullen in Weekend).

Maybe you could now. It's weird, when I made that film, I couldn't get it funded. It took so long, and it only cost £65,000, and people were saying "no-one's going to want to see this", and then it did pretty well for what it is, especially in America. I think times have changed now, and with Call Me by Your Name and Moonlight, those kind of stories can get seen more. But I think it's always a challenge to make those kind of films, especially in Hollywood. There are very interesting independent films being made but on the whole it's very safe.
Was it important to you to make films about gay relationships at that stage in your career?
I suppose I was very angry at that time in my life about a lot of things. It was only 2011, but it was a different time than it is now in terms of the acceptance of gay relationships. I was annoyed that I hadn't seen those kind of stories on the screen and I was annoyed that there didn't seem to be a realistic depiction of that kind of life, so it felt important at the time. I remember at the time making that and thinking "but I don't always want to do gay themed stories", I knew that was never my intention. It was "what do I think is important to me at this time?", and that was what was important to me at that time.
Before you found your way in the business, what did you see happening to yourself as a filmmaker?
I thought I'd never be able to do it, that's the truth of it. I don't come from a background where my family are in anything creative, they're not in creative industries at all, so it felt like a completely alien world to me. I didn't study film, at Newcastle University I did History, and it was only when I left there that I thought ok, I'm going to try and start working in the industry. Even then I knew I wanted to direct, but I just thought how do you do it? Am I even going to be capable of doing it? It took me a good 10 years to get the courage just to make a short film. It was almost like I didn't want to say to people I want to do it, in case I couldn't do it, but finally I tried and thought "ok this is alright", and I slowly built up my confidence. But I never thought I'd be able to stand on a set and have 100 people around me, and I never thought I'd be able to stand on a stage and do a Q&A. I thought that sounded like the worst thing I could possibly imagine. And then you start doing it and you think "oh yeah ok, I can do it, it's not too bad".
And finally... you're about to shoot the TV adaptation of Ian McGuire's novel The North Water for BBC Two. How scary is that?
It's terrifying and fascinating, and the more I think about it the more terrifying it is. It's an incredibly challenging project for numerous reasons. It's set on an 1850s whaling ship in the Arctic, and I'm trying to do it as authentically as I can so we're not shooting in the studio, we're shooting on the sea and in the ice. Where we're shooting is like minus 35 at the moment, so there's a lot of complications and difficulties, but I loved the book when I read it and I think it could be something really special.
Lean on Pete is in cinemas on 4 May
The best film adaptation of any book is still very different from the book
Explore topics
Share this article