Philip Glass: Satyagraha, ENO/ LSO, Alsop, Barbican |

reviews, news & interviews
Philip Glass: Satyagraha, ENO/ LSO, Alsop, Barbican
Philip Glass: Satyagraha, ENO/ LSO, Alsop, Barbican
English National Opera production proves Philip Glass is a pile of trash
Thursday, 25 February 2010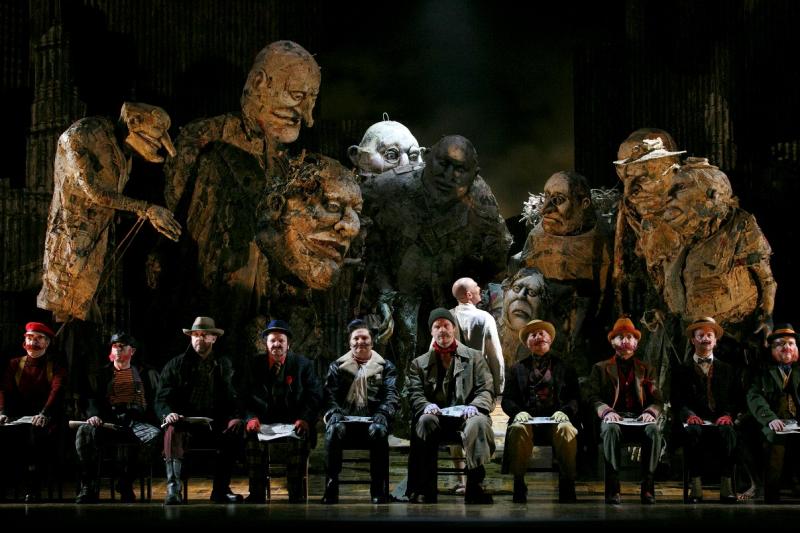 Satyagraha at ENO: 'shovel, shovel, shovel'
It has always been a cornerstone of my personal philosophy that beauty and insight can be found in the very lowest of common denominators. That Big Brother, Friends, Love It magazine or Paris Hilton provide revelations about life that are of as much consequence, of as much wonder, as any offered up by the classic pantheon. That that which the people respond to must and usually does have plenty of merit lurking within it.
And so I have always held out hope that Philip Glass, the most popular of living classical composers, is actually quite good, somehow, somewhere. But, actually, he really isn't. Philip Glass is genuinely just a load of old bollocks.
His oratorio-cum-opera Satyagraha starts with some promise. It starts with four chords. That's three more than anyone versed in Glass's music is probably expecting. It sort of lulls you into a false sense of security. Well, four chords, eh? Might not be such a dull night after all! For the love of God, don't think this; it'll get you into trouble. You might, you know, actually get into him. Not as unlikely a thing as you might think.
Philip Glass is a dangerous composer. He has the same effect on the ears as a packet of Pringles does on the stomach. Once you pop, you can't stop - you can't stop shovelling his empty chords down your gob, even while your gob is trying to vomit up your arms, that is. Shovel, shovel, shovel. Over three hours of it. Like a good Chinese meal, you feel full and hungry and vomitous all at once.
After the ENO's revival production, you also feel terribly puzzled. Which was shittier, one wonders: the music or the staging? The music, you see, gets a little better. In Act Two, there's some variety. It sounds like it might break free into Borodin. In Act Three there are relatively exotic chord combinations and chromatic overhangs - though still nothing that would frighten any self-respecting boy band. A pretty basic rule becomes apparent: the more chords there are the better the music is. It's something Glass should perhaps mull over.
Yet the staging never gets past dreadful. There's a Notting Hill carnival-dreadful at the off - women on stilts, giant papier-mache monsters and body-sculpting - and a political video-type-dreadful at the end - Gandhi and Martin Luther King in a slow-mo vanquishing of darkness. It's twee and saccharine, like something my local Lib Dem council might cook up one evening for a bit of community bonding.
There's no libretto to speak off, just a few vapid offcut aphorisms from the Bhagavad Gita and Gandhi, which are repeated ad nauseam. What content there is is profoundly suspicious. Perfectly reasonable if truistic statements like "be friendly and compassionate" rub shoulders with pseudo-Buddhist bunk, "be same in pleasure as in pain", "be done with thoughts of 'I' and 'mine'." As Paris Hilton might say: yeah, whatever.
Symbolic of the profound lack in this opera was the silence from the pit before the start of each act. Rather than the usual cacophony of practice and play-back, there was total peace. No one has to practise before Satyagraha because there is nothing to practise. Indeed, there is nothing in Satyagraha at all: no music, no characters, no plot, no interest, no point. I would have learnt more if I had stared at a wall.
Yet despite all this cretinism, despite Satyagraha being one of the worst operas, and Phelim McDermott's one of the worst productions, history has ever thrown up, the London Symphony Orchestra's concert last Sunday might have pipped it to the post of worst classical event of the year so far.
LIFE: A Journey Through Time - for, lo, yes, that was the concert's fabulous name - was as execrable as the title suggests. A tangle of weak cuts from Glass's film scores spliced together crassly follows a series of dishonestly tarted-up National Geographic photos of nature, looking nothing like nature does, obeying some fatuous, first-base idea of aesthetics, over-saturated, over-abstracted, whorish and wrong. None of this, I hasten to add, was Marin Alsop or the LSO's fault, who played Glass's retarded scores with gusto.
Share this article