Kew's Forgotten Queen, BBC Four |

reviews, news & interviews
Kew's Forgotten Queen, BBC Four
Kew's Forgotten Queen, BBC Four
How Marianne North mastered the art of capturing nature
Tuesday, 27 September 2016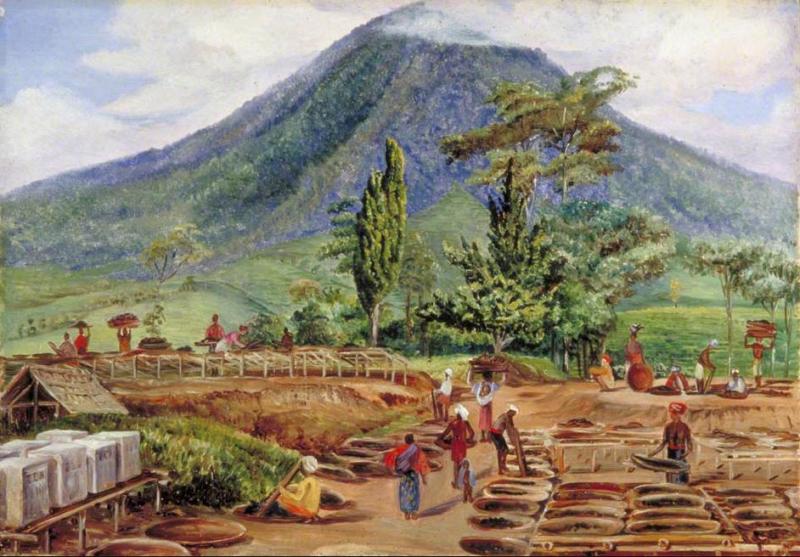 'Tea-drying in Mr Hölle's Establishment, Java' by Marianne North, 1876
The indefatigable Victorian spinster Marianne North (1830-1890) is the most interesting artist you've never heard of. The upper-middle-class Ms North thought marriage a terrible experiment, and with her single state allowing her control of her fortune, she took to cultural and physical independence. Her rich landowner father, Frederick, MP for Hastings, knew everyone who was everyone, including Sir William Hooker, director of Kew.
It was a visit to the gardens that turned his daughter's eyes to the world of plants. She was 25 and had found her vocation. Marianne deserted the drawing room and went on to make 1000 paintings worldwide, drawn from life. She managed extensive visits to 17 countries on five continents, from the Seychelles to Chile, Canada to Jamaica (North's Himalayan Oak and Birds, Nainee Tal, India, pictured below).
She spent a year in Australia specifically on the suggestion of Darwin. She painted 200 paintings in India, 300 in Australia, and gave 832 works to Kew. Their scientific, let alone aesthetic, value, in the time before colour photography, remains high. Dried specimens fade, oil paints survive.
This gorgeous film, where we were guided by an enthusiasm heavily spattered with cries of astonishment by the actress Emilia Fox (pictured below left), with commentary from curators, scholars and historians, took us from Hastings to London to Kew to Borneo. It was punctuated by photographs of Marianne in full Victorian regalia, huge dresses, mobcap and all, which made her travels through jungle and forest even more amazing. Her rule was evidently that she always had to see her feet, presumably to avoid sinking through mud and swamp.
She declared that if you only observe what nature teaches you will find a new happiness in life. This precept was the guiding light of her obsession, and obsessed she was. And as a true Victorian she wrote endless letters, and even an autobiography. She also scathingly observed that man's civilising influence could destroy in a few years what nature and animals had preserved for millennia.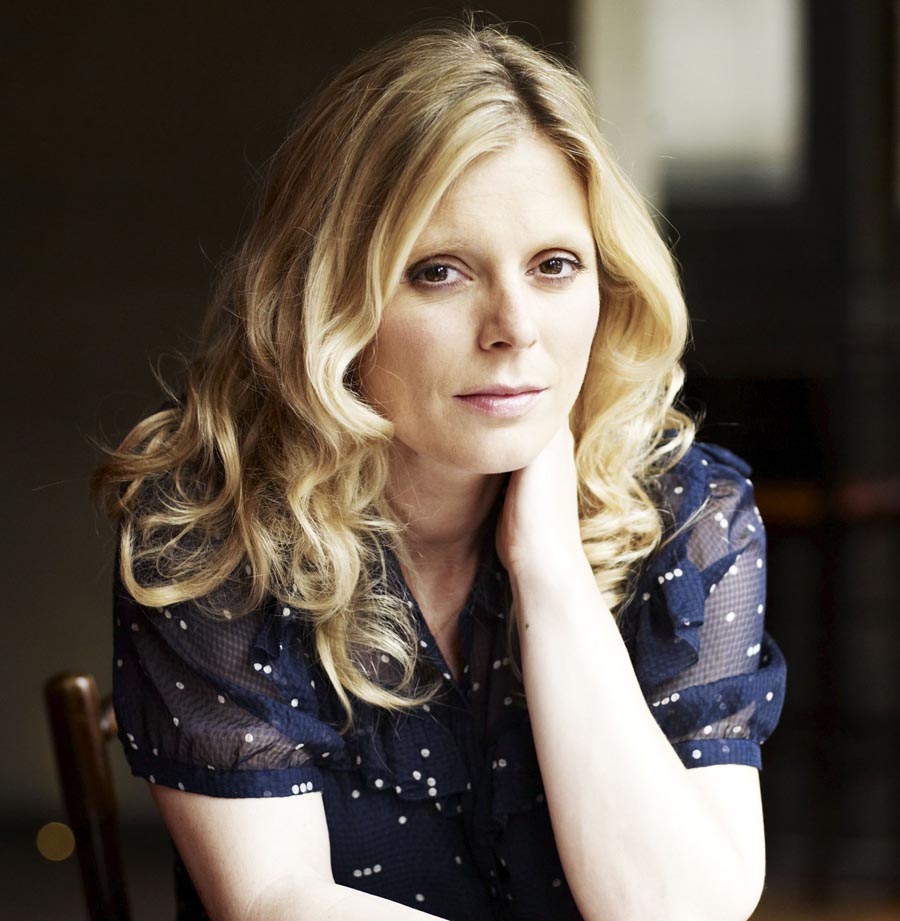 Ms Fox's river journeys and hikes up mountains in the steamy heat of Sarawak (her makeup remaining impeccable throughout) indicated just some of the physical endurance that Ms North needed. Here our artist had been determined to find the carnivorous pitcher plant, and succeeded to such an extent that several unknown species now have suffixes from Northiana to Northiam.
But there was a heavy price: Marianne was dead at 59 after episodes of broken bones, influenza, typhoid and rheumatic fever had taken their toll. She travelled alone it was said, but surely not; there must have been servants along the way, and mention was made of porters carrying her equipment. How she kept enough supplies of oil paint, canvas and so on throughout her trips of months, even years at a time remained mysterious to this viewer.
What did ease her passage – and we saw the documents that did so – was that effective precursor of the social network, the upper middle classes that ruled the Empire: the formal letters of introduction to ambassadors, high commissioners and the like. We saw wonderful photographs of those bearded and moustachioed Victorian males who dominated science. The commentary threw intriguing facts around like confetti; the Royal Society only admitted its first female member in 1945, a mere 55 years after Ms North's death (North painting a Tamil boy in Ceylon, 1877, below).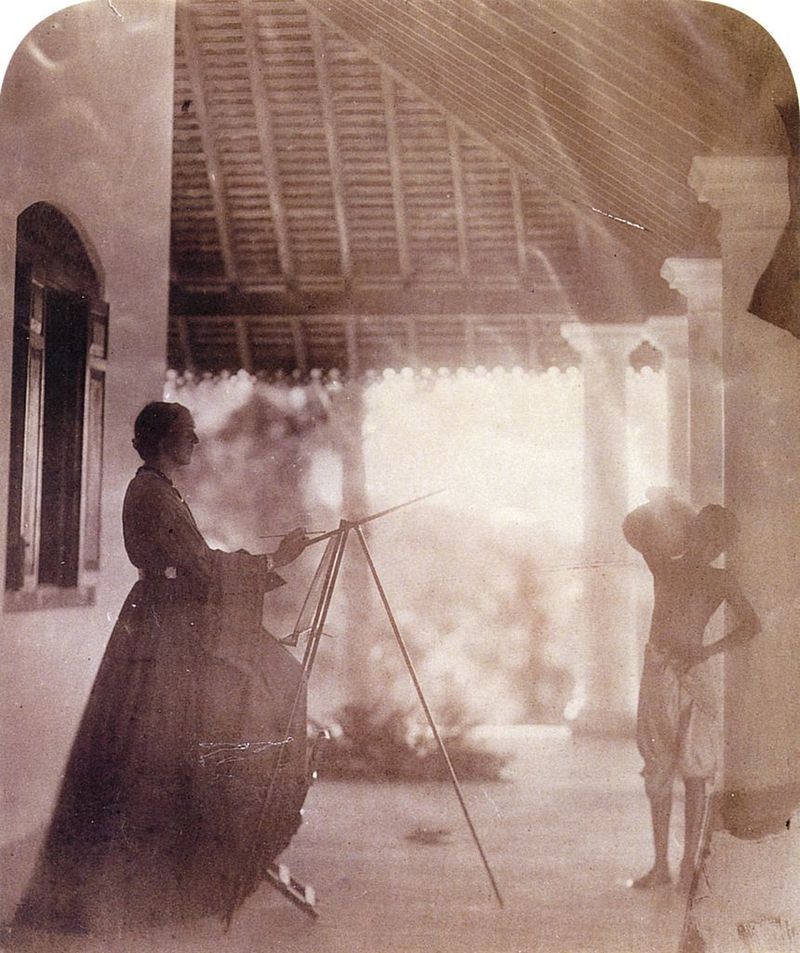 After Kew accepted her paintings, she masterminded the red-brick, purpose-built gallery in the gardens dedicated to her work – she paid for it and supervised its construction – and it's the only museum in Britain still showing exclusively the art of a single woman. Single she was on every level: singular, and in spite of many a suitor, defiantly single when marriage was the only career available to women.
Her mission was to reach as many people as possible with her fully fleshed out scenes of flora and fauna in native habitats. Not for Ms North the careful rendering of a plant specimen on an expanse of white paper; her paintings put her plants (and animals) in the vivid landscapes that they naturally inhabited. We ended with a visit to her picture-jammed gallery, the paintings wall to ceiling. Its curator showed us the artist's own diagrammatic plan for the installation of her work. She lobbied for a café to serve tea and coffee to visitors, but was denied, even after the issue went to Downing Street and parliament. She was of course as undaunted as ever. A final view showed us the colourful frieze depicting tea and coffee plants that Ms North painted in lieu of that café. This total wonderwoman even had a sense of humour.