Bach Weekend, Barbican review - vivid and vibrant celebrations |

reviews, news & interviews
Bach Weekend, Barbican review - vivid and vibrant celebrations
Bach Weekend, Barbican review - vivid and vibrant celebrations
John Eliot Gardiner's mini cantata pilgrimage alongside world-class recitals
John Eliot Gardiner conducting Bach Cantatas in Leipzig last week
John Eliot Gardiner was 75 in April, and to celebrate, the Barbican Centre staged a weekend devoted to his favourite composer. Gardiner himself provided the backbone of the event, three concerts of cantatas with his Monteverdi Choir and English Baroque Soloists, while most of the other events were chamber music recitals. That felt like a random combination, and no justification was given for the mix. Even the name was provisional: it was originally marketed as a "Bach Marathon", but became the "Bach Weekend" to prevent it sounding like an endurance test. Fortunately, the individual events were all excellent, each featuring world-class Bach interpreters in vibrant and committed performances.
After Gardiner's opening concert on Friday evening, the first recital of the weekend was given by violinist Isabelle Faust (pictured below by Felix Broeder) and harpsichordist Kristian Bezuidenhout, a programme of violin sonatas, a solo violin partita (the Second), and a solo keyboard toccata. The acoustic of LSO St Luke's proved ideal for the combination, allowing the two instruments to be finely balanced and clearly heard. Faust, performing on gut strings with a Baroque bow, gave a textbook demonstration of the possibilities offered by historically informed performance. She performed with only the slightest of vibrato, just to colour note endings, but her tone was always broad and rich. She and Bezuidenhout performed as equal partners, the counterpoint well-balanced between his right hand and her melodies. Plenty of ornamentation, too, from both instruments, especially in the Sonata No. 3 that opened the programme. Their ornaments felt very deliberate – emphatic and not too fast – as if this were the essence of the music, and not just the decoration.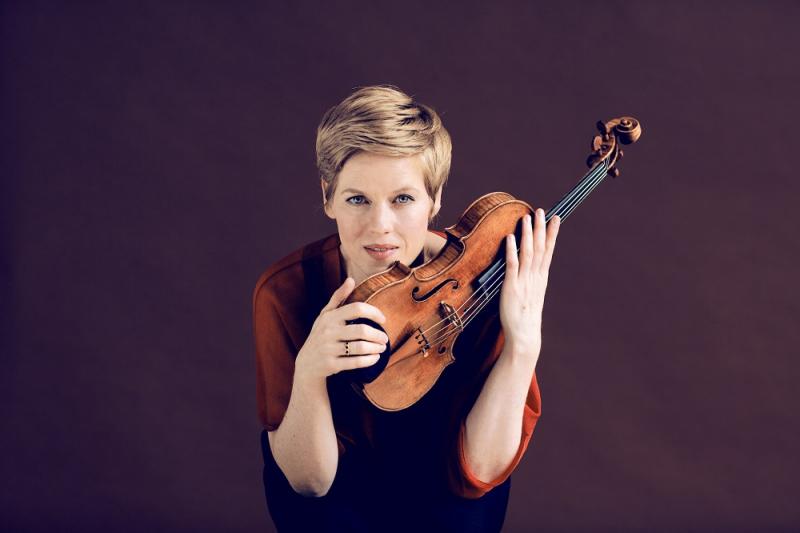 Predictably, the highlight was the Chaconne from the Second Solo Partita. Faust achieved ideal continuity from one variation to the next, smoothly transitioning between the complex textures, all perfectly rendered. That allowed her to gradually build the drama over the movement's long span, and it was easy to forget that we were just hearing a single instrument. But Bezuidenhout's return was welcome too, especially for the Sixth Violin Sonata, and in the final Allegro, the pair introduced propulsive dance rhythms for a stirring conclusion.
The Saturday afternoon concert was given at St Giles' Cripplegate by the chamber choir Solomon's Knot. This was a brave booking, to make an appearance in an all-Bach festival dominated by the Monteverdi Choir. And they were not favoured by direct comparisons, lacking the security in contrapuntal lines and tonal support of the larger choir. But they had something different to offer, singing one to a part and, most impressively, performing from memory. The repertoire too was challenging, Bach's virtuoso motets, interspersed with motets by Johann Christoph Bach, great uncle of Johann Sebastian. Even without the memory test, this programme represented a feat of endurance for the small choir, but no fatigue was apparent.
Many of these works call for double choir, for which the singers divided into two groups of four, positioned at either side of the chamber organ, which provided subtle continuo support throughout. Most of the Johann Christoph motets involve simple antiphonal interaction between the two groups, whereas Johann Sebastian applies complex counterpoint within the groups as well. The highlight here was Jesu, meine Freude, the longest and most complex of the JS motets, but rendered here as a broad and gently building narrative across its 20-minute span.
Sunday began with a harpsichord recital, Jean Rondeau (pictured left) performing the Goldberg Variations at Milton Court. Rondeau has diverse interests, ranging from Baroque harpsichord to jazz piano, and his approach to the Variations was typically inquisitive and experimental. The opening Aria was presented as an object of serene beauty, before the variation sequence gradually built in intensity and sophistication. Rondeau's passagework in the fast variations was nimble and close to faultless, his choice of lighter stops a good foil to the bright acoustic at Milton Court. But for all the virtoisity on show, this was essentially a melodic and expressive reading, the melodies always clearly audible through the ornaments, the pacing well considered to allow details to shine through.
The first three Cello Suites were given a similarly secure but intimate reading by Jean-Guihen Queyras. Like Faust, Queyras makes the most of the direct, expressive potential of gut strings and a Baroque bow. His sound has a rich, woody quality right up to the highest register, and needs no vibrato, nor overt ornamentation to maintain interest. My only complaint was with his fast tempos. Queyras took all of the movements of the First Suite at an exceptionally fast pace, which was thrilling, but obscured the dance rhythms. Fortunately, the Second and Third Suites were taken slower. The Prelude of the Second was a particular delight, with Queyras exploiting the rich resonance of his instrument to blend the arpeggiated chords into sustained harmonies.
Gardiner's concerts formed a cycle based on the liturgical calendar, with cantatas for Christmas on Friday (BWV 70, 61, 81, 110), Easter through to Pentecost on Saturday (BWV 12, 103, 34, 20), and Trinity and beyond on Sunday (BWV 19, 101, 78, 140) – a sort of mini cantata pilgrimage, which the group had already featured in the sequence of 33 cantatas alongside other groups in Leipzig earlier this month (Stephen Walsh reported on the events for theartsdesk last week). While focusing on the larger choral cantatas, Gardiner also surveyed early and late works, from Weimar and Leipzig. His choir, orchestra and soloist line-up have remained relatively stable over the years, and so the performers here were much the same as on his many Bach cantata recordings. Gardiner himself remains sprightly too, bringing energy and insight to these performances. His feeling for tempos and transitions brings a real sense of life to this music, maintaining Baroque performance conventions, yet never restrained by them.
With over 200 cantatas to choose from, it wasn't a surprise that Gardiner's programmes ranged from the well-known to the obscure
Several of Gardiner's long-standing soloists participated, and all were in fine voice. Baritone Peter Harvey retains the round, warm tone that makes his recitatives so immediate and expressive. Sopranos Julia Doyle and Hana Blažíková are both ideal sopranos for Bach. Neither has a huge sound, but both have enough character to carry across the ensemble. A significant recent addition to the line-up has been countertenor Reginald Mobley, whose tone is rich and sweet, and impressively even in all registers.
In addition, Gardiner used several singers from the Monteverdi Choir for solos, with mixed success. No singer, though, was less than serviceable, and there were several impressive turns, notably the arias from tenors Ruairi Bowen and Hugo Hymas in the Sunday concert. Also on Sunday, the aria by sopranos Julia Doyle and Sarah Denbee was truly a duet between equals.
With over 200 cantatas to choose from, it wasn't a surprise that Gardiner's programmes ranged from the well-known to the obscure. He also included a number of short works by other composers – Schütz, Gabrieli, Buxtehude – for context. The famous Bach cantata in the Friday concert was Nun komm, der Heiden Heiland, BWV 61, the one where the strings play pizzicato under the bass aria to depict Jesus knocking at the door. For this number Peter Harvey sang from the very back of the stage. The Schütz motet in the second half was also sung from there, an effort perhaps to find some resonance in the Barbican acoustic. (Pictured below, the Monteverdi Choir in Leipzig's Nikolaikirche earlier this month, courtesy of Leipzig Bach Festival/Gert Mothes)
Weinen, Klagen, Sorgen, Zagen, BWV 12 was the well-known work on the Saturday programme, but here it was overshadowed by the large-scale O ewiges Feuer, o Ursprung der Liebe No. 12 in the second half. Gardiner and his players clearly had a difficult time balancing the orchestra in this acoustic, especially in these larger cantatas. BWV 34 calls for timpani, but here they were played so quietly as to be almost inaudible. Bringing out the woodwind obbligatos was clearly a priority, but only met with mixed success. The piccolo recorder of Ihr werdet weinen und heulen, BWV 103 was a case in point, only just perceptible, even though doubled by solo violin throughout.
The Sunday programme served as a climax to the whole event, with Gardiner choosing a series of festive and celebratory cantatas. Es erhub sich ein Streit, BWV 19 again calls for trumpets and timpani (in representations of St Michael battling "Satan's cruel might"), and here the scoring is rich enough to allow real drama from the ensemble, and some proper timpani playing. The orchestration for Nimm von uns, Herr, du treuer Gott, BWV 101 is even more ambitious, with a prominent flute obbligato (Rachel Beckett, who had played recorder on Saturday, now much more audible), a tenor oboe among the woodwinds, and a trombone ensemble, though only to double the chorus. The second half opened with Jesu, der du meine Seele, BWV 78, a harmonically adventurous cantata, in which the opening chorus is based on a chromatically descending bass line, before concluding with the well-known Wachet auf, ruft uns die Stimme, BWV 140. This proved a tour de force for the ensemble, its sophisticated counterpoint and rich scoring demonstrating all the qualities that make their Bach special – solos, duets, a large-scale and memorable opening chorus. This was the best attended of the weekend's events, and the appreciation for Gardiner and his musicians from the hall was palpable, so much so that he easily convinced the audience to stand for a rousing collective rendition of the final chorale, Glory now be sung to Thee.
Gardiner's feeling for tempos and transitions brings life to this music, maintaining Baroque conventions, yet never restrained by them
rating
Share this article
Subscribe to theartsdesk.com
Thank you for continuing to read our work on theartsdesk.com. For unlimited access to every article in its entirety, including our archive of more than 10,000 pieces, we're asking for £3.95 per month or £30 per year. We feel it's a very good deal, and hope you do too.
To take an annual subscription now simply click here.
And if you're looking for that extra gift for a friend or family member, why not treat them to a theartsdesk.com gift subscription?