10 Questions for Conductor Sir John Eliot Gardiner |

reviews, news & interviews
10 Questions for Conductor Sir John Eliot Gardiner
10 Questions for Conductor Sir John Eliot Gardiner
Mendelssohn and Monteverdi still challenge a musical explorer
'All that has life and breath, praise the Lord': Sir John Eliot Gardiner conducting Mendelssohn's Lobgesang in Bonn
The Lobgesang "lies very near my heart," wrote Mendelssohn. And the composer was so self-critical that the published order of his symphonies bears no resemblance to their composition: this "Hymn of Praise", known as the Second, was the penultimate before his symphonic masterpiece, the "Scottish". It is more often performed in recording studios, to satisfy recording companies' hunger for complete cycles, than in concert, at least outside the composer's native Germany.
So a reappraisal is in order. Who better to lead it, in concerts and a forthcoming recording with the London Symphony Orchestra, than 'the great restorer of our age', Sir John Eliot Gardiner? "He has a vision of music," as his fellow conductor Semyon Bychkov observed, "and he has the courage to stick with this vision over his lifetime."
In 2017, that vision will embrace a comprehensive tribute to the composer who lies very near Gardiner's own heart, Claudio Monteverdi. On the 450th anniversary of the composer's birth in Cremona, it is only fitting that the Monteverdi Choir and Orchestra, of all ensembles, should perform not only the Vespers and madrigals but an unprecedented cycle of his three surviving operas.
PETER QUANTRILL: If you weren't completing a Mendelssohn symphony cycle with the LSO, would you really be doing the Lobgesang?
SIR JOHN ELIOT GARDINER: Oh yes, I jolly well would. It's a piece I've been looking at for years, and I've never conducted it. I was a bit sceptical at first, thinking that it was the torso of a symphony with a cantata bolted on. But it isn't. It's a delight. It has a lot of the inventiveness and sheer melodic flow of the young Mendelssohn and it's perfectly calibrated and constructed.
Mendelssohn had an unfailing elegance of diction and expression which is so touching, and personal to him
Some people have compared it to Beethoven's Ninth Symphony, which is ridiculous. It isn't a choral symphony in the Beethovenian way at all, but a hymn of thanks with a symphonic preparation. The Hymn of Praise is one of the most exhilarating of Mendelssohn's symphonies, even if it's twice the length of any of the others. The level of inspiration and exhilaration in it is right up there with the "Scottish" and "Italian" symphonies.
I couldn't agree more. I feel that the muscular piety of the piece has too readily been confused with a religiosity that's now out of fashion. And aside from the moment of crisis in the centre of the cantata, some listeners find a lack of tension in the piece.
No, I don't think that's fair. The crisis, as you talked about it, "Watchman, will be there any end to the night?" – and this wonderful, angelic soprano answer that yes, day will follow night – well, it's inspired by Haydn's Creation, isn't it? And it's done superbly well. And then the placement of the unaccompanied chorale is so touching in the place where it comes. And the way he then adumbrates it, and turns it into a very Bachian chorale variation on the original. It's absolutely wonderful.
The feeling of homage is strong in the piece, isn't it? But to Bach and Luther, rather than Beethoven.
Yes, though Mendelssohn, Schumann and Berlioz are three superb early Romantic composers who would have written in a quite different way had it not been for Beethoven. So there is an influence there. Mendelssohn had an unfailing elegance of diction and expression which is so touching, and personal to him. I think the reason the symphony is so misunderstood is partly, as you say, the muscular Christianity being confused with pomposity, or what I call Victorian sanctimoniousness, and that's bound up with the way it's interpreted.
You need a superb choir, not a big choral society. You need a good orchestra, one that is prepared to jettison playing in a 20th-century style and play in a very transparent, rhetorical way. There should be real complicity between voices and instruments so that whenever the instruments double the chorus in the fugues, they are literally doubling and reinforcing the voices rather than overwhelming them. And you need not to let the symphony drag. It's got to have buoyancy and elation and euphoria.
You have deftly avoided telling me that you're trying to strip the varnish from an old master, for which thanks.
Well, that's a silly old cliché!
What you say reminds me of Mendelssohn's thoughts about the English title. He was clear that he wanted it to be known as a Song of Praise and not a Hymn.
Yes. There you go. Exactly. Another clue is the way that the trombones set off the symphony, with the main theme. It shouldn't be either a snore or too jaunty and frivolous, as if you're in for a carnival. It has to have dignity and at the same time inflection and pent-up emotion.
Your tour of the symphony in five German cities has particular resonance in 2017, 500 years after Martin Luther apocryphally pinned his 95 theses to the door in Wittenberg. Mendelssohn composed it to mark the 400th anniversary of Gutenberg's invention of the printing press. Does the piece still have a special place in the German psyche?
We had standing ovations in Bonn and Essen earlier in the week - and not just formal ones. They were really euphoric. There was a terrific sense through the concert that it built and it built. I felt by the time of the second performance I'd ironed out a few wrinkles, because I'd never got the structure completely – well, I'd worked it out in my head, but if you're conducting it for the first time, there are things you need to adjust.
You've been conducting for over half a century. Does the mingled fear and excitement from taking on a new piece happen less often?
Yes, but it's lovely when you do it, and you think, gosh, that's a piece I've been longing to do for so many years. And it's happening again next year with Monteverdi's Return of Ulysses. It was a piece I first wanted to do when I was 18. Now I'm 74, it's going to be wonderful!
Isn't there quite a cognitive dissonance to be overcome, working on Mendelssohn and Monteverdi at the same time?
No, there isn't. That's just a conventional habit to compartmentalise people. I've never been a specialist and I've never thought of myself as a specialist. I'm a pluralist. Not just Classical Western music either. I love jazz, oriental music, Indian music. I've never been a Baroque specialist, nor even a period-instrumental fanatic. Of course I love it, and I love conducting that music, but I also love conducting conventional symphony orchestras.
I meant, practically speaking, how you move from preparing one to the other.
There's no difference there from being a farmer and being a musician. I love the challenges of both my careers. The difference is the very thing that keeps me refreshed in both of them.
By performing the three operas side by side, what were you hoping to learn about them, or about Monteverdi?
They're the only three we've got, out of 16 or 17 theatrical works, the rest of which are lost. To me they stand out, though there is a theme that links them. Orfeo is much more of a court opera, a private opera, whereas the other two were for public consumption in Venice. But they are the three outstanding operas of the 17th century. Monteverdi didn't invent opera, but he took it to a place and set a template for others to follow which was unsurpassed. There are all sorts of complications – we don't have an autograph for either Ulysses or Poppea – but we've got enough to be going on with for the time being, thank you (pictured below, the Monteverdi Choir and Orchestra performing madrigals at the Accademia Monteverdiana in the Fondazione Cini, Venice).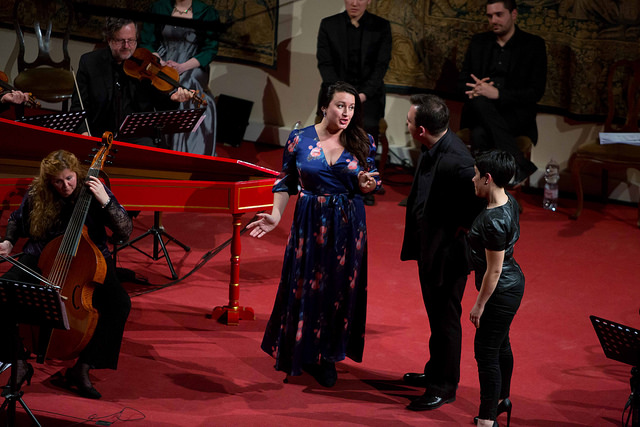 To hear these three extraordinary pieces will, I hope, reinforce the sense that despite the presence of gods and goddesses, they deal with such real and contemporary issues: morality, political corruption, sacrifice, different ways that love can triumph or disappoint or corrupt. What I adore about Monteverdi above all else is that, along with his contemporaries such as Shakespeare, Galileo and Caravaggio, he is a student of human passions, and he's successful at encompassing and distilling those passions in a form more poignantly than anyone before or since.
There was an incredible explosion of artists and scientists born in the 1560s and 70s. Think of Galileo, Shakespeare, Cervantes, Francis Bacon, Caravaggio, Rubens. Something in the air was happening around 1600 – including terribly bad weather and bad harvests in northern Europe – that brought about this cluster of phenomenal artists, many of whom weren't aware of each other though Rubens and Monteverdi were together in Mantua for a while. I don't suppose Caravaggio and Monteverdi ever met, though they were so similar in their attraction to bringing people from the streets – urchins, beggars, tarts – into their religious art, just as there is nearly always a counterpoint in Shakespeare's tragedies between high, tragic personages and more proletarian, comic ones – the gravediggers in Hamlet, the witches in Macbeth. That's something one experiences in both Ulysses and Poppaea.
I like your comparison between Rubens and Monteverdi, for a shared sense of their voluptuousness of line.
Yeah, you bet. The one thing that encouraged me and sustained me when I was a student in Cambridge, doing the Monteverdi Vespers as a complete rookie back in 1964, was the presence of The Adoration of the Magi which King's College had just acquired, and was on an easel in front of thew screen. The Chapel of King's College is so different from any building Monteverdi had in mind, and it has its own tradition and its own sound, and that painting was a huge comfort to me.
How do you overcome the problems of presenting an intimate work like Orfeo in large, modern halls?
I did Orfeo at the Proms in 2015 (pictured right, photo: Chris Christodoulou), and a lot of people said it would never work, and it did. You have to draw people into you. Like a solo cellist playing the Bach suites or somebody playing the Goldberg Variations, the performance has to be so focused that it draws the audience in. You don't over-project or inflate it.
Finally: you've made no secret before now of your aversion to Wagner and his music, but you're conducting the Prelude to Parsifal in May 2017. What happened?
Oh, don't make too much of that. It's part of the opening concert of the Bach Festival in Leipzig of which I'm the artistic director, and 2017 marks the 500th anniversary of the Reformation. The "Reformation" Symphony by Mendelssohn will be the main work. I was piecing together a programme which has elements of the "Dresden" Amen and Ein feste Burg ist unser Gott, and that's how I came up with the Prelude to Parsifal, which is a wonderful piece.
You won't be shutting your eyes and thinking of Luther?
No, I shall be nervous but enjoying it!
The London Symphony Orchestra and Chorus perform the Lobgesang and Mendelssohn's Violin Concerto at the Barbican on Sunday 16 (tonight) and Thursday 20 October. The latest volume of the LSO's Mendelssohn symphony cycle is out now on LSO Live.

The Monteverdi 450 project opens with The Return of Ulysses at Colston Hall on 12 April 2017, before touring to Venice, Lucerne, Berlin, Paris and Chicago.
It's got to have buoyancy and elation and euphoria.
Share this article