theartsdesk at the Leipzig Bach Festival: a cantata blockbuster |

reviews, news & interviews
theartsdesk at the Leipzig Bach Festival: a cantata blockbuster
theartsdesk at the Leipzig Bach Festival: a cantata blockbuster
Gardiner, Suzuki, Koopman and Rademann offer a musical and historical revelation
The Nikolaikirche, looking west to the gallery
If you ever find yourself in Leipzig at a weekend during school term, the Bach motet (and occasionally cantata) performances in the great cantor's old church, the Thomaskirche, are an absolute must. But if you happened to be in that city this weekend just past, you will have been able to immerse yourself in practically a whole year's worth of cantatas in the space of a little more than forty-eight hours.
If you ever find yourself in Leipzig at a weekend during school term, the Bach motet (and occasionally cantata) performances in the great cantor's old church, the Thomaskirche, are an absolute must. But if you happened to be in that city this weekend just past, you will have been able to immerse yourself in practically a whole year's worth of cantatas in the space of a little more than forty-eight hours.
The Leipzig Bach Festival is an annual event. But it has surely never been quite like this before. The festival's artistic director, Michael Maul, and the president and director, respectively, of the Bach Archive, Peter Wollny and John Eliot Gardiner, had played a little parlour game with each other, a game called "List Bach's 30 best church cantatas" (out of, in case you're wondering, something like 200 that survive).
A single vast platonic cantata distilled from 33 masterpieces in 33 superb performances
Try it. Myself, I can say that, having spent the weekend listening to the, as it turned out, 33 winners, I have in the front of my memory a single vast platonic cantata distilled from 33 masterpieces in 33 more or less superb performances. The mere thought of having to weigh these up against the other 167 (or so) is enough to make the head gyrate. Total immersion is always a mixed blessing: cleansing or drowning. But here, quite apart from the almost unbroken flow of great music, there was much to learn about Bach himself, the conditions under which he worked, the quality of the musicians he must have had at his disposal, and the exact character of the liturgy he served – things not always evident from the individual cantata performances of normal concert life, but that began to crystallise out of the skilful planning of these ten concerts in the Thomaskirche itself and the nearby Nikolaikirche.
Naturally, to hear these works in the churches where Bach himself performed them is a revelation in itself. It's true that neither church is any longer much like the building he knew. Not only the kind attentions of Bomber Harris but the activities of assorted architects, refurbishers and organ-builders since Bach's death in 1750 have altered the fabric, if not entirely the atmosphere, of these great Lutheran basilicas. In St.Thomas's the musicians still, as in Bach's day, perform from the gallery at the west end, so that the main body of the audience or congregation sit with their backs to the music, except for those in seats near the pulpit which face sideways.
St Nicholas's (below), which was also Bach's responsibility, was given a neoclassical makeover after his death, and though it retains its galleries (on two levels, almost like a theatre), it no longer feels like the baroque interior in which his St John Passion was first performed in 1724. Less cramped than St Thomas's, it provides enough space at the east end for the relatively large forces of Bach's more ceremonious cantatas, while its tall pink and white fluted columns and exaggerated corinthian capitals seem worlds away from the protestant severities one associates with even the more ornate elements of Bach's church music.
The concerts, though, preserved these severities to some extent. Lutheran services in Bach's day were nothing if not an endurance test, three hours or so on a hard pew or your knees, with at their core an hour-long sermon framed by interminable prayers, hymns, motets, and a half-hour cantata of horrible complexity. Leipzig 2018 did its best to recreate the effect. It largely did away with intervals, while significantly extending the programmes with gospel readings that suggested nothing so much as the likelihood that the unamplified sermons would have been fairly inaudible to anyone not sitting right under the pulpit in these cavernous naves. From one concert to the next there was often no more than a half-hour or so to snatch a beer and get to the other church. By the end of the last (third or fourth) concert of the day one was frankly drooping, not to say dripping, in the heavy, thundery June evening.
This emphasis on context nevertheless shone a light on music one thought one knew. Why do Bach's cantatas so often end without a flourish? Of course: because the cantata was merely an incident in a long and elaborate liturgy. It concluded nothing. The inclusion of the gospel readings (with the texts helpfully printed in the excellent programme book) drew attention to the seasonal character of the cantatas - something one knows, in general, but doesn't properly experience. And this point was further emphasised by the seasonal arrangement of the concerts, starting with cantatas for Advent (where the church year begins), then proceeding through Epiphany, Candlemas, Lent, Easter and so on, back to the Sunday before Advent, to which - by great good fortune - the most famous cantata of all, Wachet auf (BWV 140), belongs. The sense of these works as extraordinary outgrowths of an ordinary ritual was almost tangible. Bach struggling week by week to meet the church's needs, and by the way composing masterpieces, was a vividly present image. And in between the cantatas, every concert included 16th or 17th century motets both by way of contrast, and as a reminder of the antique styles that Bach himself absorbed and occasionally reverted to. It was altogether a clever scheme, beautifully executed.
To discuss the various performances in any detail would be invidious, and to tell the truth rather laborious. Four conductors were involved, with their own groups and noticeably different styles, but all representing roughly the same position on the authenticity spectrum. No room here for any exploration of the evolution of Bach performance style since the master's death, and no recognition, so far as I could judge, of his own flexible attitude to the forces at his disposal. Hardly any of the cantatas were published in his lifetime, so authenticated final versions don't exist. Bach, we do know, was an essentially practical composer, who wrote for the performers to hand, and presumably with due attention to their particular abilities. He was no Beethoven idealist; with him, there was no "what do I care about your wretched oboe da caccia when the inspiration is on me." If an oboist fell ill, he would quickly rewrite the part for something else. At Leipzig now we're under the sign of Texttreue – truth to the text; but Texttreue would have meant nothing to Bach beyond playing or singing it right.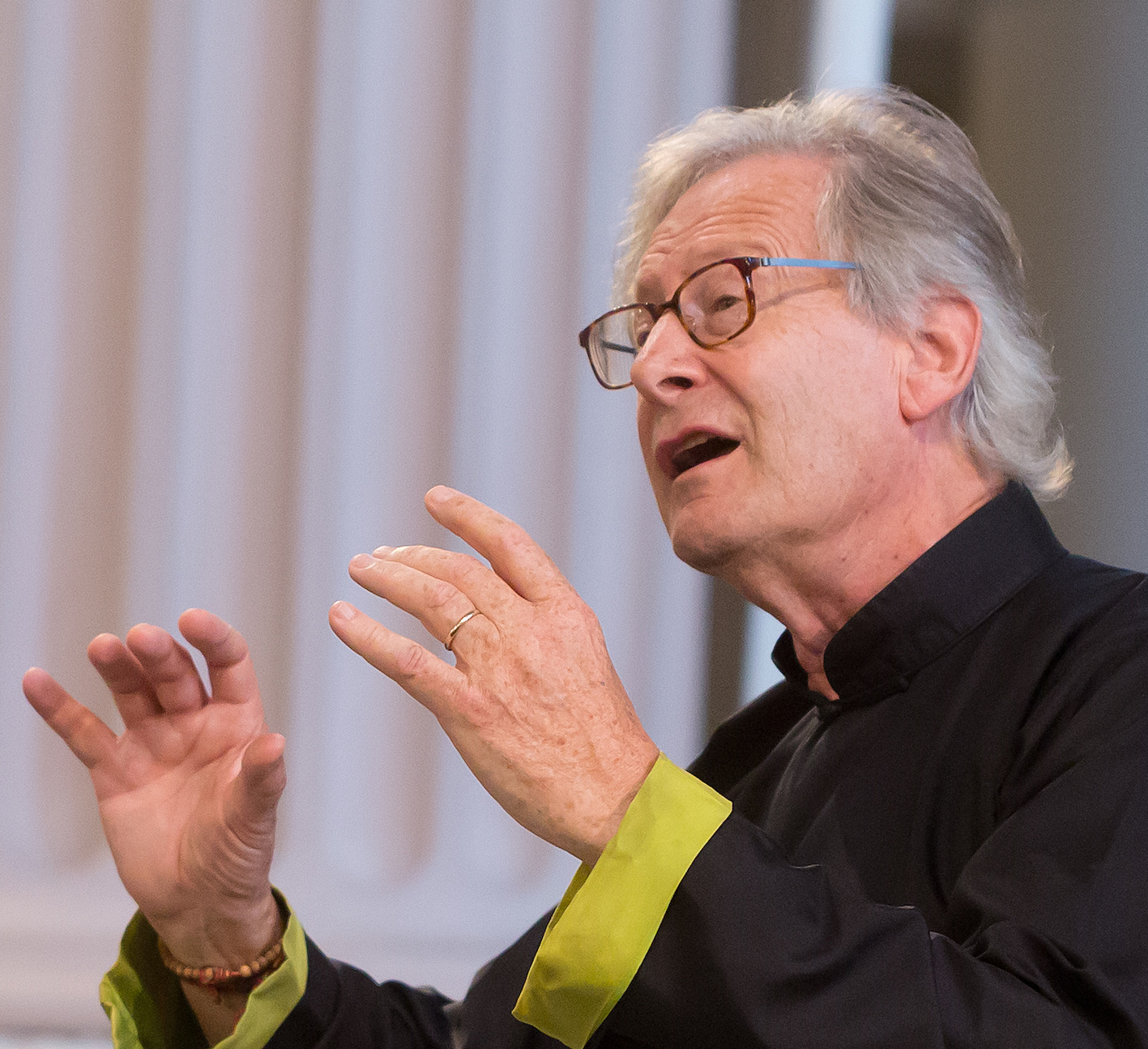 Despite this he did, like Beethoven, write for voices and instruments music that has one blinking in incredulity that it could have been performed to an adequate standard by choirboys and provincial instrumentalists on very limited rehearsal. Listening, for instance, to Hannah Morrison singing so fluently the soprano aria in Wie schön leuchtet der Morgenstern (BWV 1), it was hard to imagine even a 16 or 17-year-old boy (their voices broke late) having the lung or diaphragm capacity to master an unbroken line that assumes the breath control of a mature oboist. Yet Bach must have written it for just such a boy, and Morrison herself stepped out of Masaaki Suzuki's Bach Collegium chorus, as did his other soloists. In fact it was a feature of the weekend that the four conductors used chorus soloists, being careful no doubt to ensure there were soloists in their choruses, something Bach would not have had much control over. But in any case we were never listening to soloists with a big "S", no grand voices. The solo singing always matched the group style of the whole performance. One felt that if a soloist collapsed, another could step forward and take over. Happily, no one collapsed.
Beyond this, the impact of the performances was to some extent conditioned by the topography of the churches. Gardiner, conducting his Monteverdi Choir and English Bach Soloists always in the Nikolaikirche (ironically, he is said to dislike the Thomaskirche), responded to its more theatrical ambience with conducting of a certain spaciousness, even grandeur. He could, after all, walk on like Klemperer and take a bow, whereas Suzuki and Ton Koopman, in the gallery at St Thomas's, were rather trapped by steps and railings, and assumed – willingly no doubt – the role of the humble Kapellmeister playing his part in the long liturgy and in between probably glaring at the little (or not so little) boys.
Gardiner (pictured above) conducted a number of spectacular pieces with three trumpets, including the brilliant Whitsun cantata O ewiges Feuer (BWV 34), and the furious, belligerent Michaelmas cantata Es erhub sich ein Streit (BWV 19), about the battle in heaven which ends with the eviction of Satan. All this was magnificent. But perhaps his best moment of all was his encore to Wachet auf, a reprise of the final chorale sung by the entire audience, exactly as it would have been in 1731. It highlighted the one regret of the whole series, that this practice wasn't observed throughout. After all, why not? Where appropriate (it isn't always) it could have been a moving testimony to the involvement of all these packed audiences in this greatest of all music. And what a noise it would have made?
The Nikolaikirche also inspired the fourth of these conductors, Hans-Christoph Rademann, directing the Gaechinger Cantorey from Stuttgart, to a somewhat demonstrative physicality of style that certainly did no harm to his moving performances of Ich hatte viel Bekümmernis (BWV 21) and Herr, gehe nicht ins Gericht (BWV 105), with its exquisite, continuo-less soprano aria "Wie bittern und wanken," though it might have been an embarrassment in the Thomaskirche gallery.
Messrs Suzuki (pictured above) and Koopman meanwhile pursued their more discreet, if no less colourful path there. In fact the bucolic sonority of Sie werden aus Saba alle kommen (BWV 65) under Koopman, with its squawking recorders, oboes da caccia and corni da caccia, is one that will stick in my memory as long as any other single sound of the weekend, though the Amsterdam Baroque strings were also in their element in the unforgettable "Gute Nacht, du Weltgetümmel!" In BWV 27: examples of Bach's supreme aural imagination alongside his magisterial technique.
And Suzuki? He remains for me the master of total service to this most functional of all great music. Bach could be a difficult man (Suzuki, I'm sure, is not), and he certainly knew his worth. But in the end there he was up in the gallery waiting his turn; or he was sitting in some organ loft making wonderful noises but hidden from view. For him there was no strutting, no posturing, except perhaps in meetings with the Leipzig town council, who had little idea of the scale of his genius and probably regretted even the bit of it they noticed. Of all these conductors, Suzuki is the one who comes nearest to the misleading impression that Bach's music plays itself. It's not an impression that feeds the egos of these amazing musicians. Their reward will be, already is, in heaven.
Perhaps Gardiner's best moment of all was his encore to 'Wachet auf', a reprise of the final chorale sung by the entire audience, exactly as it would have been in 1731
rating
Explore topics
Share this article