Big Thief, Eventim Apollo review - flashes of brilliance |

reviews, news & interviews
Big Thief, Eventim Apollo review - flashes of brilliance
Big Thief, Eventim Apollo review - flashes of brilliance
A joyful performance, revelling in guitar
Saturday, 29 February 2020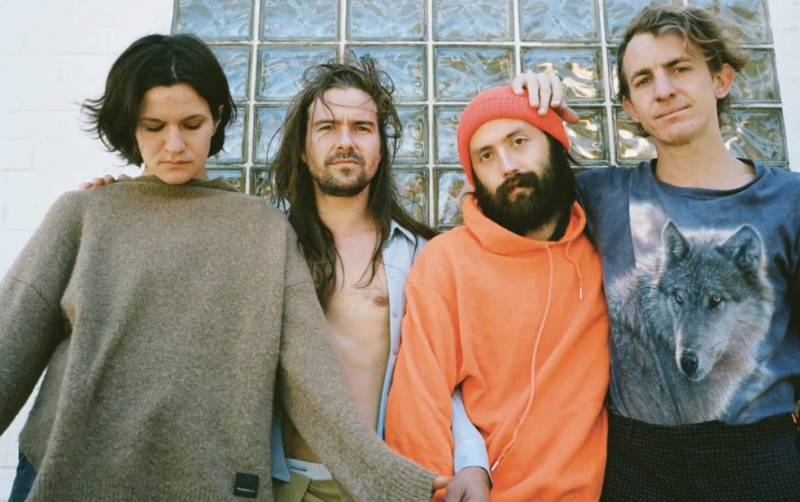 'An obvious love of the sound that they shared'
Big Thief's show promised that particular brand of raw singing and perfect guitarmanship that only they can provide, something which they presented with a playful, earnest charm.
Adrianne Lenker shared the stage with her three bandmates, two other guitar players and a drummer, all
riffing
off one another throughout the performance with an obvious love of the sound that they shared. This could sometimes seem perhaps a little indulgent, but the sound that they produced was so good that it was hard to dislike. There's also something pretty satisfying about a woman performing an excellent solo, which Lenker did at several points during the show. If any criticism could be offered, it was that the
songs
had a slight homogeneity that is somewhat inevitable, given the band's tonal output.
Lenker began by singing two solo songs, just her and her acoustic guitar on stage, with no distracting set and minimal lights. It was a lovely beginning to the set, foregrounding her clear, husky voice. In the second of the two pieces, her voice cracked a little with emotion, lending power to the lyrics.
A switch to an electric guitar came with a faster pace, a heavy guitar and a driving drumbeat providing a counterpoint to the nasal ferocity of Lenker's voice in "Masterpiece" and "Capacity". In the former, she came together with the two guitarists in the first of many jams throughout the performance, joyful, crashing discordant moments that provided the most interesting flashes of brilliance. The latter was a slow, driving piece overlaid with Lenker's howl.
The next song was a real crowd pleaser, the title track for Big Thief's album, "Shark Smile", played with jangling, feedback-like guitar at points. The following three, "The Toy", "Time Escaping" and "Replaced" brought out the languid keening of Lenker's singing, and the meditative, dreamy sound of the rest of the band. The last started softly and acoustically, before bringing in the burr of an accompaniment, with the three guitars all coming together at its conclusion. Next up, "Two Rivers" provided charmingly awkward melodic counterpoints, followed by "Terminal Paradise" with a moony, slow sound that devolved into wonderful discordance.
"Mary" was almost a country ballad, sung with real emotion by Lenker, a hand over her face and a hazy guitar solo increasing the big plains feel. Her singing became close to a gasp at points. Their next song, "Real Love", was a great example of the band's use of gaps and a punch of guitar crashing back in for emphasis, then the dissolution into scrawling, howling feedback.
"Shoulders" came next, then "Not", a song that rose to a crescendo with each repetition of the title's negative, becoming a scream at one thrilling point. "Contact" came in with an echoing, shimmering guitar, a quasi-dirge without the negative associations. The next song, "From", was a tripping arrhythmic piece that conjured up a little of Jeff Buckley's live sets.
Big Thief returned to form with the cowboy lick of "Cattails" played by Lenker on acoustic guitar to lend to the Western feel. The final piece before the encore was "Forgotten Eyes" a heavy rock sound overlaid with Lenker's nasal howl, segueing into a soft encore of "Happiness".
It came in with echoing, shimmering guitar, a quasi-dirge without the negative associations
rating
Explore topics
Share this article