Quiz, ITV review - cheats never prosper Well, hardly ever |

reviews, news & interviews
Quiz, ITV review - cheats never prosper. Well, hardly ever
Quiz, ITV review - cheats never prosper. Well, hardly ever
Clever and witty TV adaptation of James Graham's 'Coughing Major' play
Jackpot: Sian Clifford, Matthew Macfadyen and Michael Sheen
James Graham's play Quiz was a hit in Chichester in 2017 and then made a much-admired transfer to the West End. Considering its subject matter – the fabled "Coughing Major", Charles Ingram, who allegedly cheated his way to the titular seven-figure sum on Who Wants to Be a Millionaire? – it was a natural for TV.
Under the suave directorial hand of Stephen Frears, Graham's three-part adaptation of his play told the Ingram story with wit and sparkle, though sadly viewers weren't able to vote in the way theatre-goers were. It didn't just focus on the supposed crime and its aftermath, but also depicted the birth of the Millionaire phenomenon, and how its berserk runaway ratings were music to the spreadsheets of ITV's accountants and then-new programmes director David Liddiment.
However, the scale of its success was itself problematic, and (in this telling at any rate) prompted the birth of a shadowy covert industry, gathering in pubs and back rooms around the country, dedicated to finding ways to game the game. Methods were found to get contestants onto the show by exploiting the predictability of the initial screening questions, while the think-tank of quiz experts connected to a sophisticated system of telephone lines to supply "Phone a Friend" answers was worthy of Bletchley Park. In hindsight, it's remarkable that the programme-makers weren't more alert to the dangers, with numerous contestants popping up multiple times.
However, Charles Ingram wasn't one of the hardcore Millionaire obsessives, and indeed seemed barely interested in quizzes and game shows at all. After the cheating scandal broke and investigations were made, Ingram and his wife Diana were both given suspended prison sentences, without any definitive proof of their guilt. This has given Graham latitude to tease the viewer by letting the balance of probability sway gently from side to side. It was certainly true that Diana (Sian Clifford), far more of a quiz junkie than her husband, was sailing close to the wind by writing a book with her brother full of tips about how to succeed on Millionaire. As for Charles (played with somewhat canine amiability by Matthew Macfadyen), he seemed about the last person likely to bag the Millionaire star prize, being blissfully ignorant of all areas of pop culture whence many of the questions were likely to come. Scenes of him marching around the countryside with Diana, swotting up on the Sugababes and Coronation Street, were among many mordant comic gems.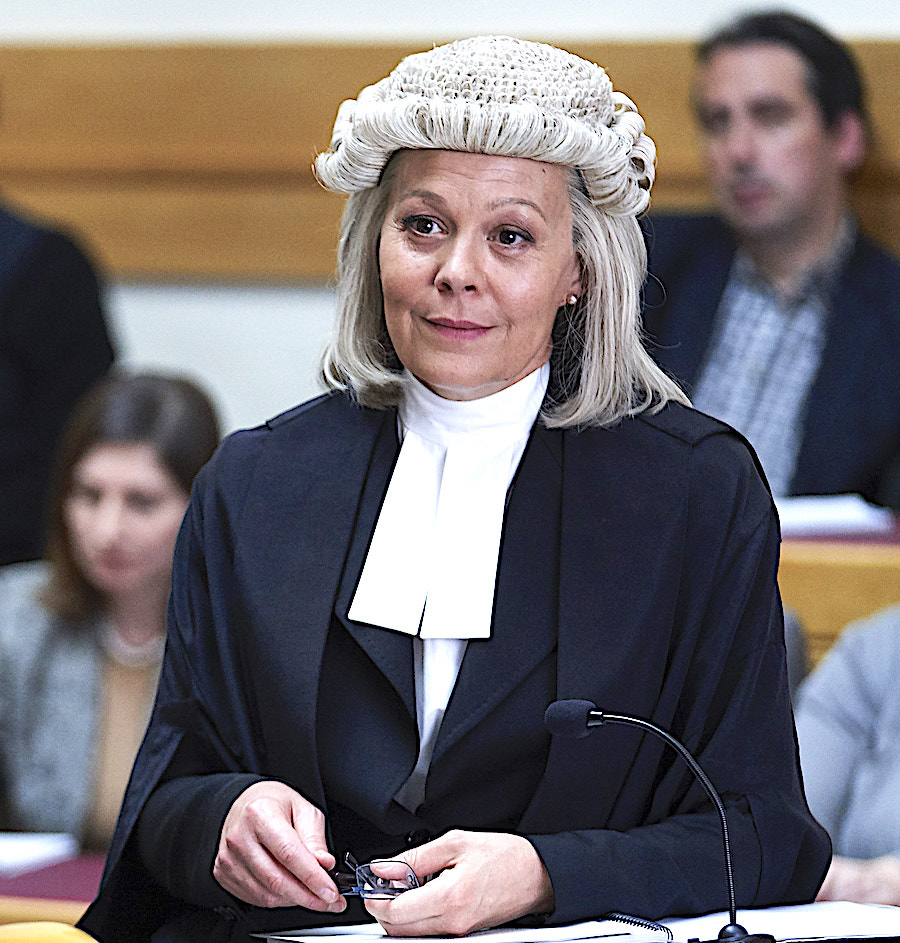 Entertaining as the TV studio sequences were, with Michael Sheen's portrayal of quizmaster Chris Tarrant teetering cheekily between impersonation and parody, the final episode kicked up a gear with its account of the Ingrams' trial. While the prosecuting QC Nicholas Hilliard (Nicholas Woodeson) behaved like a showbiz groupie ("is that your final answer?" he asked Tarrant, laughing obsequiously at his own joke), formidable defence counsel Sonia Woodley (Helen McCrory at full steam ahead, pictured above) drove a bulldozer through the prosecution case. In Graham's telling, the way she picked apart the allegations that strategic coughing (mostly by Tecwen Whittock) had been telling Ingram which answers to choose seemed to make a conviction impossible. Though that still didn't prove he was innocent…