Kontakthof, Tanztheater Wuppertal Pina Bausch review - struggling to make contact |

reviews, news & interviews
Kontakthof, Tanztheater Wuppertal Pina Bausch review - struggling to make contact
Kontakthof, Tanztheater Wuppertal Pina Bausch review - struggling to make contact
Emotional connection is not guaranteed in this latest revival from the Pina back catalogue
Saturday, 05 February 2022
Heads, shoulders, knees and toes: members of Tanztheater Wuppertal Pina Bausch in one of the choreographer's signature line-dance walks
Twelve years may have passed since her earthly demise, but you still hear people say they saw Pina Bausch the other night. Bausch remains synonymous with the company she founded, Tanztheater Wuppertal, and with a style of dance theatre that launched an entire new category.
Filled with a brooding sense of the past, often specifically
Germany
's past, Bausch's works are less like ballets, more like choreographed group-psychotherapy. Dressed formally, as if for an evening out in the 1930s, her performers parade their secret frustrations and desires, blurt out verbal confessions or enact dreamlike scenarios, often involving sexual
violence
. There's not a lot of actual dance.
Kontakthof, meaning "a place to make contact, to meet" is an early work from 1978 whose current revival was almost certainly prompted by a curiosity to see what new resonances it might have acquired after two pandemic years of no kontakt. British fans of Bausch's work may recall a 2010 revival at the Barbican which fielded two casts of amateurs: one cast of pensioners, the other of teenagers, the same material telling vividly different stories. On this visit, Kontakthof has reverted to a professional cast and is different again – so different as to render some sections unrecognisable. It is also – no surprise here – more dancerly. The chief mode of movement may still be a stately walk, the women's perilous heels prohibiting anything else until they kick them off, but the subtle gestures, twitches and tics that decorate those endless synchronised line-dance walks are delivered with an elite-dancer's precision. And with this they evoke a lifetime of hopes, disappointments and evasions. Nowhere else but in a production by Pina Bausch would the repeated checking of an imaginary earring (men too) transmit such a painful message of insecurity.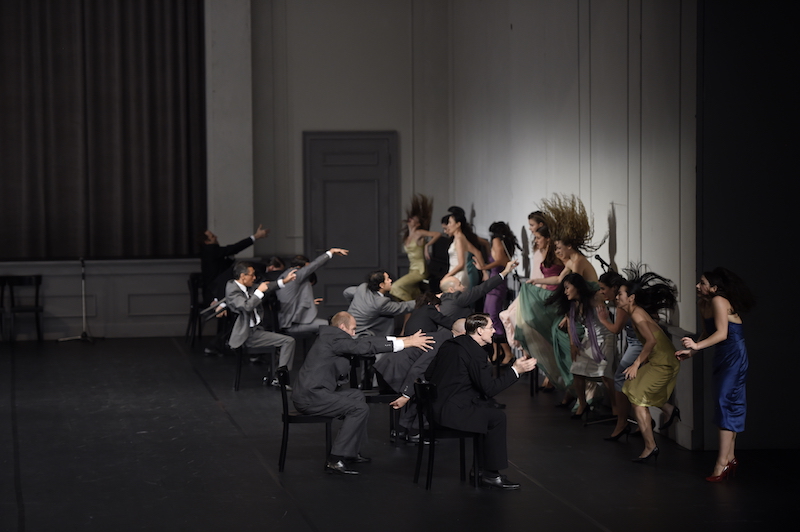 The stage, at Sadler's Wells, is stripped back to the size of a tennis court, Ralf Borzak's set suggesting the interior of a town hall complete with curtained platform and upright piano. Seated on metal chairs along the back wall are 22 people dressed for a tea dance or charity social. But what rolls out is a nightmare version of such events. In an identity parade each comes forward, to polite applause from the rest, to display their teeth, their calves, their sucked-in stomachs. As the parade goes on, and on (Bausch always pushes repetition beyond comfort), the paraders' seeking for approval, their thinly veiled lack of sexual confidence and their general neediness become increasingly clear. And this sets the tone for the rest of a very long evening.
In a humiliating game that reverses the concept of ITV's Mr and Mrs, characters attempt to undermine one another by drawing attention to despised physical characteristics – a flabby tummy, nose hair, small breasts, a weak chin – goosing and tweaking their partners like badly behaved nine-year-olds. A man chases a woman brandishing a dead mouse, and another woman begs coins from the audience to operate a rocking horse. Astride that painted pony, lost in girlhood memory or maybe visiting the sweet spot she has ceased hoping her husband will discover, she finds the only uncontaminated pleasure of the evening. At three hours such aperçus seem hard won, and the music (from crackly old tango and waltz records), while initially charming with its nostalgia for simpler romantic times, eventually drives you nuts with its inanity.
One of the things that draws audiences back to Bausch's work, despite the three-hour marathons, is the way it throws a focus on individual personalities. She had a genius for selecting and developing the most charismatic people, many of whom stayed with the company for decades. This was what made Wim Wenders' 2011 film Pina such a compulsive watch. Of the current 22 only four are performers we've seen before, and that downscaling of the aggregate age and experience comes at a cost. Sure, all the details are in place and production values high as ever, but the fascination factor, for this Tanztheater fan at least, is wanting.
A lifetime of romantic hopes, disappointments and evasions evoked by dancerly precision
rating
Explore topics
Share this article