Richard Alston, Mid Century Modern, Sadler's Wells review - a master choreographer clocks up 50 years |

reviews, news & interviews
Richard Alston, Mid Century Modern, Sadler's Wells review - a master choreographer clocks up 50 years
Richard Alston, Mid Century Modern, Sadler's Wells review - a master choreographer clocks up 50 years
The music man of British contemporary dance takes stock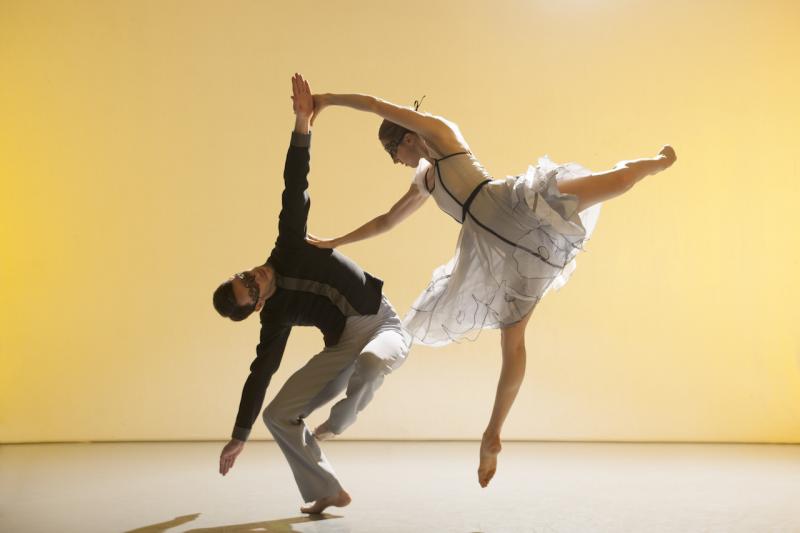 Masked crusaders: Nicholas Bodych and Elly Braund in Richard Alston's newest company work, 'Carnaval'
It took Richard Alston 10 years to start making dances to music. Until the late Seventies he preferred silence, or a Rolodex of scores that he swapped and switched. In this you might say he was a typical product of the time. The fact is more remarkable in relation to his later and more lasting status, for few would deny that Alston has for many years been the most musically astute choreographer working in Britain.
Fifty years on, his hair even longer than it was in 1968, Alston makes dances that are not only things of beauty in themselves, but which declaim their musical inspiration in ways that bring that music into scintillating focus. Carnaval, new last year, honours Schumann by presenting the score prominently, live on stage, in the hands of an exceptionally fine pianist (Jason Ridgway). What's more, it's hard to think of another choreographer working in the barefoot contemporary mode who, in the service of the music, would dare pitch their work so close to ballet.
The dark side has never featured in Alston's work, but its range is nonetheless remarkable
Alston cites Frederick Ashton as an influence on this piece, but its good manners and tender communality find more echoes in Jerome Robbins' Dances at a Gathering, also allied to Romantic piano music. With fluttering feet and gracious fondus for the girls, gallant postures for the boys, right arm tucked into the small of the back, the normally clear divide between classical and mid-century modern melts away. A high lift becomes a frivolous throwaway thing, the girl's legs flicking up a froth of gauzy skirts. A solo danced by the astonishing Liam Riddick sets his feet afire, his torso barely moving.
That's another thing about Alston: he attracts a crack team. Riddick was proclaimed Best Male Dancer at the 2017 National Dance Awards and throughout this special programme celebrating Alston's half-century of work, it's easy to see why. The choreographer has also proved a generous mentor and it's typical of him to hand the first chunk of the evening to Martin Lawrance, his associate and one-time protégé.
While Lawrance's work proclaims the teacher's influence, it's almost an antidote in its danger and urgency. Hurtling through space, Cut and Run (pictured below) is all about fight or flight. In dark street clothes on a twilit stage we read the dancers as gang members, muggers or worse. At the end, when you remember to breathe again, it's a surprise to realise that you have witnessed no actual violence.
The dark side may never have featured in Alston's work, but its range is nonetheless remarkable. A medley representing every decade proves hugely engaging, and surprising too. Liam Riddick could have stolen the show again with Dutiful Ducks, originally a vehicle for the young Michael Clark in 1982, but for the dynamism of The Signal of a Shake (1999) set to Handel, and the clubby gyrations of the fabulous Gypsy Mixture (2004) set to Roma music mixed by DJs from across the world.
"How small a thought it takes to fill a whole life" sings a lone, looped voice in Steve Reich's Proverb, quoting Wittgenstein. On the evidence of this anniversary programme, Alston's thoughts can hardly be described as small. And he's likely to be having quite a few more yet.
In some of Alston's work, the usually clear divide between classical dance and mid-century modern melts away
rating
Explore topics
Share this article