Slava's Snowshow, Royal Festival Hall |

reviews, news & interviews
Slava's Snowshow, Royal Festival Hall
Slava's Snowshow, Royal Festival Hall
Vagrant clowns from Russia create a remarkable fantasy world in the snow
Thursday, 29 December 2011
Slava the clown: out in the street it's a magical world
Slava's Snowshow is a Christmas package you don't want to have unwrapped for you by someone else's description - it's a fantastical, childlike, theatrical experience that for many is among the most profoundly delighting of their theatre-going experience, for others an empty whimsy.
It's a show of mime, clowning and
coups de théâtre
, stunningly conceived on the twin themes of snow and the gruelling Russian winters outdoors, where street cleaners live out their lives, vagrants of an outcast kind of peculiarity and optimistic imagination, where brooms and bins are constants in their lives, where snow falls without ceasing and no one cares a jot for them.
Nearly 20 years old now, Snowshow was created by one of Russia's (now) most celebrated clowns, Slava Polunin, the founder and inspiration of a considerable tradition of highly evocative mime theatre, and who possibly has become somewhat trapped by its fabulous international success. When he made Snowshow in 1993, it was soon after the fall of communism, and the grimness of that world lent its weird population of tramps an edge and pathos that now has dissipated. The snow then must have felt bitter and cold to its Russian audiences, the pathos of the mime may have reminded them of millions of betrayed lives.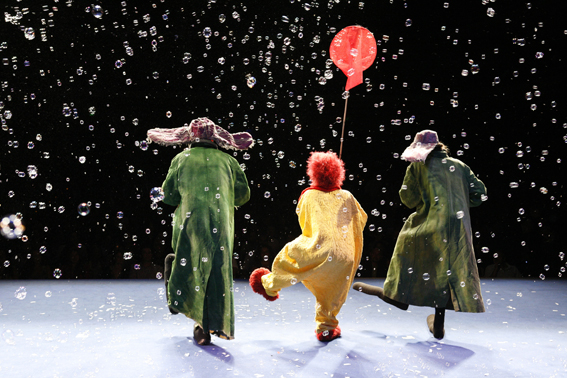 And now, how does it fare nearly 20 years on? You may have heard about blizzards of snow - I can't spoil your potential fun by saying any more than that there are blizzards of other kinds too, and my favourite may be one that sucks up the audience into a supernaturally wonderful cobweb. Or perhaps it's the balloon party, or... the trouble with discussing Slava's Snowshow is that you get hung up on its superb surprises, when these are just mad, fabulous excesses along the dramatic path of the tenuous, edgy relationship between Slava, a clown in yellow, and his friend, a clown in green.
They are like Wallace and Gromit, Morecambe and Wise - an age-old duelling friendship between one who imagines himself naturally dominant and one who subverts him. The green clown - and a troupe of doubles who dog his steps - wears a hat that looks like spaniel ears frozen permanently in a gale. Or perhaps propeller blades. This means he has to tilt his head whenever passing someone, so that one of his auricular flaps doesn't strike them. But it also lends him an appealingly satirical subtext, as if tipping his hat. His shoes too have very long toes, which he uses to poke his yellow colleague surreptitiously.
The yellow clown (whose name is Asisiai, which helps in the telephones sketch) has red fluffy pompoms on his shoes, which rather undermines his claim of authority over the other, and makes walking on snow more difficult. The pace is excruciatingly slow, and I have to admit that this time round, many years after my first amazed encounter, I felt the slowness, and the cosiness, rather more keenly. But then, the mime material, the body language is of a constant, determined, unhurried battle of one-upmanship between them - twitches of stealth, sheepishness, guilty surprise, shame, slippery subversion, all done not maliciously but with a timeless sense that this is what life is, wherever you are in the heap.
We are told that Polunin does not perform the lead role in all shows - he is 61 now - and I would guess that inside yesterday afternoon's baggy yellow costume, the big red nose and the Tommy Cooper hair was a man more robust and youthful than Polunin, able to climb into the auditorium seats or stagger about with arrows piercing his body with more gusto than a sexagenarian. At any rate, I felt that I remembered, seeing Polunin in this long ago, something more hesitant, isolated and withdrawn in the performance,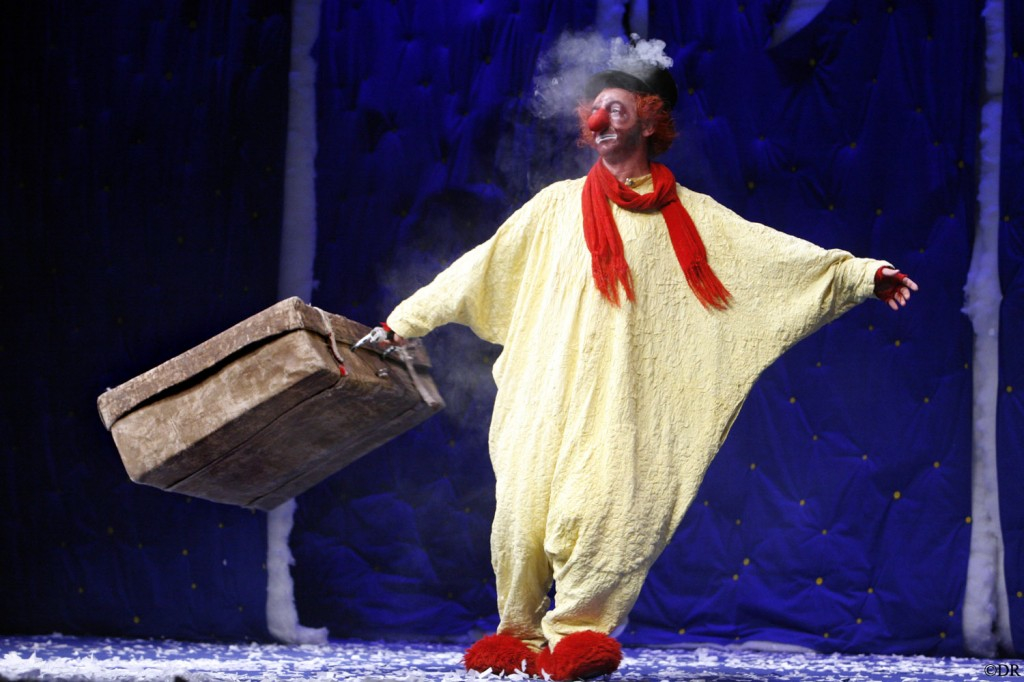 Yes, this mattered - or at least, the robustness mattered. The street-cleaners, daily out in sub-freezing temperatures clearing the pavements for ordinary folk, are the lowest of the low in Russian society, and there isn't any hint of that brinkmanship left in the clowns in Snowshow now - perhaps I imagined it before. I most certainly think they should replace the clean plastic brooms and dustpans with beat-up, gnarled real street-brooms and tin pans, to extract more authentic gravitas from the gags. Time has also been unkind to some of the musical choices they use, Vangelis's Chariots of Fire and Carl Orff's Carmina Burana, appropriated by The X Factor.

Still, the entire thing is conceived as flawless gesamtkunstwerk, sound, light, incident, character, movement and props in perfectly holistic invention. Nothing could stop the gales of giggles from the six-year-old in front of me all the way through, and the ear-to-ear smiles of the grown-ups. Afterwards a perfectly sane-looking man whom I've never seen before spontaneously told me it was the greatest thing he'd ever seen in theatre.
Explore topics
Share this article