Blu-ray: Eraserhead |

reviews, news & interviews
Blu-ray: Eraserhead
Blu-ray: Eraserhead
David Lynch's first feature film is a surrealist nightmare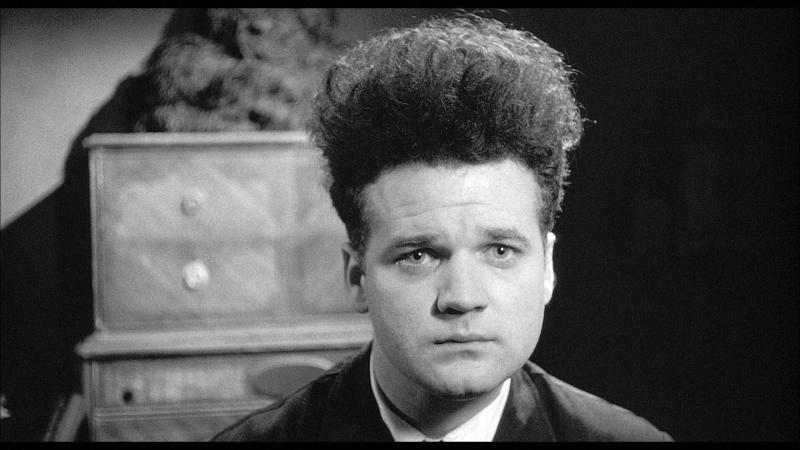 Jack Nance in 'Eraserhead'
Shot across a period of five years, David Lynch's creepy debut feature Eraserhead (1977) follows the story of Henry Spencer, played by Jack Nance, an employee at a print factory in a quiet, unnamed town. Henry arrives home one evening to a missed telephone call from a woman named Mary (Charlotte Stewart), inviting him to dinner at her parents' house.
Once he arrives, Mary's mother breaks the news that her daughter has given birth to a baby, and Henry is the father.
"They're still not sure it is a baby!" If the premise sounds innocuous enough, Mary's tortured reply sets the tone for a film that does not explore the perils of the ensuing parenthood as much as it transforms them: into a blurry fantasy of unsettling visions and interactions. Dubbed (by Lynch himself) as the director's "most spiritual" film, Eraserhead represents a depraved twist on the principle of the immaculate conception. Informed of the existence of his child, Henry can only reply "but that's impossible", Lynch intentionally erasing the distinction between un-expected and un-wanted, before the family relocate to Henry's modest apartment, and the test of the parents' resolve begins. An immediate bout of incessant midnight screaming quickly sends Mary home in search of a decent night's sleep, leaving Henry alone to care for the child who, courtesy of its premature birth, bears an all-too-obvious deformity.
With this detail arrives the potential for a biographical reading: Lynch's own daughter, Jennifer, was born with "severely clubbed feet", and required corrective surgery as a child. But this is to overlook the very inhumanity that defines the image of the baby: perhaps the film's primary source of repulsion. Exactly what went into the making of this child-prop has never been revealed (a rabbit foetus is one mooted possibility), but regardless, this rather unconventional horror-object is offset by the more familiar hallmarks of Lynch's filmmaking. The opening to Eraserhead is, typically, surreal, and depicts Henry sideways, floating in space. Elsewhere, a mysterious male figure pulls at a mechanical lever, seemingly drawing a large spermatid creature out from Henry's open mouth, in what is a visceral symbol for the conception-to-come.
Its textbook array of eccentric characters and dream sequences aside, Eraserhead is distinguished from the rest of Lynch's oeuvre thanks to a relentless soundtrack, juxtaposing grotesque bodily noises (screams, itches, grinding teeth) alongside more traditional instrumentation. Its beautiful industrial cityscape both houses and penetrates the film's numerous domestic scenes, as Lynch's eye alights invariably upon pipes and radiators, each whistling at full-pitch. The sum of this is that although Eraserhead is perhaps less disorientating than, say, Mulholland Drive, undoubtedly Lynch's most-watched and celebrated film, it is considerably more disconcerting. Filmed during his time as a student at the American Film Institute (AFI), the younger Lynch already demonstrates his uncanny ability to strike at the human subconscious, conjuring scenes that, although perhaps light on gore, are more than successfully stomach-churning. This is a fact amplified by the relative opacity of Henry himself, whose own bizarre appearance and idiosyncrasies leave the viewer an isolated figure, scrambling for a moment's reprieve amid a film that is more nightmare than dream.
Eraserhead is a raw glimpse into the early mind of one of America's most unique filmmakers, and Lynch fans will find as much value in the extras that come with this Criterion edition as in the film itself. Highlights include the hour-and-a-half "Eraserhead" Stories, a 2001 documentary by Lynch on the making of the film, as well as new 2K digital restorations of six short films by Lynch, and a documentary featuring interviews with actors Charlotte Stewart and Judith Roberts, assistant to the director Catherine Coulson, and cinematographer Frederick Elmes. Archival interviews with Lynch and members of the cast and crew are also included, offering a fascinating outsider-perspective into Lynch's process. The disc also comes packaged with a booklet featuring an interview with Lynch from filmmaker and writer Chris Rodley's 1997 book Lynch on Lynch.
Lynch demonstrates his uncanny ability to strike at the human subconscious
rating
Explore topics
Share this article