The Kitchen review – more gangsters' molls taking over the reins |

reviews, news & interviews
The Kitchen review – more gangsters' molls taking over the reins
The Kitchen review – more gangsters' molls taking over the reins
Melissa McCarthy, Tiffany Haddish and Elizabeth Moss star in female-led crime thriller
Wednesday, 18 September 2019
We may not be Widows, but we can still have some fun while they're away: Haddish, McCarthy and Moss in The Kitchen
Three women decide to take over their husbands' criminal activities, proving more than a match for the men who dominate the underworld.
If this outline of
The Kitchen
sounds familiar, it's because it was just last year that Steve McQueen's lauded crime
thriller
Widows
had much the same premise. That said, screenwriter Andrea Berloff's first film as a director is a very different animal, far less polished but an entertaining thriller in its own right.
The differences are instructive. Widows was based on a highly regarded British TV series, relocated to contemporary Chicago, where the criminality was tied to the political machinations of an election year. It was sleek, efficient, intelligent, dramatically charged. Adapted from a comic book series (which would explain its more flamboyant implausibility), The Kitchen takes place in New York's Hell's Kitchen in the late Seventies; and what it lacks in sophistication it more than makes up for in attitude. Not only does the Big Apple lend its inimitable, warts-and-all magnetism, but Berloff uses the city and the clothes and sounds of the period to give her film a vibrant, almost funky vibe.
Most strikingly, while McQueen's women were reluctant crooks, Berloff's embrace their new-found calling.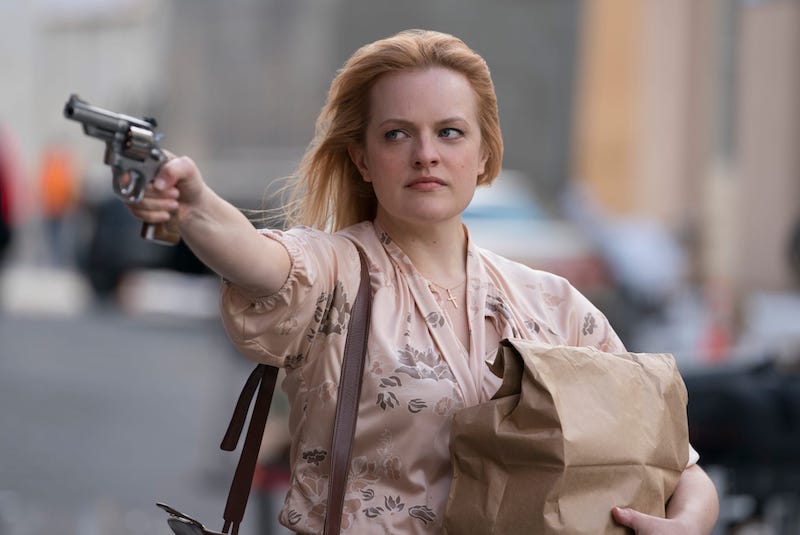 When three Irish gangsters are jailed for a robbery, there are mixed feelings amongst the wives. Mother of two Kathy (Melissa McCarthy) misses her man, but domestically abused Claire (Elizabeth Moss) and Ruby (Tiffany Haddish), an African American enduring endless racism from her husband's family and friends, are both overjoyed to see their men behind bars. All three are left in the lurch, with no money and no help from the gang. Never having worked, they find a novel way to make ends meet.
Their solution is to make a play for the gang's protection rackets, offering the local business people some genuine neighbourly assistance along with traditional muscle, the latter in the form of Gabriel (Domhnall Gleeson) a 'messed up vet' with a crush on Claire.
There's a comic lightness to their honeymoon period as crime queenpins – in their misguided notion of empowerment, the transformation in their clothes, in the gallows humour of Gabriel's crash course in how to dismantle a dead body.
But Berloff doesn't let us forget that these women are becoming increasingly ruthless criminals. Moral complexity drives the second half of the film, as they deal with the Italian mob, their husbands' release, Ruby's monstrous mother-in-law (a scene-stealing Margo Martindale) and their own growing rivalry. "I've never felt stronger" Kathy tells her decent, blue-collar father, to which he replies forlornly: "You're a criminal".
Berloff, who was Oscar nominated for her screenplay of the 2015 gangsta rap biopic Straight Outta Compton, doesn't tighten the drama as well she might – the plotting is shot full of holes – but does elicit excellent performances from her stars. McCarthy and Haddish impress in that way comedians do when they go dark, while Moss's turn on The Handmaid's Tale no doubt prepped her performance as a young woman reaching the end of her tether after a lifetime of abuse.