The Kreutzer Sonata |

reviews, news & interviews
The Kreutzer Sonata
The Kreutzer Sonata
Tolstoy back in Tinseltown is not as good as Ivansxtc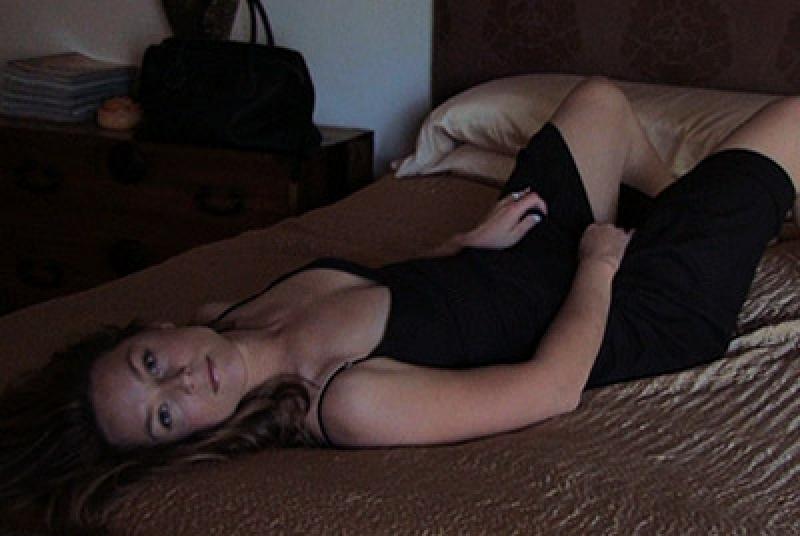 Beethoven via Tolstoy via LA: Elisabeth Rohm skips piano practice in The Kreutzer Sonata
For scalpel-sharp dissection of the most vapid parts of Hollywood/LA life, told with low-budget digital flexibility that itself critiques studio indulgences, British director Bernard Rose is your man. He hit the note most viscerally in Ivansxtc a decade ago with a story of the drug-induced implosion of one of the city's top agenting talents.
As parallels with a real-life career melt-down were all too obvious to the in-crowd, sourcing to the Tolstoy story "The Death of Ivan Ilyich" may have crept in as a cover-up.
Rose is back with Tolstoy in The Kreutzer Sonata, as well as Ivansxtc lead Danny Huston as hero Edgar Hudson (the actor is the son of John, supported here by half-sister Anjelica and a family horse). The opening scene finds everything in the Hudson household looking rosy in a particularly horrible LA way – a charity concert benefit for Africa at a lovely Beverly Hills home, where wife Abby (Elisabeth Rohm) recaptures her concert-pianist skills in a recital of the eponymous Beethoven violin and piano sonata, paired with attractive Chinese-American violinist Aiden (Matthew Yang King). Elephant in the room – and it's quite a big one – is Edgar himself. His voiceover declares his "rage and horror" at the scene he is witnessing. Clearly, more than the appetisers have gone wrong.
Cut back four years to the beginning of their relationship, as Edgar seduces Abby away from her previous partner. Sex, quite a lot of it, energetically. Children, not initially wanted. More sex, less happily. A move to an even nicer property that engenders angst in Abby that she will lose her potentially brilliant music career (she's finished at Juilliard, of course – is there any other music school in America?). Edgar meanwhile is doing just great, it seems, in that most demanding of jobs, managing the family foundation, except for the odd scrap with big sis over how best to channel the dynastic dosh.
So husband's suggestion that Abby goes back into practice for the big day would look a kindly one, if only we didn't guess that days of concentrated rehearsal à deux might kindle more than he bargained for. Does Edgar guess that at some level, too? Or does jealousy just take its hold inexorably, if predictably? A final-act aside has Edgar wondering whether the couple has actually strayed any further than enthusiasm over what to choose as the next opus to conquer. Obsession being what it is, does he even care? Viewers' engagement being what it is, do we?
Frequent use of hand-held camera (from Rose himself, who also edits) is handy and appropriate enough, but leaves the impression of being somewhat throw-away. But then this is a throw-away world, so why doesn't Edgar just move on to a follow-up wife, instead of working up an Othello-shaped strop? When it's called for, Huston doesn't pull out stops (if indeed there are many to tug at), while the other two leads have even less to work with. Maybe Rose's final critique is that an empty society can only produce empty passion. Maybe.
Any pegging to the centenary of Tolstoy's death this year looks a trifle forced (see also The Last Station), but Rose must rate as the writer's biggest screen-admirer, with past work including the less-than-applauded Anna Karenina. For the record Rose and Huston return soon with the final instalment of their Tolstoy trilogy – the "self-destruction" trilogy, maybe? – adapting the writer's story "Master and Man". That's the one which ends with death and a bit of posthumous redemption thrown in. Something uplifting at last, then.