Little Richard: I am Everything review - a riveting account of 'the brightest star in the universe' |

reviews, news & interviews
Little Richard: I am Everything review - a riveting account of 'the brightest star in the universe'
Little Richard: I am Everything review - a riveting account of 'the brightest star in the universe'
The rise, fall, and rise of the self-proclaimed king of rock 'n' roll
'I am an atom bomb': Little Richard wows the world
Lisa Cortés's fast-paced documentary Little Richard: I Am Everything opens with a TV interview made in 1971, 16 years after the rock 'n' roll pioneer became an overnight success with groundbreaking hits like "Tutti Frutti" and "Good Golly Miss Molly".
Wearing a baby pink onesie and a crown-shaped tiara, Little Richard smiles coyly to camera, bats his beautifully made-up eyes, and says, "A lot of people say I'm shy, but I let it all hang out – the love, the tenderness, the kindness. You ain't supposed to hide them; if you've got 'em, God damn it, show 'em to the world."
And show them he did in performances so full of joyful exuberance that you fall in love with him again every time. Cue footage of him performing "Good Golly Miss Molly" in ever more extravagant costumes. Dancing gleefully on piano tops, stripping to the waist and throwing his shirt into the audience, he is clearly having a ball.
The film's title appears shimmering, like diamonds, over a cosmic storm. It's a wonderfully kitsch intro to a high-speed, rollercoaster ride in which Cortés tells the story mainly through Little Richard's words and music plus interviews with various commentators.
Director John Waters, scholars Jason King and Zandria Robinson, and singers Tom Jones, Mick Jagger, and Paul McCartney – who owed Little Richard a great deal – express admiration for the self-proclaimed "king of rock 'n' roll". "He created the template for the rock 'n' roll icon," they affirm. "His DNA is everywhere; it's like how do you refer to the air? How do you refer to the sky? He was like a meteor, a quasar, a comet."
Nyneve Minnear and Jake Hostetter, the editors of the documentary, have done a superb job knitting together archive footage and new material into a seemless flow in which Cortés juxtaposes the high camp of Little Richard's performances with an analysis of the racism and homophobia that prevented him receiving the recognition he deserved.
He had to wait until he was 64, for instance, to receive the American Music Award of Merit. "It's been a long time coming," he said, through tears, at the 1997 award ceremony. "I'm so grateful that Dick Clark finally saw and wants you to see that I am the originator and the emancipator. I am the architect of rock 'n' roll". And going to the piano, he performed "Good Golly Miss Molly" with the same high-octane energy as when he first recorded the song in 1956.
One of 12 children, Little Richard (1932–2020) was born Richard Wayne Penniman to Leva Mae in Macon, a conservative religious town in Georgia. Having sung gospel in church choirs, Richard got his first break at 14, when gospel singer Sister Rosetta Tharpe invited him on stage at the Macon City Auditorium.
His father, a minister who owned a nightclub and distilled bootleg whisky, threw his son out of the house when he began wearing make-up and dressing in his mother's curtains. "I wanted seven boys," he explained, "and you're messing it up because you're gay." Richard then began appearing in drag as Princess LaVonne with the touring company Sugar Foot Sam from Alabam.
His first record deal was with RCA Victor singing "Taxi Blues" and "Get Rich Quick". His now proud father began playing the records in his club and allowed his son back home, but he was killed in mysterious circumstances by Richard's best friend, leaving Leva Mae to raise 11 children.
Wanting to help, Richard decided to change his image. He renamed himself Little Richard and adopted the enormous beehive sported by his mentor Esquerita, a flamboyantly gay singer who taught him to play the piano standing up.
Little Richard's big break came in 1955 when he sent a demo to Art Rupe of Specialty Records. The rest of the story is apocryphal. Rupe sent some guys to record him in New Orleans, but things didn't go well so they went for lunch at the Dew Drop café, a low dive with a piano. Little Richard launched into "Tutti Frutti", playing boogie with his left hand and the pounding rhythms of a freight train with his right. The sound guys were blown away, and the rest is history.
The song rocketed into the charts. "It was like the Big Bang," recall the pundits, "so explosive, so ferocious, a shot out of a cannon." Cue glorious clips of exploding galaxies, erupting volcanoes, shooting stars, a lipstick unfurling, stamen shuddering and hips gyrating as "Tutti Frutti" reaches its climax. "Good Golly Miss Molly" soon followed along with "Long Tall Sally", which sold a million copies.
When it came, the racist backlash was brutal. Segregation was still the norm and Little Richard would be run out of town or arrested and beaten up for playing "n….r music" to white kids. "Little Richard was a danger," explains King. "He represented a complete upheaval of the existing social order."
His songs were covered by white performers like Elvis Presley and Pat Boone and even attributed to them. "Black music is the wellspring of American popular music," says ethnomusicologist Fredara Hadley, "but they do not value black creators or they want the blackness toned down."
Robinson is even more explicit. "We use the wrong word when we talk about appropriation," she says. "Think of it as obliteration."
Little Richard was also pretty good at undermining his own career. In 1957, at the height of his fame, he had a road to Damascus-type experience on a flight to Australia. He denounced his songs as "the devil's music", cut his hair, entered a seminary, got married, and began preaching. Watching him sing gospel is a sad experience. Gone are the flares, spangles, and make-up, and his infectious joy has given way to piety and sombre restraint.
Five years later, though, he was back on the road with a vengeance – in Britain. At the Lancaster Gaumont, he burst onto the stage yelling "I am an atom bomb", and his explosive presence sent the audience wild. In Liverpool, Brian Epstein introduced him to the Beatles, who had yet to make a record. "We were almost paralysed with adoration," recalls John Lennon. Little Richard took them with him to the Star Club in Hamburg and even taught Paul how to copy his falsetto whoops and screams.
The following year he shared a tour with the Rolling Stones. Mick Jagger learned his craft by watching his idol every night from the wings. Inadvertently, Little Richard was paving the way for young white bands to eclipse him. And when Beatlemania began sweeping the U.S, he appeared on American Bandstand professing gratitude that they were using his material. It makes you want to weep.
The next retrenchment came in 1977 after Little Richard's brother Tony died of a heart attack. The poster for one of his gospel concerts proclaims, "I used to holler for the devil, now I'm singing for the Lord". And in a television interview, Little Richard even renounced his homosexuality. "I'm not gay now," he announced. "I was gay all my life, but God let me know that he made Adam to be with Eve not Steve."
To many gay fans this felt like a betrayal. "It's hard to tell how much he was running towards God versus away from himself," says King. "He existed in contradiction. He was very, very good at liberating other people through his example, but he was not good at liberating himself."
Singing gospel and selling bibles earned Little Richard $150 a week, not enough to support his mother and a raft of siblings so, within a few years, he was back on tour. This time, though, he was demanding recognition as the king of rock 'n' roll. He told fans that Elvis had come backstage and said "Don't you worry about anything. Little Richard you will always be the true king of rock 'n' roll." And at Otis Redding's induction to the Rock 'N' Roll Hall of Fame in 1989, he reminded the audience of the debt owed him by James Brown, the Beatles, Mick Jagger, and Jimi Hendrix as well as Redding. "When I first heard Otis sing, I thought it was me," he said and, to prove the point, belted out Redding's hit "Can't Turn You Loose".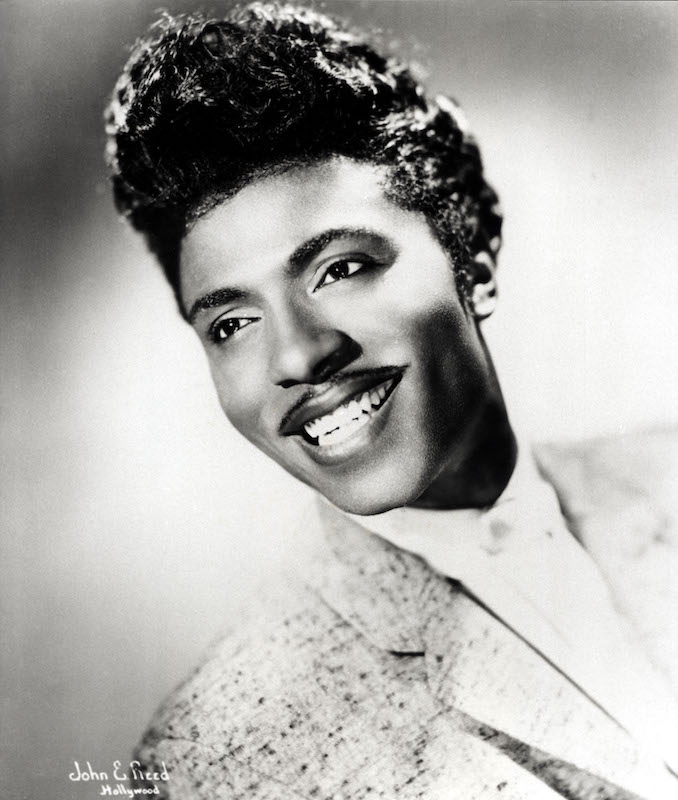 "It's almost as if everyone is defined by Little Richard," says King. "By the '80s and into the '90s everything that he put in motion was the oxygen of American popular music. Little Richard paved the way for everything that followed. He gave the world permission to be who you wanted to be."
Cortés's film is so rich and illuminating that it seems churlish to ask for more. And yet…. We meet Lee Angel, a girlfriend who professes to be the love of Little Richard's life. We hear from his wife Ernestine, whom he divorced when he went back on the road, and we learn about the endless orgies. His manager recalls sleeping in the bath when everywhere else was strewn with naked bodies. A band member boasts of having slept with over 1400 women.
Yet we hear nothing from Little Richard's male lovers, nor from the siblings he housed in a mansion in Los Angeles. Additions like these would have made the film perfect. As it is, though, it's exciting, insightful, and endlessly enjoyable. Sit tight and go with the foot-stomping flow.