Reissue CDs Weekly: Chess Records Soul, Little Richard |

reviews, news & interviews
Reissue CDs Weekly: Chess Records Soul, Little Richard
Reissue CDs Weekly: Chess Records Soul, Little Richard
Proof that a Fifties pedigree was no barrier to making the best in Sixties soul
Sunday, 18 September 2016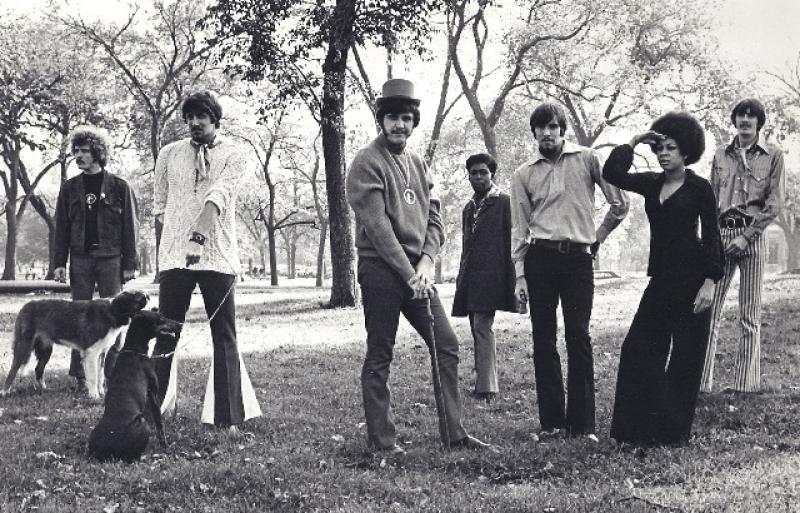 The sample-friendly Rotary Connection go to the dogs
Chicago's Chess Records first made waves in the Fifties with a raft of records which included future classics integral to defining the urban slant on blues music. Early in the decade, the label issued singles by John Lee Hooker, Memphis Slim, Muddy Waters and Howlin' Wolf. They also issued Jackie Brenston's "Rocket 88", one of the building blocks of rock 'n' roll and brought Bo Diddley to a wide audience.
The pioneering label issued different styles of music, but blues defined its early days. It moved with the times though and embraced soul in the Sixties.
Little Richard is also easily characterised by his earliest music: rock 'n' roll. Yet he adopted soul in the Sixties and approached it with the gusto running through the hits which had helped make his name. As three hugely enjoyable new releases show, as times changed so did artists and labels which had surfaced in the Fifties.
Black Gold: Samples, Breaks & Rare Grooves from the Chess Records Archives is a 42-track double CD cherry-picking the label's catalogue to meet the constraints of its title. The expected – Terry Callier, The Rotary Connection and Marlena Shaw – appear alongside less likely candidates like Bo Diddley and Muddy Waters. Chess Northern Soul Volume II is a neat box set of seven singles, each with an A- and a B-side from a different artist. The Explosive Little Richard! – The Okeh Sessions turns the fantastic 1967 Okeh LP of the same name into a double set by adding the remaining seven tracks he recorded during his tenure with the label to a second disc.
The Explosive Little Richard! was produced by Larry Williams for Okeh Records. They had both recorded for Specialty Records in the Fifties and weren't strangers. Taking soul on rather than the music of the previous decade propelled the Okeh singles "The Commandments of Love", "Poor Dog" and their parent album into the charts. Richard and Williams made an infectious, powerhouse album which took the up-front, gospel-derived approach of Stax, the beats of Motown and topped them with vocals positing Richard as a soul natural. The second record with this new edition collects tracks from the Okeh period which have not been on vinyl before, including four recorded at London's Abbey Road in December 1966 during a European tour. They are as uncompromisingly brash as those on the album. The Explosive Little Richard! was great, and this a great way to hear it. At around £25, it's priced about the same as an original in fair shape but the bonus album and pin-sharp mastering make it a must.
Chess Northern Soul Volume II is also a vinyl-only release. It is not a collection of 14 A-sides but is instead compiled on the basis of the various tracks ability to fill dance floors. The version of Jamo Thomas's "Must I Holler" has never been heard before. Terry Callier's "You Were Just Foolin' me", Sugar Pie DeSanto's "Talkin', Dreamin', Boastin'" and Jackie Ross' "My Square" have never been on vinyl previously but were available on CD. While this is no best-of Chess – tracks on the related Cadet and Checker labels are compiled – everything sounds as if it could have been a potential hit. The box incudes a booklet with text by compiler and genre expert Ady Croasdell. Though it would have been nice if everything were in mono as Sixties singles were, Chess Northern Soul Volume II sounds as good as it looks – as it should for a whopping £55.
Black Gold is less straightforward as it is more concerned with showcasing tracks because of their beats or sample-friendly nature rather than what is strictly categorised as soul. While it includes tracks which have been sampled – such as "Memory Band" by The Rotary Connection – being sequenced as a listening experience means it can't substitute for a dance floor-oriented DJ session. Emphasising the song as a source of groove means some very unlikely tracks are heard. Bo Diddley's version of "Bad Moon Rising" was hardly going to excite anyone in the late Sixties, but it now comes across as a wayward exercise in unwittingly turning blues-rock into serial music. Covers of "Walk on by" (by Jo Ann Garrett) and "The Windmills of Your Mind" (Dorothy Ashby) could have been schlock but are instead classy reinterpretations of the familiar which edge towards funk. At a shade under £6, this is a bargain.
Each of these releases is a blast. If the pockets are deep enough, start with the Little Richard, then catch some breath with the varied moods of Black Gold and end by working up a sweat with Chess Northern Soul Volume II.
Little Richard approached soul with the gusto running through the hits which had helped make his name
Explore topics
Share this article