The Nightingale review – revenge without redemption |

reviews, news & interviews
The Nightingale review – revenge without redemption
The Nightingale review – revenge without redemption
Colonial tragedy set in 19th-century Tasmania misses the mark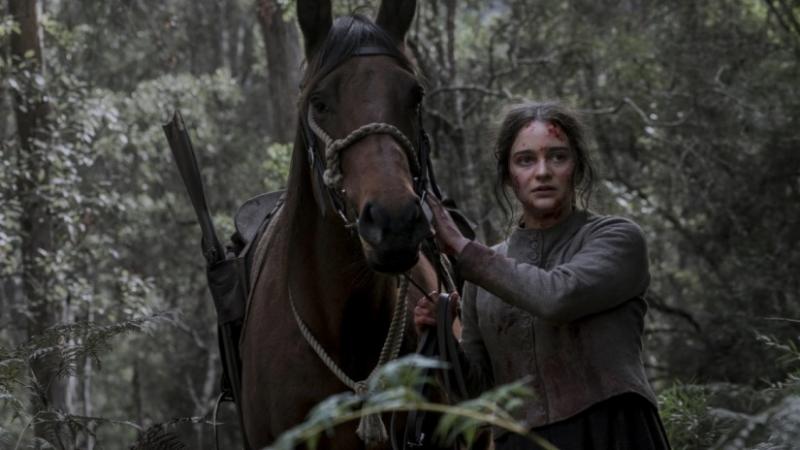 Scarred: Aisling Franciosi in The Nightingale
Writer-director Jennifer Kent knows that Australia's colonial past shouldn't be beautified, and she drives that fact home in every gloom-drenched shot of The Nightingale (her second feature after The Babadook from 2014).
This is an immensely ambitious film and an unrelenting long haul of
suffering
that confronts themes of sexual violence and Indigenous dispossession.
Set in 1825 during the genocidal British colonial rule in Tasmania, the film follows Irish convict Clare (Aisling Franciosi) who launches a personal revenge mission against the colossally sinister Lieutenant Hawkins (Sam Claflin). Within the opening 15 minutes of the film, Hawkins rapes Clare twice, oversees a third, shoots her defenseless husband at point blank range, and allows a fellow officer to murder her infant daughter.
Suffering begets suffering in this squalid swamp of too-long-ignored history. After the horrific opening, Kent introduces the theme of Indigenous slaughter. As Clare sets off to hunt down Hawkins, she meets an Indigenous man named Billy (Baykali Ganambarr). Riding on horseback with rifle in hand, Clare is framed as the type of oppressor she wishes to destroy. A clever ambiguity arises: can Clare, herself a member of the colonial forces, though a marginalised victim of it, contribute to its impact? Answering that question, we might be able to confront the second ambiguity: does Clare enlist Billy's services ("teams up with", as one reviewer has phrased it) or abduct and enslave him?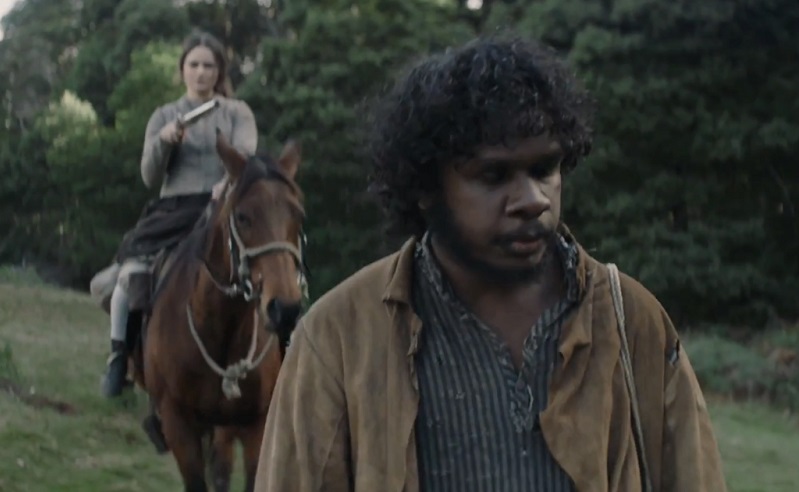 The range of historical scope Kent attempts is huge and original. Urgent, too, for a nation that has still not ceded land to its original owners. Sadly, the film does not probe any of these political issues with any intensity, instead favouring plot drama and aesthetic frills. Rape reappears in callous cutaways solely to reassert what was always known: that Hawkins is unpardonably evil. The script misses the mark here. By gratuitously cartooning Hawkins and his men, the reality of their horror slips away. The result of this is significant for Clare, and for the film's polemic. Hawkins' eventual downfall is not a hard won victory because he's become so one-dimensional.
Aisling Franciosi's performance is seismic. Yet there's reluctance within the script to honour her power and complexity. Clare continually reiterates states of emotion that were known about her character ("I'm Ireland, I hate the fuckin' English"). We are taunted by the possibility of nuance or development within Clare's enigma, but sidetracked into aesthetic embellishment. A device Kent employs is a string of dream sequences, drawing on her demonstrated knack for horror mood and pacing. These moments spook, but betray the hard realism the film had earlier established. Add on the allusions to westerns, and rather than transcending genre, there are too many half-explored ones. Torn through all these shifting modes, Clare's character is denied resolution – the kind that might be morally necessary given the film's themes. The final third of the film is a deflatingly incurious rehearsal of revenge genre conventions. There is no genuine – let alone radical – attempt to revise traditional formula.
Whose story is being told? Despite Indigenous elders being consulted during production (a progression of great achievement in filmmaking), the baroque grandeur of Iutruwita, as the land is called in the Indigenous language, functions merely as a backdrop that is disregarded by a narrow Academy screen ratio. Again, form betrays politics. The world is framed through colonial eyes. The Nightingale remains a film of grand intent and ambition, but it just does not soar.