Pacifiction review - portending hell in paradise |

reviews, news & interviews
Pacifiction review - portending hell in paradise
Pacifiction review - portending hell in paradise
The French High Commissioner fears Polynesia's destruction in Albert Serra's spellbinding anti-colonial drama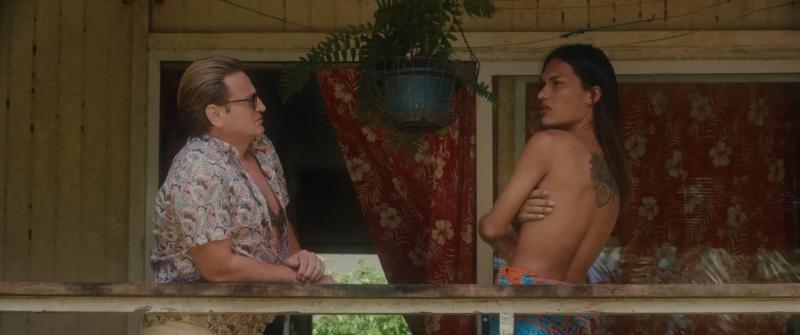 Talkin' happy talk: Benoît Magimel and Pahoa Mahagafanau in 'Pacifiction'
Paranoia seeps into paradise in Albert Serra's Pacifiction, a scathing critique of French colonialism on the Polynesian island of Tahiti. Acting on rumours that his overlords are about to resume nuclear testing in the region and fearing his elimination, the urbane High Commissioner De Roller (Benoît Magimel) is forced to turn detective to learn their veracity. It's not his fault that Inspector Clouseau might do a better job.
Serra's film isn't a comedy, however, but a political thriller simultaneously languid and chilling. The languor emanates from its haziness, a quality paradoxically enhanced by Artur Tort's fly-on-the-wall widescreen cinematography. Pacifiction's realism is skewed by its partial identification with De Roller's subjectivity and its Altmanesque observation of an array of ambiguous characters enjoying Papeete's decadent nightlife.
Among them is a Polynesian businessman (Cyrus Arai) doing dodgy infrastructure work and a sinister Portuguese (Alexandre Melo) who frets about his stolen passport and is catatonically drunk when De Roller interrogates him with the aid of the shady bar owner Morton (prolific Spanish actor Sergi Lopez). A lurking hawk-faced American (Mike Landscape) who attends a meeting with De Roller concerning the nuclear rumours is almost certainly a CIA man.
Then there's the idle property investor Olivier, played by Baptiste Pinteaux, who co-wrote the script with Serra. This Robert Louis Stevenson lookalike disapproves of the gaudy Paradise club staffers' scanty clothing, but that might be the limit of his morals. Whereas the Samoan resident Stevenson fought the British, German, and American governments when agitating on behalf of indigenous self-sovereignty in the early 1890s, Olivier is considering buying and renovating an abandoned hotel built on a Tahitian cemetery. "Praising" the efficacy of Indian genocides in creating "great civilisations," De Roller schools Olivier in irony. "It was good born of evil, as people cynically say."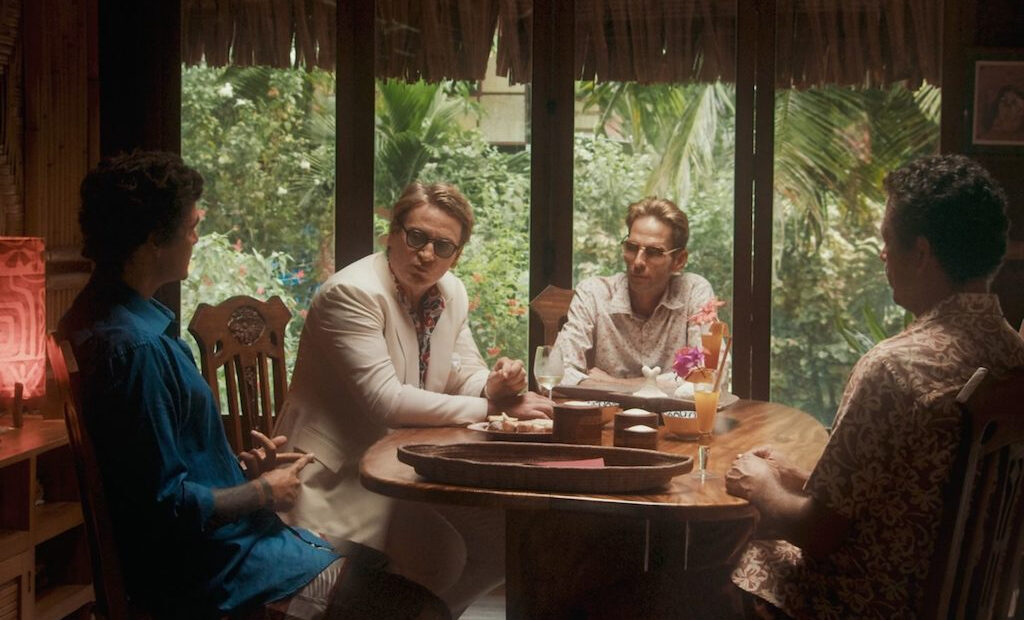 The most alarrning visitor is a gnomic, white-haired French admiral (Mark Susini). De Roller suspects him of conducting reconnaissance for imminent nuclear weapons tests that would add to the 193 conducted at Mororoa and Fangataufa between 1966 and 1996. (Pictured above: Matahi Pamburn, left, Benoît Magimel, Mike Landscape)
Radiation fallout from the previous nuclear tests caused returning cancers in the islanders, De Roller informs the admiral. The film doesn't mention figures, but it's estimated 90 per cent of the 110,000 people in French Polynesia were exposed to ionising radiation, putting them at risk of 23 cancers; up to 2000 military personnel were also afflicted.
There's a hint of blackmail in De Roller's warning to the admiral that there could be a different kind of fallout from the pattern of island girls "going to one of your death machines and coming back in a terrible state." Serra coldly depicts sexual tourism in Pacifiction via objectifying shots of the Paradise club's beefy waiters in their tighty wighties, of a prostitute's large breasts being mauled by a patron in long shot.
In the strangest scene, the admiral boogies alone on a sinisterly blue-lit dancefloor like a mad escapee from a David Lynch film – this before rousing his marines to play their deadly parts in making France great again, though they'll probably die from radiation. Viewers have to decide if what they're seeing and hearing is "real" or something De Roller is imagining.
The High Commissioner doesn't seem like the kind of man to entertain fantasies. Giving what might prove a career performance, Magimel makes De Roller charming, worldly, a brilliant shmoozer and dispenser of feelgood platitudes – he's everything everywhere all at once, in fact – who's also strategic, manipulative, and ruthless in his passionate defence of the islands and their inhabitants.
When Matahi (Matahi Pambrun), a young clan leader, arrogantly demands that De Roller quell the negative reaction sure to result from the violent rally he's planning to protest the weapons testing, De Roller stands up, leans down, and whispers in his ear. Believing Matahi has been got at by China, Russia, or the CIA man, who's sitting at the same table, De Roller sneers at his naivety: "Are you trying to give me lessons on geostrategy on the nuclear technology race?" The callow politico can only respond with a dig at France's vanity and De Roller's cowardice. Matahi hasn't yet grasped Polynesian realpolitik or understood that, as long as De Roller is High Commissioner, he'll need his support.
De Roller loves hanging out backstage at the garish Paradise nightclub and catches the eye of a beautiful trans woman dancer, Shannah (exquisitely played by Pahoa Mahagafanua in her debut). When she's working her hotel reception day job, he pumps her for information about the Portuguese. (Pictured below: Mahagafanau, centre, and Magimel)
He soon brings Shannah on an airplane recon trip over the ocean, during which he sees – perhaps – one of the French submarines. They begin an affair, but De Roller is not above pimping Shannah to the Portuguese as his spy. She'll be "his eyes, his sword arm," his lioness and tigress, he tells her. She's thrilled by the compliment and the assignment, too smitten to see his affection for her doesn't preclude exploiting her.
It's not De Roller's fault that he's neither a competent investigator nor powerful enough to turn the tide against a France capable of pillaging Polynesia before leaving it as contaminated as Bikini Atoll. He flails around heroically, ultimately as impotent as Jean-Pierre Léaud's expiring Sun King in Serra's The Death of Louis XIV (2016). Like Louis, he's the center of a magnificently slowburning film.
"Be more light-hearted," the admiral quips when De Roller advises him that the Polynesians won't respond tamely to new nuclear testing. Light-heartedness and pleasure-taking aren't anathema to Serra – the maker also of the debauchery reverie Liberté (2019) – but they have their place. With Putin's nuclear threats hanging over Ukraine and the stationing of tactical nuclear weapons in Belarus, High Commissioner De Roller's anxieties have global application.
De Roller is strategic, manipulative, and ruthless in his passionate defence of the islands
rating
Share this article